Vigo History Center debuts political button display | Local News
Read Time:
2 Minute, 34 Second
More than 200 political buttons spanning decades are now on display at the Vigo County History Center, after being unveiled by collector Eleanor Cox Riggs on Thursday.
The unique collection was acquired by the History Center thanks to a generous donation by Cox Riggs. The extensive collection includes buttons, ribbons, medallions and other political memorabilia dating as far back as 1840.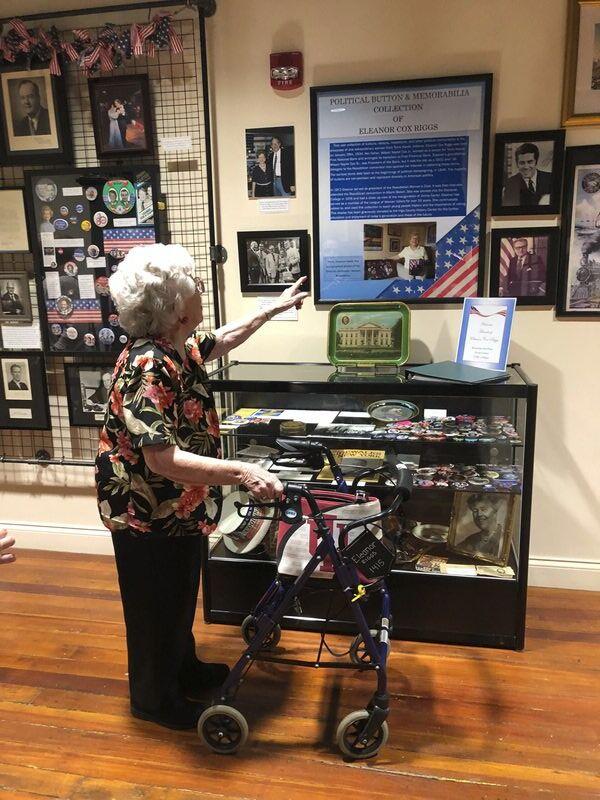 "I have been collecting my whole life," Cox Riggs said. "I have things from my grandfather from the 1800s … and then it seemed like every vacation I took with my husband and family was always to somewhere historic. I'm just thrilled to have this in a museum in my hometown."
On Thursday, the History Center officially opened the exhibit with Cox Riggs and members of her family. Now in her late 80s, the collector was amazed, saying she hopes the exhibit and information will encourage young people to learn more about politics and policy and encourages them to be diligent voters.
"I hope more school children will come to the museum, see this and be interested in history," she said. "I want people to get interested in voting and politics and public policy. It's all so important."
Added curator Suzy Quick, "She continuously added to and used this collection to teach young people about history and the importance of voting. We're honored to have this collection, which will be used for further education and enjoyment of today's generation and those of the future."
An appreciation of politics and collecting was passed down from Cox Riggs's father and grandfather, explains Quick.
"This exhibit is a showcase of one extraordinary woman," Quick said. "Eleanor Cox Riggs is from Terre Haute. Her father, Wilson Naylor Cox Jr. worked as a lawyer for Terre Haute First Financial Bank and arranged its transition to First Financial Bank. Her grandfather, Wilson Naylor Cox was President of the Bank, but it was his role as a1932 and 1936 delegate to the Republican convention that spurred her interest in collecting these items."
Cox Riggs herself was engaged in local and national politics, serving as a member of the League of Women Voters for over 50 years. She also served as president of the Republican Women's Club and was elected into the Electoral College in 1976.
Despite the family's role within the Republican party, the collection is non-partisan and features items from the campaigns of well known U.S. Presidents to smaller nearly unknown candidates and others from the late 1800s to early 1900s.
The Vigo County History Museum is open 10 a.m. to 5 p.m. Tuesday through Saturday. Learn more at vchsmuseum.org.
— The Vigo County History Museum provided this article to the Tribune-Star.