Vaccine requirement thins nursing program at La Salle-Peru Area Career Center amid statewide nursing shortage – Shaw Local
Read Time:
5 Minute, 32 Second
A COVID-19 vaccine requirement was cited as a deal breaker for students in joining the La Salle-Peru Area Career Center's nursing program.
As a result, the program experienced a 30% drop in enrollment this year.
The nursing course is a Certified Nursing Assistant health occupations class. On average, ACC Director Dwayne Mentgen said the course produces 50 to 55 CNAs per year, and this year there are 34 students enrolled.
To understand the reason behind the unusual drop in enrollment, Mentgen sent out a survey to parents, with one question asking if requiring the vaccine for the class would stop their child from enrolling. Ten responded confirming the vaccine mandate is why their child would not partake in the class.
Historically, the CNA course is full with a waiting list. But this year, Mentgen said he was the one trying to fill the open slots. On the flip side, he's received emails from local healthcare professionals asking if he has any candidates for their open CNA positions.
Those requests are not surprising. Illinois is reporting a shortage of nurses in the workforce. According to the Illinois American Nursing Association, there will be a shortage of 15,000 nurses statewide by 2025. Nurses are retiring at a 24:1 ratio compared to nurses entering the field. The ANA-Illinois said there's a need for "increased focus on nursing education by increasing enrollment" to help solve the shortage.
"The healthcare industry is hurting hugely for people to come in, and normally we could produce over 50 (CNAs) a year," Mentgen said. "But this year, even if we get 100%, it's only going to be 34. So that's 16 less CNAs in the area just from us."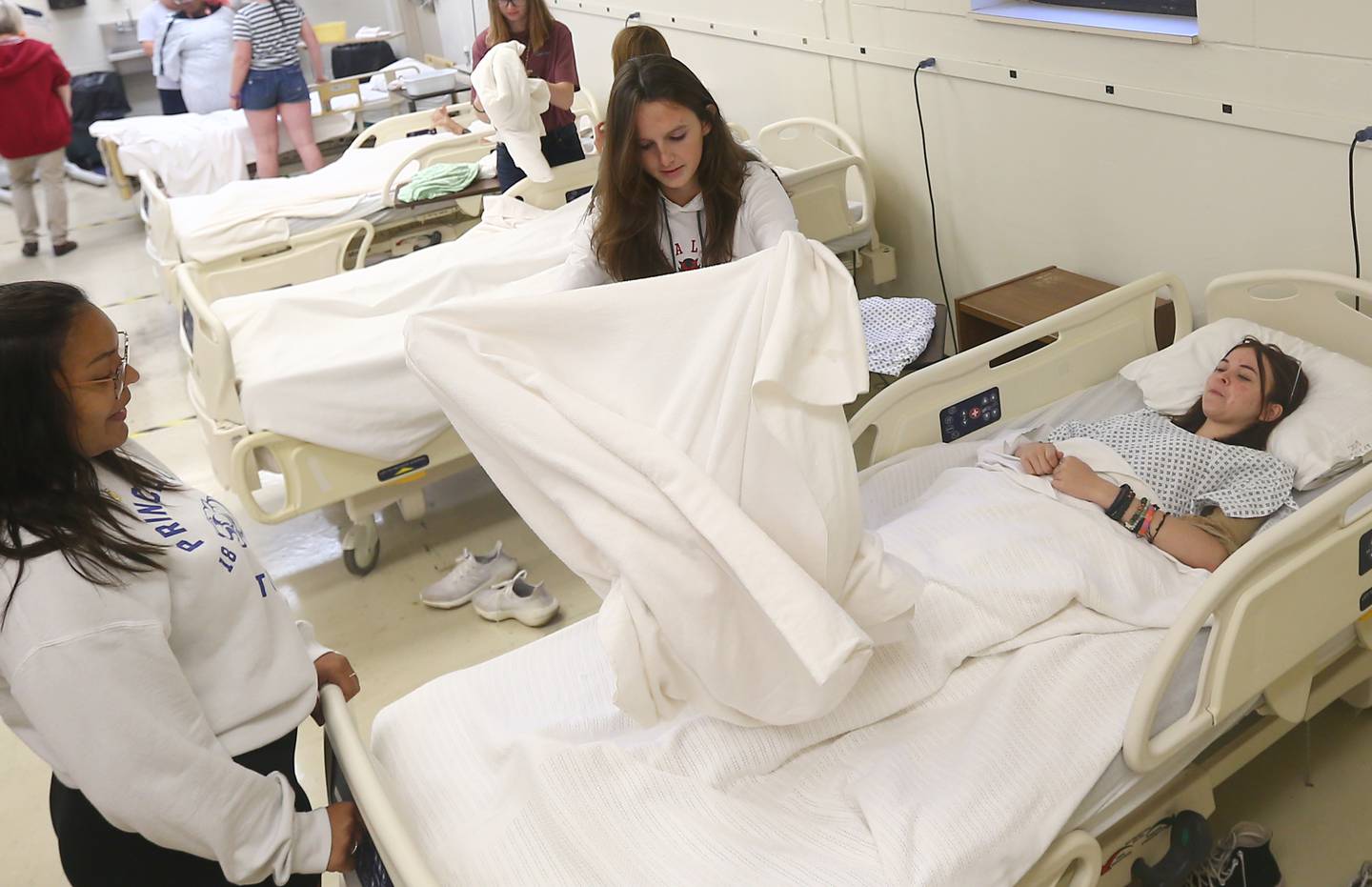 Lynne Pohar, head nurse instructor for the program, and said some students told her they don't want to get vaccinated for the course. Despite the drop in enrollment, Pohar said the class has a great reputation and is successful, with the most recent group having a 98% pass rate on the CNA certification exam.
"I absolutely love teaching healthcare," Pohar said. "I love showing them healthcare and how to make a difference in someone's life."
Senior Annaca Watson, of Princeton High School, is enrolled in the CNA program and said getting the vaccine wasn't a big deal for her and something she was more than willing to do to have a career in healthcare. Since being enrolled, she said it's the best class she's taken. Inspired by her mother, Watson wants to pursue a career in nursing.
The vaccine mandate for the CNA class was implemented because hospitals and nursing homes the students visit for clinical hours require vaccination.
Carrie Seibert, assistant director of nursing at Liberty Village nursing home in Peru, oversees all CNAs, including the students who visit the nursing home for clinical hours, she said part of the reason the ACC's CNA program is seeing a drop in students may be because of apprehension in entering the healthcare field. She said a fear of the unknown combined with parents wanting to keep children out of the healthcare environment for safety reasons may play a role.
"Healthcare isn't really any more dangerous than it was," Seibert said. "We've gone through tuberculosis, hepatitis, polio, and those vaccines are out and safe, and those diseases are almost gone because we vaccinate against them. Don't shy away from healthcare, embrace it and let's knock this out together."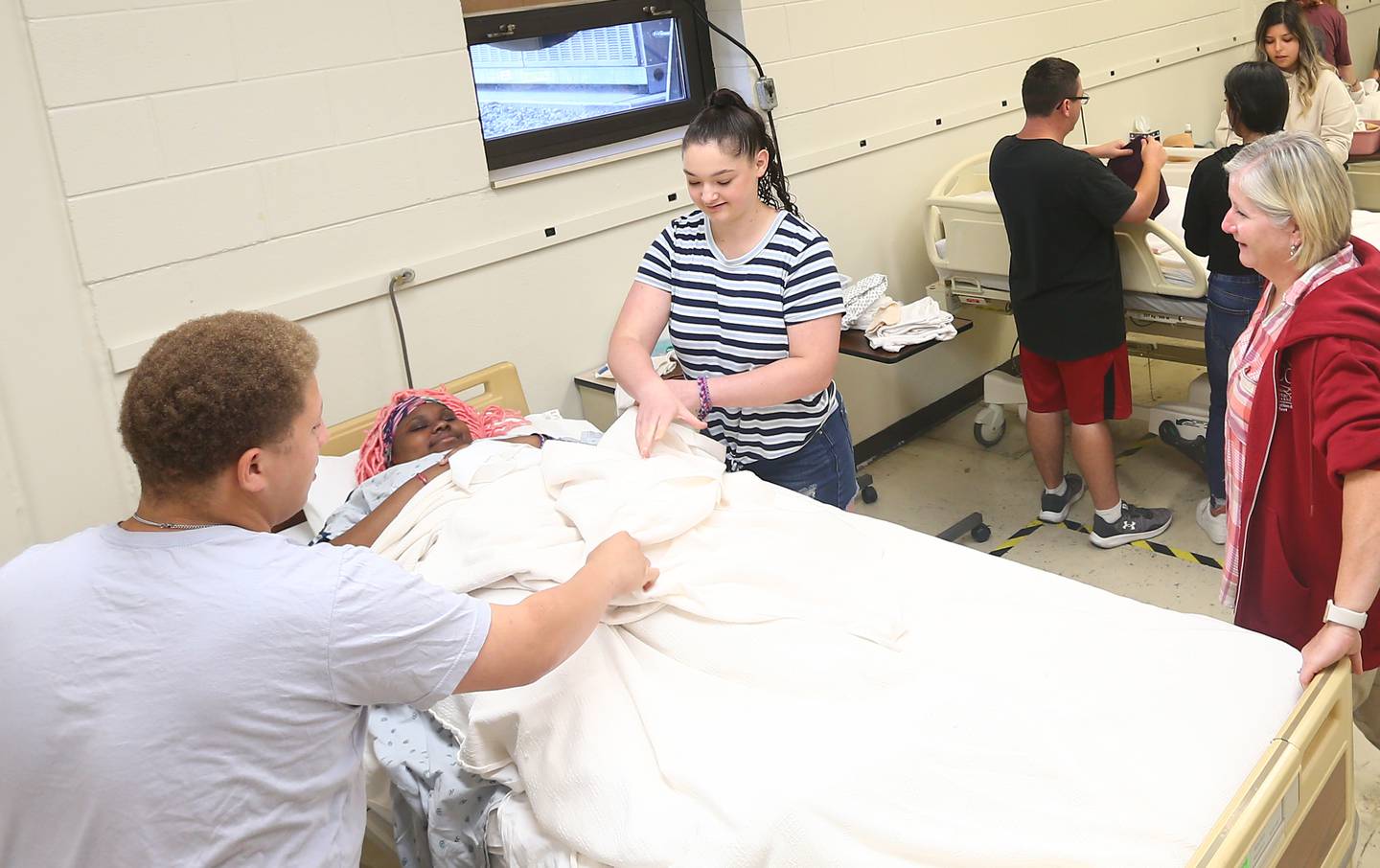 The drop in nursing students is a trend reported in every ACC across Illinois except for the Grundy County ACC. It was the lone ACC of 24 in Illinois that reported an increase in enrollment in its CNA courses. Lance Copes, director of Grundy County ACC, said part of the reason for that is because the vaccine is not required for the class, and their partners at local healthcare operations have a testing option for students.
AnnMarie Depenbrock graduated from La Salle-Peru high school in May and took the CNA class as a senior. She earned her CNA certification over the summer and is waiting on a potential job offer from St. Margaret's hospital. Depenbrock said when the vaccine became required the second semester of her senior year, at least five students dropped because of it, saying they didn't want to get the shot.
"No matter where you go in the healthcare system, you have to work with what's going to happen because you're working with people who are sick everyday," Depenbrock said. "(By getting vaccinated) I'm keeping myself safe and my patients and residents safe. In my head, it was the right thing to do."
The ACC is a tuition-based vocational center located at La Salle-Peru High School. While the ACC rents its space from the high school, it is a separate entity. The La Salle-Peru ACC is one of 24 across the state and teaches students from nine public schools — DePue, Hall, Henry-Senachwine, LaMoille, La Salle-Peru, Mendota, Ottawa, Princeton, Putnam County — and two private schools — St. Bede and Marquette — in the area, along with some home-schooled students.
The average enrollment size for the ACC is 350, and this year there are 324 students. Mentgen said 26 students is more than $50,000 the ACC will lose in funding to operate classes, such as nursing, welding, automotive and computer-aided design, among others. Tuition costs $1,125 per student a semester and is funded by the students' high school at no cost to the student. The CNA course makes up 16 of the 26 less students.
For more information on programs or making a donation, contact Mentgen at 815-410-0272 or email dmentgen@lphs.net. The ACC welcomes community collaboration or individual involvement in programs for further opportunities for student learning.