Tory leadership race live: MPs start voting again, with Sunak close to securing place on final ballot | Politics
Read Time:
16 Minute, 4 Second
Voting opens in fourth round of leadership ballot
Voting has opened in the fourth round of the Tory leadership ballot.
Key events:
These are from my colleage Dan Sabbagh, the Guardian's defence editor, on Liz Truss's promise to raise defence spending to 3% of GDP. (See 10.11am.)
Here is Boris Johnson with his leaving present from the cabinet: Churchill's six-volume history of the second world war. (See 12pm.)
Given that Johnson has written a biography of Churchill, you might assume he would have had a set already.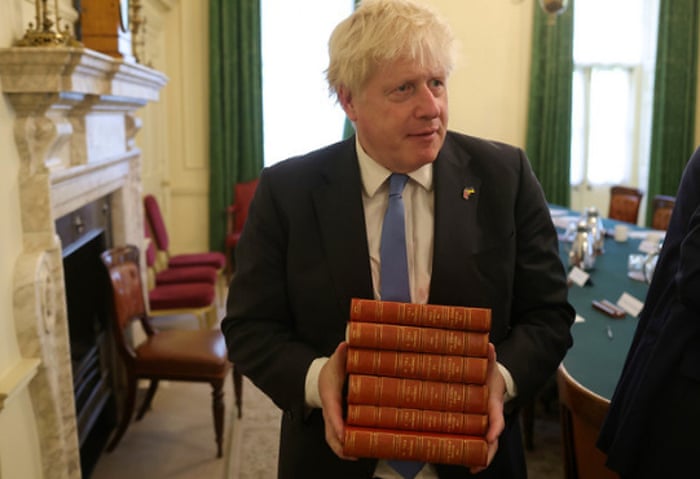 Penny Mordaunt, the international trade minister and Tory leadership candidate, has today released a plan for levelling up. She says she will double the number of apprenticeships available in the north, deliver the Northern Powerhouse Rail project and ensure that 50% of new hydrogen capacity is built in the north.
She has also backed the Northern Research Group's four-point plan for the north.
Jake Berry, chair of the Northern Research Group, was one of Tom Tugendhat's most prominent backers, and he has retweeted Mordaunt's tweet about the pledge, which is probably a sign that his vote is now heading her way.
Today the Times quotes one unnamed Tugendhat supporter saying most of his votes could go to Mordaunt. It reports:
Before the third ballot, one backer of Tugendhat said that they believed a majority of his supporters would now move to Mordaunt. Mordaunt, who was in the cabinet under Theresa May but has only held junior positions under [Boris] Johnson, is seen by some MPs to also embody the clean start offered by Tugendhat. One Tugendhat supporter said, however, that they believed the main reason many would move to Mordaunt was that they wanted to "keep Truss out of the final two".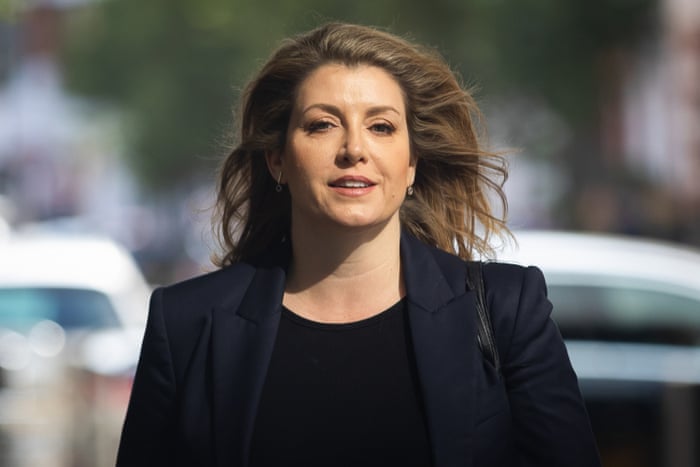 This is the full story from my colleague Helena Horton on Kemi Badenoch's declaration last night that she would be willing to delay the 2050 net zero target – having told a Tory hustings earlier that she was committed to it. (See 10.01am.)
Ukrainian foreign minister pays tribute to Truss's 'mettle, inner steel and clarity of purpose'
Liz Truss, the foreign secretary, has won an endorsement in her campaign for the Conservative leadership from Dmytro Kuleba, her Ukrainian counterpart.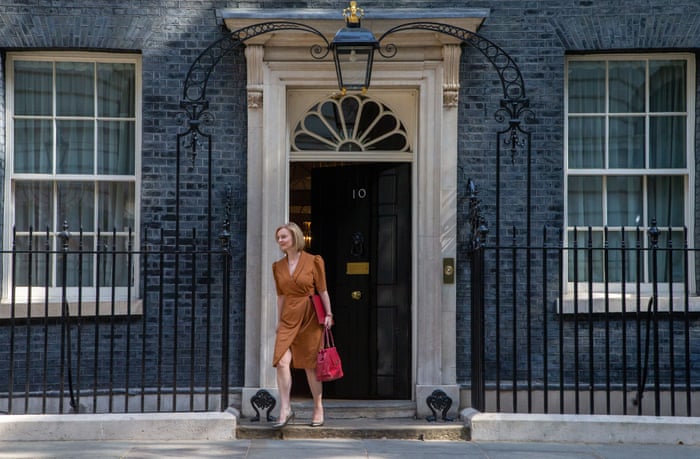 Boris Johnson posed for a team photograph with his cabinet today to mark what might be their last meeting together.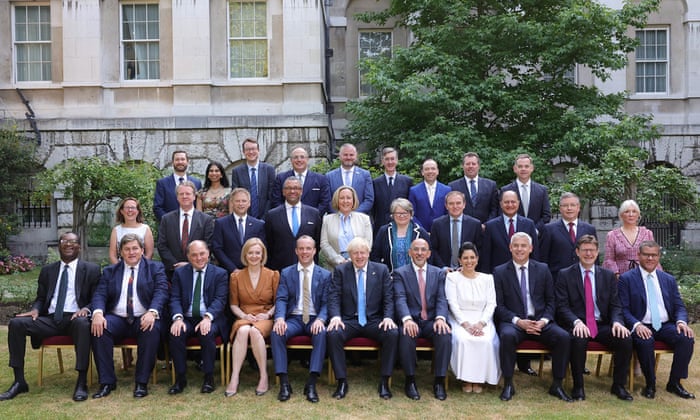 Voting opens in fourth round of leadership ballot
Voting has opened in the fourth round of the Tory leadership ballot.
Boris Johnson received first-edition copies of Winston Churchill's books on the second world war as a gift from cabinet colleagues, PA Media reports. PA says:
The books by Churchill, a hero of Johnson's, were presented to the prime minister by his entire cabinet, a Downing Street spokesman said.

"At the conclusion of cabinet, the prime minister was presented with gifts to thank him for his service to the country, including first editions of Winston Churchill's books on the second world war," the spokesman told reporters.
Penny Mordaunt's supporters do believe that No 10 has removed the whip from Tobias Ellwood to stop him voting for her in the leadership ballot (contrary to what Nadine Dorries claims – see 11.21am), Newsnight's Nicholas Watt reports.
Nadine Dorries, the culture secretary and Boris Johnson loyalist, has dismissed as "ridiculous" claims that Tobias Ellwood has had the Tory whip removed to stop him voting against the Johnson candidate in the leadership contest. (See 10.08am and 10.45am.)
Labour says Forde report on claims of racism, sexism and bullying in party could be published today
It was a New Labour special adviser that coined the phrase about "a good day to bury bad news". Today would sort of qualify – the hottest day ever, public sector pay awards being published, the Tory leadership contest at a key stage – and Labour has confirmed that today it might publish a report that is likely to be horribly embarrassing to the party.
A Labour spokesperson said:
Labour's general secretary, David Evans, has now received the Forde report and he will be taking it to today's national executive committee meeting with a clear recommendation that the NEC agree the publication of the report as soon as possible today.
The report, from Martin Forde QC, was commissioned after the leak of an internal Labour report in 2020 purportedly showed evidence of party staff being guilty of bullying, racism and sexism. The leak, which seemed to be a hostile act aimed at Jeremy Corbyn's opponents (who came out worst from the revelations), led to the party being sued for defamation and breach of privacy.
My colleague Jessica Elgot has a guide to the background of the Forde report here.
Ellwood defends missing confidence vote, saying he is abroad promoting Johnson's Ukraine policy
Tobias Ellwood has said that travel disruption meant he could not return from Moldova yesterday in time for the Commons confidence vote. (See 10.08am.) He said he was "very sorry" to have the whip withdrawn, but that he would continue with his tour, where he will be having meetings about reopening Odesa port. He said:
Following my meeting yesterday with the president of Moldova I was unable to secure return travel due to unprecedented disruption both here and in the UK.

I am very sorry to lose the whip but will now continue my meetings in Ukraine promoting the prime minister's efforts here and specifically seeking to secure the reopening of Odesa port – so vital grain exports can recommence.
Although MPs can have the whip removed for failing to obey a three-line whip, it is unusual for this sanction to be deployed against an MP who only misses a vote, and does not vote against the party, and has a reasonable excuse for being away. It is even more unusual for this to happen in relation to a vote which the party was at no risk of losing. Boris Johnson has a majority of 111 in the vote last night.
But Ellwood has been one of Johnson's most vocal backbench critics and Johnson is vengeful. He once said his favourite movie scene was the end of the Godfather with its "multiple retribution killings". His decision to sack Michael Gove as levelling up secretary two weeks ago seemed to be motivated purely by score settling.
The loss of the whip would be serious for Ellwood if it meant he could not stand as a Conservative candidate at the next election. But the whip is likely to be restored by the next Tory leader well before any election takes place.
However, the move will stop Ellwood voting in the leadership contest today and tomorrow, and this could help Liz Truss get onto the final ballot against Rishi Sunak. Johnson blames Sunak for undermining him, and although he has not backed Truss in public, his allies are actively working to get her elected.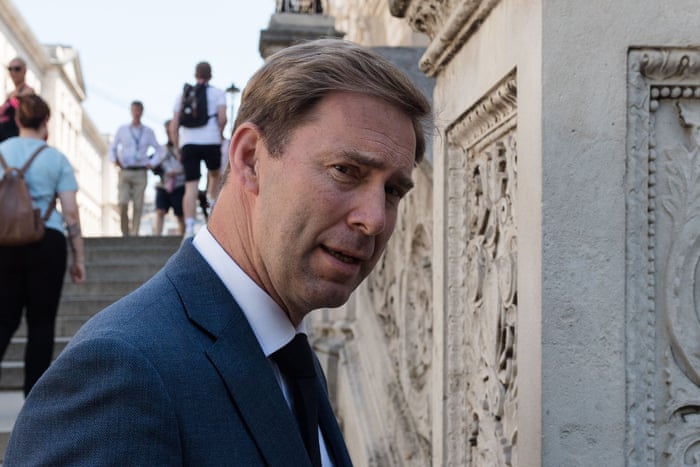 Johnson tells cabinet that heatwave vindicates government's net zero strategy
Boris Johnson is chairing what may be the final meeting of his cabinet and – as has become his usual practice in recent weeks – he invited in a TV camera to record his opening remarks.
Johnson claimed the heatwave vindicated the government's decision to push for net zero carbon emissions by 2050. He told his ministers:
Who can doubt that we were right to be the first major economy to go for net zero? It may be sometimes unfashionable to say this but it is the right thing to do.
In fact, the legislation making 2050 a legally binding target was passed into law in the final days of Theresa May's government, but Johnson has retained the commitment to net zero. As my colleague Fiona Harvey argues in today's First Edition briefing, Johnson is more committed to net zero than any of the candidates who might succeed him. "Nobody else in the higher echelons of the Conservative party gives a stuff," Fiona says. "He was the only champion green Tories had."
Addressing cabinet, Johnson also suggested the experience coming out of lockdown showed why the heatwave should not be allowed to stop people working. He said:
On another scorching, sweltering day I think it's very, very important that we think back to that moment that we opened up [after the lockdown] and try and balance risk with the need to keep our country, our society and our economy moving.

I hope, cabinet, that you are all agreed that as far as possible we should keep schools open and keep our transport system going as far as we possibly can.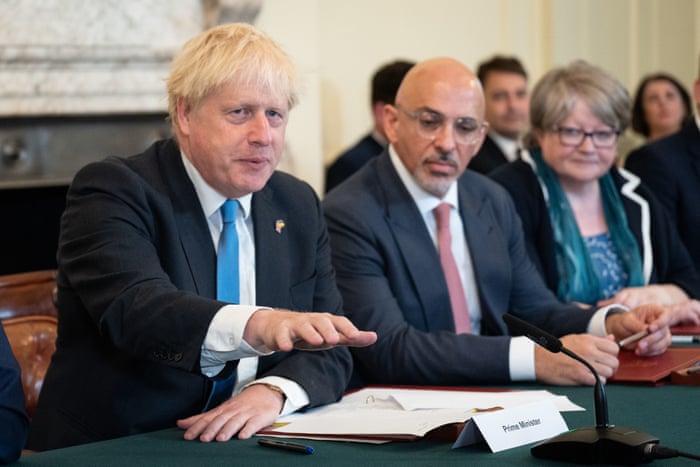 Truss says she would raise defence spending to 3% of GDP by 2030
Liz Truss, the foreign secretary, has used an interview with the Times to declare that she would raise defence spending to 3% of GDP by 2030. She said:
We live in an increasingly dangerous world where the threat level is higher than a decade ago, and we need a stronger deterrent to face down those threats and ensure Britain leads on the global stage. Ultimately that requires more resources. My number one priority is keeping this country safe and people can trust me to do that.

Britain and the free world face a defining moment. We need a prime minister capable of leading internationally, who can also drive the economic growth we need here at home. I am the candidate best placed to do that.
In a briefing about the announcement, the Truss campaign said defence spending needed to go up because of the increased threat from China and Russia. This message may appeal to some of the 31 supporters of Tom Tugendhat whose votes are up for grabs today. Tugendhat, chair of the Commons foreign affairs committee, has consistently argued that the UK has not taken the threat from China and Russia seriously enough.
Tory MP Tobias Ellwood has whip withdrawn after failing to back government in confidence vote
Tobias Ellwood, the chair of the Commons defence committee, has had the Tory whip removed because he did not vote for the government in the confidence debate last night, the Times' Henry Zeffman reports. Ellwood, who was one of the Tories most critical of Boris Johnson, did not have permission to be away.
As Steven Swinford reports, the decision means Ellwood will not be able to vote in parliamentary leadership ballot until the whip is restored. He is a Penny Mordaunt supporter, and in a very tight race, a single vote could potentially make a difference.
Badenoch says she would delay 2050 net zero target date in some circumstances
Kemi Badenoch can also claim to be the change candidate in another, less positive, sense. Yesterday she told a Tory climate fringe that she backed the government's target of reaching net zero emissions by 2050. She was the last candidate to make that commitment.
But later in the day she had an apparent change of heart and told Talk TV that her commitment to the 2050 date was not absolute. Asked if she would ever consider changing the 2050 deadline, she replied:
Yes, there are circumstances where I would delay it, but I think that the target itself is a bit of a red herring.
The full interview is here.
Badenoch claims she is only 'change candidate' left in Tory leadership contest
In a post on Twitter after last night's results were declared Kemi Badenoch claimed that Tom Tugendhat's departure from the race meant she was the only "change candidate" left in the race.
Penny Mordaunt would probably contest that. Badenoch, the former equalities minister, is the only candidate still in the race who has not served in cabinet. But as equalities minister she pursued an "anti-woke" agenda popular with No 10.
Mordaunt, the international trade minister, never resigned from Boris Johnson's government (unlike Badenoch). But she has never identified as an enthusiastic supporter of Johnsonism.
MPs to vote again with Sunak close to securing place on final ballot
Good morning. A week after nominations closed, and after three ballots, some of the fog around who will be our next prime minister has lifted and at least three propositions now seem reasonably well founded.
Rishi Sunak, the former chancellor, is now all but certain to be one of the two candidates on the final ballot for Conservative party members. He is now on 115 votes and once a candidate gets 120 (just over a third of the total), it is mathematically impossible for two other candidates to get more votes. Sunak is also particularly well placed to pick up many of the 31 Tom Tugendhat votes now up for grab; Sunak, like Tugendhat, presents as a mainstream pragmatist, not an ideological rightwinger.
Liz Truss and Penny Mordaunt are now the two strongest candidates in the contest to be the second person on the final ballot. One recent survey suggested both would beat Sunak in the final poll, but Truss more comfortably than Mordaunt. Almost certainly, Sunak's chances would be better against Mordaunt; her lack of experience means the risk of her campaign imploding under scrutiny remains high (over the last week her popularity has already fallen significantly), and Truss, unlike Mordaunt, would be guaranteed the support of the Tory right en masse.
Kemi Badenoch looks likely to be eliminated this afternoon. It is not inevitable – she has defied expectations already – but she remains 13 votes behind Truss, and may struggle to get much of the Tugendhat vote. If she does fall out, her votes will be for grabs tomorrow – and would decide whether Sunak faces Truss or Mordaunt, which could in turn determine who gets elected as the next PM.
Here is the agenda for the day.
9.30am: Boris Johnson chairs what might be the last meeting of his cabinet.
10.30am: Officials from the CBI and the TUC are among the experts giving evidence to the Commons business committee on post-pandemic economic growth.
12pm: Voting starts in the fourth ballot for the Conservative party leadership. The ballot closes at 2pm.
12.30pm: Michael Gove, the former levelling up secretary, and Lord Frost, the former Brexit minister, take part in a discussion on the future of Conservatism at the Policy Exchange thinktank.
3pm: Sir Graham Brady, chair of the 1922 Committee, announces the results of the latest leadership ballot.
Afternoon: Pay awards for around 2.5 million public sector workers, including NHS staff and teachers, are due to be announced.
I try to monitor the comments below the line (BTL) but it is impossible to read them all. If you have a direct question, do include "Andrew" in it somewhere and I'm more likely to find it. I do try to answer questions, and if they are of general interest, I will post the question and reply above the line (ATL), although I can't promise to do this for everyone.
If you want to attract my attention quickly, it is probably better to use Twitter. I'm on @AndrewSparrow.
Alternatively, you can email me at andrew.sparrow@theguardian.com