The strange roller coaster big league career of David Bote
Read Time:
2 Minute, 50 Second
David Bote cemented his place in baseball history on August 12, 2018 when he hit an ultimate walk-off grand slam against the Nationals on national television. He was a guy Cubs fans had become acquainted with by that time but was an unknown commodity to most of the baseball world.
The now-29-year-old Bote was not a top-100 prospect when he came up in 2018, just a younger player who had turned some heads in spring training and in the minors earlier in the year. Since then it has been a strange up-and-down MLB career for him, and he looks to add another chapter to that journey when he finally comes back from the shoulder injury he suffered last season.
David Bote's had a very strange Cubs career to this point
As a whole, Bote is slashing .227/.318/.388 with a .706 OPS, 32 home runs, 88 wRC+ and 138 RBI in 343 career games. He's 0-for-6 in postseason play (2018, 2020). The OBP is around average but everything else is well below. And yet within these stats are stretches of really solid production and clutch moments.
In his first 93 games as an MLB player, Bote recorded three walk-off hits and a walk-off walk. Two of those walk-off hits were home runs, including the epic grand slam. He was coming up big. It's worth noting that, despite the clutch moments in 2018, he did really cool off and finish with a .239/.319/.408 slash and 96 wRC+ in 74 games. It was in 2019 when he had the best offensive year of his career, slashing .257/.362/.422 with 11 home runs, .785 OPS and 105 wRC+. Bote even got himself a contract extension with the Cubs in April that year.
Then came 2020, when he was the team leader in RBI (29) despite slashing just .200/.303/.408 with a .228 BABIP. Eleven of his 25 hits came with runners in scoring position as he hit .379/.487/.690 in such situations. He also ranked in the top nine percentile in exit velocity that season.
2021 was frustrating for Bote in so many ways, leading up to the season-ending injury. Bote, in 98 games, hit just .199/.276/.330 with eight homers. His .199 average was coupled with a .235 BABIP. Bote's XBA (expected batting average) was .231. While still not great, that is 32 points higher than what it actually was. His max exit velocity (115.6) was top four percentile in the league. So long story short, he hit into some tough luck last year. To his credit, he still managed eight homers which is not bad in just under 100 games while playing through an injury.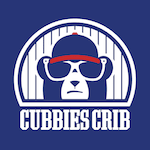 Want your voice heard? Join the Cubbies Crib team!
Write for us!
Now, working through his rehab assignment with Triple-A Iowa, he eyes a return to the Cubs. Bote has had himself a decently productive career, serving as a bench/utility man for the most part. He could give the Cubs roster flexibility when he comes back for the short-term, but a long-term role with the team does not seem as set in stone given he's 29 and is several years removed from a quality offensive season.