The power of charisma | Entertainment
Read Time:
6 Minute, 9 Second
Two highly entertaining regional productions opened last week, both featuring a charismatic and unusual central character who bends nearly everyone to their will. 
At Auburn's The Rev, it's Frank Abagnale, the legendary con man, narrating his own fantastical story in "Catch Me If You Can." The 2009 musical (libretto by Terrence McNally, music by Marc Shaiman, score by Shaiman and Scott Wittman) is based on the 2002 film (directed by Steven Spielberg, starring Leonardo DiCaprio), which was itself based on Abagnale's co-written and highly exaggerated 1980 autobiography, which was in turn based on…lots of posturing, fabrications and magical thinking.
Frank presents himself as a 15-year-old distraught by his parents' divorce, blithely following his dad's advice to get what you can before the world takes it from you. Leaving his Bronx home, he passes himself off as an airline pilot, a professor, a pediatrician, and more, gleefully writing bad checks all along the way (for $2.5 million, the real Abagnale later claimed, as inaccurately as everything else he said). 
This is the '60s, when we were perhaps more credulous. Frank charms the pants off everyone, responding to their surprise at his position despite looking so young ("Yeah, I get that a lot.") Frank's escapades are amusing, but the dramatic action's in the chase: veteran FBI man Carl Hanratty pursues Frank doggedly, eventually astonished to discover his quarry is "just a kid!"  
What's outstanding about this production is, well, everything –– acting, singing, dancing, staging, sets, lights, costumes. Directed by Brett Smock, this show is Broadway-worthy –– and its quality definitely builds excitement for The Rev's next show, "The Hunchback of Notre Dame."
As Frank, Ian Ward fascinates –– a blond Tom Cruise-lookalike with an irresistible smile, boyish and disarming. He owns the role at every moment, sings splendidly, and is so amiable and polite you forget he's scamming. His obsessed tracker, Hanratty, is excellently shaped by Mike Masters. And Timothy Warmen, as Frank Sr., the failing father figure, superbly deteriorates before our eyes. Sandy Bainum's French mother is self-absorbed, finally less influential than the men in young Frank's life.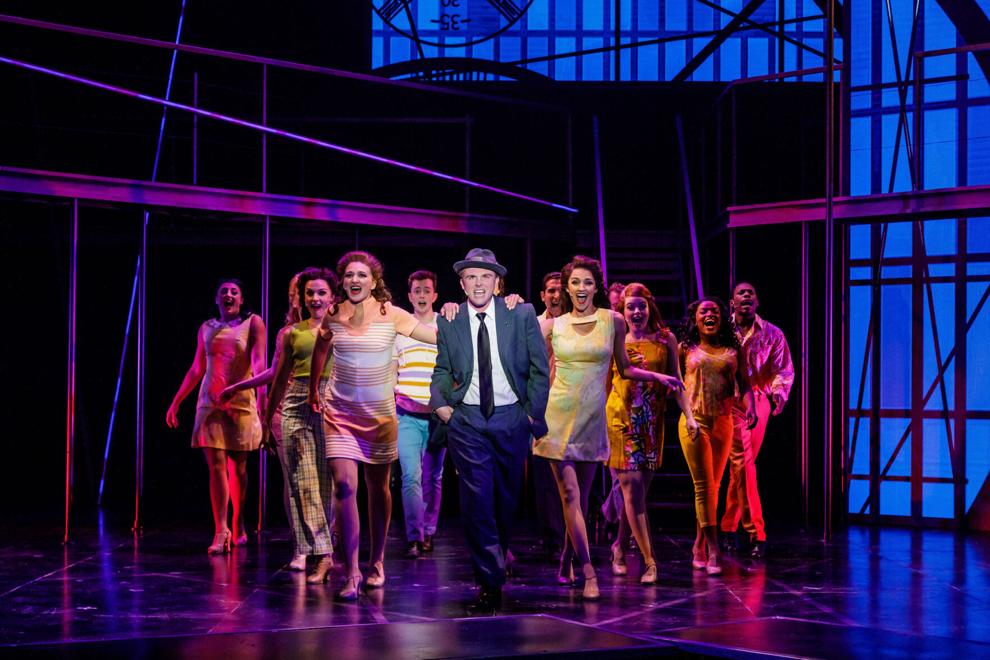 The musical's handsome ensemble dazzles us with '60s-style moves (choreography by Richard J. Hinds) and truly delicious period costumes (by Tiffany Howard). But it's Adam Koch's set, wildly lit by Jose Santiago, that stuns –– almost a character in itself. Slender metal poles at odd angles mark the space, filled by shifting screens within colorful shapes, a stained-glass chapel to mid-century American culture. And no small feat: every word and song are clear, thanks to Kevin Heard's sound design complementing Brian Cimmet's musical direction.
"Catch Me If You Can" is such great entertainment, you might never notice that you're enjoying not an inventive kid's antics (today, might Frank have been a teen hacker?) but watching the made-for-tv version of a convicted felon. Americans are strange: we dote on criminal tales but hate being the victim of crime; we're enthralled by con men but abhor being duped. And we prefer the digestible deceit to the raw reality: Abagnale himself, now 74, stiffed his father first of all; served prison time in the U.S., France, and Sweden; molested women under the guise of medical examinations; stole from ordinary people, not corporations; lied about everything, including working "with" the FBI; and now ostensibly makes his living as a "secure document consultant."
So is this the tale of a liar –– or a great storyteller? And what version of reality do we demand? The devastating social price of our desire for palatable fictions is an issue currently being explored in Tracy Letts' "The Minutes" at New York's Studio 54. (Check it out.)
A more complex approach to reality –– through a different kind of fantasy ––is offered in "Hurricane Diane," an intimate comedy-with-a-message now at Ithaca's Kitchen Theatre. The 2017 work is by Madeleine George, a 1996 Cornell alum whose play, "The (Curious Case of the) Watson Intelligence," was a 2014 finalist for the Pulitzer drama prize. This production, closing the Kitchen's 30th season, is the first directed here by producing artistic director Rebecca Bradshaw.
The premise: Hoping to restore the classic golden age, Dionysus arrives in the guise of a butch lesbian landscaper to solicit four suburban New Jersey women as his maenads. Can they resist the appeal to give themselves over to unleashed Nature, arrest the climate doomsday clock, and embrace the permaculture ethos, thus possibly saving the planet?
This god of wine (a demi-god, actually, we're reminded) is seeking a comeback and figures it will take at least four women to whip up an ecstatic frenzy and lure a larger following. If you notice that Bacchus aka Dionysus aka Diane is played by an attractively androgynous woman, you're right. Jackie Rivera's divinity is, forgive the pun, a force of nature –– dominating the stage with godlike assurance, electric sexuality and boundless energy. Irresistible to the ladies of Red Bank, and to the audience as well.
All the action takes place in a spacious, if aptly sterile, suburban kitchen that opens through French doors onto the much-debated backyard landscape (set by Izmir Ickbal, a bit fussily lit by M. E. Berry). In envisioning a brambly, unrestrained, all-natural terrain, Dionysus extolls the virtues of native species like pawpaw and milk vetch, forbidding, in one wonderfully comic scene, the very use of the phrase "curb appeal."
Beth (Lindsay Brill), disoriented and lonely after her husband's abandonment, is unsurprisingly the first to fall for Dionysus's earthy charms. Pam (Melissa Miller), a garrulous Italian-American who sports sexy animal prints (costumes by Chelsea Kerl), aggressively assents. The most comical pas-de-deux is with Renee (Cynthia Henderson), a savvy shelter magazine editor who welcomes the new ecovision while clearly stirred by memories of her own lesbian past. 
Diane's first target proves the most resistant to change: Carol (Erica Steinhagen) holds out for her ordered corner of reality, her cul-de-sac retreat, the planet be damned. "What I want is what we want," she insists. But with their snug little town on an inlet just off Sandy Hook Bay, storms inevitably threaten.  
Except for two overly long speeches, George's script is clever, with down-to-earth banter in an absurdist context. All the actors do it justice, delightfully mining the comedy in every moment. (The drollness echoes that of "Schitt's Creek.") It's unclear whether the play makes any climate converts, but at least you won't look at your backyard the same way again.
• "Catch Me If You Can," book by Terrence McNally, music by Marc Shaiman, lyrics by Shaiman and Scott Wittman. Directed by Brett Smock. At The Rev (Merry-Go-Round Playhouse), Emerson Park, Auburn. Mon-Sat through June 28. Tickets at https://therevtheatre.com/tickets/ticketing-options / or (315) 255-1785.
• "Hurricane Diane," by Madeleine George, directed by Rebecca Bradshaw. At the Kitchen Theatre, 417 W. State/MLK, Jr. St., Ithaca. Through June 26. Tickets at https://www.kitchentheatre.org/buy-tickets or (607) 272-0570.