The Mugglehead Technology Roundup: Mixed Bag Edition
Read Time:
10 Minute, 44 Second
Today's technology roundup includes five different companies in three disparate industries. On a whole, the technology sector is down. Unless we're talking about an Apple, Google or Uber, odds are good not many folks are going to be aware of what's being offered. So here's a cross section of companies doing their best to make waves in any way they can, and offering serious potential value for the canny investor.
Artificial Intelligence technology
The first set of technology stocks we're going to look at display artificial intelligence as its presently being used in two different sectors. There was a moment of bubble-creating enthusiasm for it a few years back, but it's since cooled and now there's a healthy amount of skepticism as to whether or not its going to make good on any of its promises.
You be the judge about this technology.
Artificial intelligence and mining are a perfect match

Minerva Intelligence (TSXV:MVAI) announced its monthly sales results for their DRIVER artificial intelligence (AI) software for May.
Part of Minerva's revenue stream comes from its licensing of the DRIVER software. Minerva offers three licensing levels for clients of varying size, including an upgradable Proof-of-Concept license.
Have a look:

Minerva Intelligence is a Vancouver-based AI company. Even though the company's software has shown up in service to multiple different industries and domains—a few of which include land use planning, environmental planning, and healthcare—its primary focus is on the ongoing search for critical metals and climate risk mitigation.
"Our team is actively evolving our sales process to focus on direct to license sales rather than Proof-of-Concept to License. While this resulted in slightly lower sales in May, we expect increased activity for the rest of the year and we look forward to sharing these monthly updates as we continue to sell more Proof of Concepts and Licenses," said Scott Tillman, CEO of Minerva.
A bit more specifically, DRIVER services the mineral exploration and mining industry through improved evaluation of drill data to help find superior drill targets, make sense of geometallurgical domains and improve upon the accuracy and speed of 3D modelling.
The technology creates 3D models of all aspects of the dataset within minutes, identifying and cataloguing any potential zones where mineralization could be. This is a big deal for companies in terms of exploration, metallurgy, mining and environmental protection, and the company is presently looking around for partners in companies involved in the space from around the world..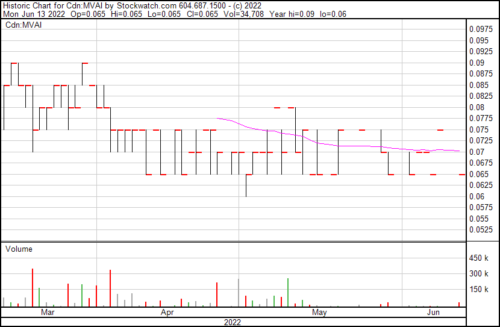 The past few months have seen Minerva coming in at a range with a penny to a penny and a half variance, and they're clearly looking for some variety of catalyst to affect a breakout.
Datametrex AI latest deal with Lotte brings in the revenue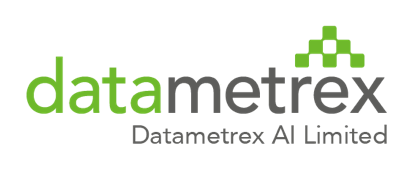 Datametrex AI (TSXV.DM) picked up its latest purchase order from Lotte Rental Company for system monitoring, pulling in $500,000 in additional revenue.
Datametrex is an interesting opportunistic grab-bag of a company, bouncing from sector to sector, depending on what's hot, but generally always coming back to their artificial intelligence core. For example, during the pandemic the company produced an AI filter which weeds out fake news from social media while also producing COVID-19 tests. Now DM has transitioned into telehealth and electric vehicles because why not?
This strange mix naturally prompts the question:
What do this company do exactly?
What Datametrex does is make money.
Here's their Q1 highlights:
The company's board of directors approved the decision to initiate a move to the Toronto Stock Exchange main board.
The company graduated to Tier 1 status from Tier 2 on the TSX Venture Exchange, effective Feb. 8, 2022.
In March, 2022, the company's wholly owned subsidiary, Nexalogy, successfully completed the first phase of a $40-million artificial intelligence contract with the Canadian government.
The company completed the initial stages of EV initiatives and will use its proprietary AI engine to address the EV charging market.
The company expanded operations for its Medi-Call telehealth application, with the goal to expand rapidly into the telehealth vertical. On March 1, 2022, the company began beta testing with a focus group of patients and physicians.
The company was recognized as "most promising Canadian tech company" by an on-line publication, CIOReview.
Now the company's latest deal with the LOTTE Group, which is the fifth-largest conglomerate in Korea with annual revenues in excess of USD $60 billion in 90 sectors, could bring them an extra $500,000. This particular division of LOTTE deals with short and long term rental cars, and the company will be putting their AI tech to work in terms of system monitoring.
"At Datametrex, we continue our efforts to facilitate ground-breaking technologies to companies across the globe. We pride ourselves in providing tools that our clients can use to visualize their customers and stakeholders, to make predictive analyses, mitigate risk, and improve their bottom line," said Marshall Gunter, CEO of the company.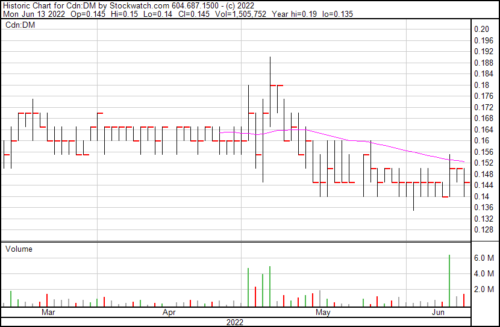 Datametrex lost half a penny today and is presently trading at $0.145, with a market valuation of $53.4 million.
Crypto
Crypto has taken its fair share of hits in the past few months, and the two companies featured here haven't been exempt.
Kentucky is the last domino to fall in securities question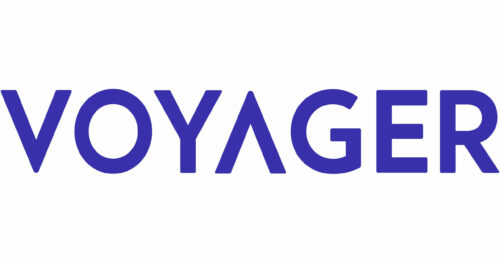 Voyager Digital's (TSX.VOYG) latest news is that every state in the union (except Kentucky) has accepted its Voyager Earn Program.
The earn lets you benefit from holding over a minimum monthly average balance in certain types of cryptocurrency, compounding interest on top of what crypto you presently own. There are two segments: tiered and untiered. The tiered coins include BTC, ETH and USDC with interest rates relative to how much in custody. The non-tiered coins are numerous, but a few of the more popular include Polkadot, Cardano, Litecoin, Avalanche, ATOM and LINK. So there's a decent amount of choice there if you're looking for a way to make your stake grow and you've got a fair amount already.
Unless you live in Kentucky.
If you're unfamiliar Voyager Digital is a cryptocurrency exchange in the United States that offers over 100 different cryptoassets. It has a mobile app, and a subsidiary named Coinify ApS that offers crypto payment solutions for consumers and merchants.
Actually, this story goes back a bit further and really hinges on one of the core conflicts at the heart of the technology. On March 29, Voyager received multiple cease and desist orders from state securities divisions of member states in the North American Securities Administrators Association.
"It is encouraging that all states, other than Kentucky, have allowed Voyager to continue to operate the Voyager Earn Program. Based on the continued operation of the Voyager Earn Program and similar programs across the industry, I am hopeful that an acceptable path forward can be agreed upon to ensure that our customers can continue to be rewarded for their loyalty to Voyager in these inflationary times and to keep the US crypto asset industry at the forefront of crypto adoption and innovation. Voyager's ethos has been, and will continue to be, about giving our customers the most accessible and rewarding experience possible," said Stephen Ehrlich, CEO and co-founder of Voyager.
The intent was to stop the Earn Program and stop them from offering accounts that could earn on accounts. The notion, of course, is part of the ongoing question of whether or not these digital assets should be regulated like securities and naturally there's licensing issues involved, because VOYG isn't slated to securities trading.
The states involved were:
Indiana
Kentucky
New Jersey
Oklahoma
Since then the company has been chatting with the regulatory bodies of each state to get an understanding of each other. Now apparently the only domino left standing is Kentucky.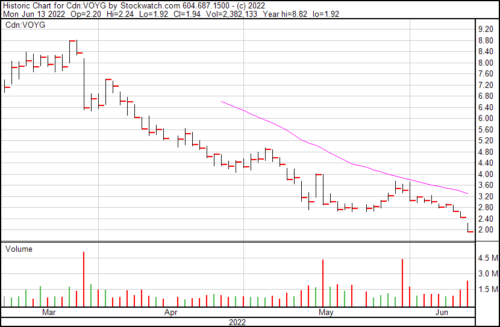 Here's what a sector in free-fall looks like. If you factor in that this time last year, VOYG was trading at slightly under $20 a share you can see that this sector lives and dies on the fate of its bellwether coin, Bitcoin. Right now they're at $1.93 and dropping. We're right in the middle of the four-year Bitcoin halving cycle, which means that we likely won't start seeing any raises in the prices of BTC and ancillaries for another year.
If at all.
Ever ambitious INX Digital's launches crypto app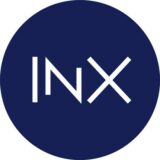 The INX Digital Company (NEO:INXD) launched its cryptocurrency application on the Apple App Store and Google Play app store.
The app is part of the company's overall strategy to create what they're calling INX.ONE, a regulated digital asset trading hub.
It uses INX's trading technology to provide a secure alternative to crypto trading. The app supports industry security standards for user data encryption, allows the listing and trading of cryptos with full regulatory compliance, fair trading policies, security and privacy protocols and procedures.
"The INX Crypto trading app is about actions, not distractions. It was designed to allow straightforward trading of cryptocurrencies on any mobile device. We are gradually establishing more avenues for accessing crypto and digital securities. Our mission is to bring communities together and empower them through financial innovation. This app offers a regulated, secure, and easy-to-use method for trading crypto," said Shy Datika, CEO of INX.
Here's a company with a singular ambition.
The INX Digital Company is a subsidiary of INX Group, which runs regulated trading platforms for digital securities and cryptocurrencies. It was founded by Datika in 2017 and has a curious and relatively ambitious plan to help list companies as publicly-traded digital securities on a regulated blockchain-based environment with complete oversight from both the Securities and Exchange Commission and Financial Industry Regulatory Authority.
The company kicked that off with the first ever SEC registered initial public offering of a security token on a blockchain. It's called the INX Token, which used to raise $83 million from over 7,200 retail and institutional investors.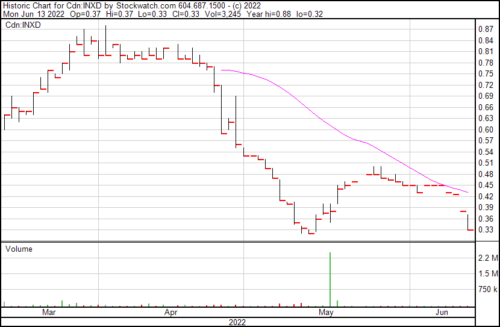 This pattern isn't particularly common with the crypto-sphere. The general trajectory (down) definitely is, but the curious dead cat bounce at the bottom before the stock returned to its $0.33 is relatively unprecedented. But that's crypto right now. This could be a company that sees some life return to it when Bitcoin rebounds, and that makes this price point particularly interesting to true believers or anyone who's interested in maybe a short-term speculative gamble.
Agritech
Agriculture and technology have been partners since the first farmer picked up the first garden hoe and the company featured below could be on the cutting edge of a new innovation.
Cult Food Science and Newlab team up to fight factory farming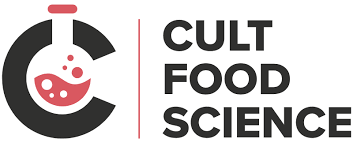 Cult Food Science (CSE.CULT) is joining the Newlab cellular Agriculture Venture Studio in New York City as a partner and advisor.
The studio is hyperfocused on developing business-to-business ventures in the cellular agricultural space. Right now it's all about compiling a collection of experts, including venture capitalists, civic organizations, and both nonprofits and for profit companies that can provide strategic advice on how to create and grow new ventures.
"The field of cellular agriculture remains open for new innovation but, at the same time, we are facing compounding challenges with global food production and climate change that are all but assured to escalate over the next decade. We choose to act now instead of waiting so that we may address the challenges of the future head-on," said Lejjy Gafour, chief executive officer of CULT Food Science.
There is a significant amount of synergy around these two companies and their aims.
For example, Cult Food Science is an investment platform working to advance and develop novel technology in pursuit of a sustainable, environmental and ethical solution to global factory farming. Meanwhile, the Newlab studio leverages its technical and business building experience to find and define market opportunities, as well as build, develop and support businesses.
"The Venture Studio with Newlab provides a unique model that fits well with the overall strategy of CULT Food Science – it provides an avenue for new ideas and intellectual property to be developed from the ground up, with skilled experts and an eye for really pushing the boundaries of what has been done to date globally. Between CULT and Newlab, we will be working hard to become a driving force for new innovations in the industry over the coming years," said Gafour.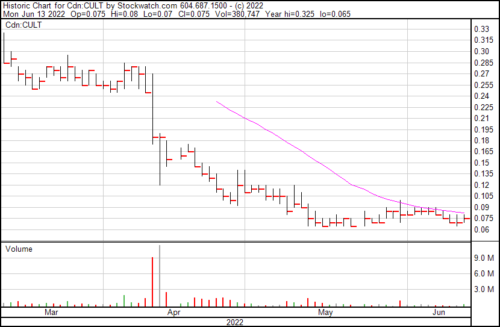 The company's stock price has been in a significant slump since late April when it plummeted from around the $0.27 mark and is now ranging between $0.07 and $0.09.