Soccer is returning to Wilmington, bringing food, housing and entertainment with it
Read Time:
4 Minute, 0 Second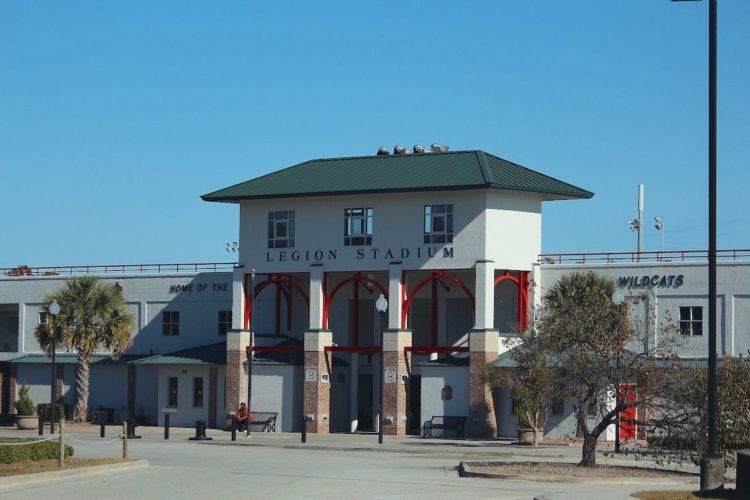 WILMINGTON — Professional soccer is set to return to Wilmington, giving itching fans a much-requested homecoming. And that is only the beginning of what organizers have planned for the sport's restoration. 
The United Soccer League granted exclusive rights to USL to Wilmington. The group is setting up a USL League One team to begin playing in 2024.
Primary investor Scott Sullivan of Cameron Management is joined by UNC Chapel Hill professor of practice Chris Mumford, former Wilmington Hammerheads midfielder and North Carolina FC coach Dewan Bader as the group's organizers. 
Mumford shared that Wilmington's support for its former soccer team, Wilmington Hammerheads, and its youth offshoot, along with the rise in soccer's popularity among a growing region, makes the city ripe for a new team. 
"The stars are aligned for Wilmingon right now," Mumford said. "We should have moved here five years ago." 
The Hammerheads had a 20-year run as Wilmington's professional soccer team that competed in the USL. The team self-relegated to the Premier Development League in fall 2016 and they played their last game in 2017 before disbanding. 
Mumford, a former soccer player at UNC Chapel Hill, and his two partners are aligned with the concept "do good, do well." That vision extends far beyond the realm of soccer.
The group is not just opening an ordinary stadium; they plan to construct an outdoor community event center. They will not play permanently on Hammerheads' old field at Legion Stadium, though may use it while the event center is in the works. According to Mumford, the stadium is not equipped to meet their needs.
The community-driven vision includes artist spaces, restaurants, large retail, healthcare systems, and even housing. Mumford stated they need 40 to 60 acres of land at minimum to break ground on the event center. A typical soccer stadium measures 2 acres at maximum. 
"We want to make it convenient for our fans to get to," Mumford said. 
They have one location in mind but said it was too early to share details. 
The plans are centered around soccer but would also provide services to support the community around it.
"It's not about transactions. It's about relationships," Mumford said. "You don't get into the minor league soccer business to make a lot of money."
While many ideas are in the brainstorming stage, Mumford pointed out two must-have amenities — a food hall and beer garden. The two spots will be publicly accessible and open year-round. Mumford said those spaces will be an opportunity for local restaurateurs to build their business and the community to interact with the space, even if they aren't soccer fans.  
The organizers also want to uplift local musicians and artists by providing outdoor galleries and venues. Mumford's goal is to include murals across the center, each one painted on canvas so it can be transported to other parts of the city. He hopes to collaborate with UNCW and even outside exhibitors, such as theVan Gogh immersive experience now on display in Raleigh. 
As a professor of innovation and entrepreneurship at Chapel Hill, Mumford said the emphasis will be on providing the infrastructure for low-resource entrepreneurs to succeed. 
The group's vision lies at the intersection of sports, entertainment and wellness, he explained. The last one will be satisfied by creating housing communities and providing space for healthcare systems.
"People like to live close-by to stadiums with the buzz of restaurants and entertainment," Mumford said. 
After letting go of soccer post-college, Mumford worked on Wall Street and lived in Asia for 12 years. Through his work, he said he fell in love with startups. He was brought back into the world of soccer through his kids, and it was at their many games that he and Duke soccer coach John Kerr decided to start the Accelerator School in Morrisville six years ago, which combines soccer training with academics. 
USL to Wilmington plans to hold listening sessions starting this fall to hear community wishes ahead of planning decisions.
Many amenity additions and creative decisions, including the team's name and logo, will be determined based on those sessions. 
"We can look people in the eye and say we've listened to what people have to say," Mumford said. 
Information about the sessions can be found at USL to Wilmington's website. 
---
Reach journalist Alexandria Sands at brenna@localdailymedia.com 
Want to read more from PCD? Subscribe now and then sign up for our newsletter, Wilmington Wire, and get the headlines delivered to your inbox every morning.