Rishi Sunak closes in on No 10 as Penny Mordaunt races to get 100 backers before deadline – UK politics live | Conservative leadership
Read Time:
10 Minute, 48 Second
Key events
The Conservative MP Andrew Stephenson has joined the flow of Boris Johnson supporters switching to Rishi Sunak.
There is little evidence of Johnson supporters backing Penny Mordaunt, although ITV's Paul Brand says Penny Mordaunt's team are privately claiming to have 100 MP endorsements – the number needed to get her on the ballot paper.
According to the Guido Fawkes spreadsheet, Mordaunt has just 31 declared supporters.
Readers have pointed out that Benjamin Disraeli, who was Jewish, was the first minority ethnic prime minister. I've corrected the post at 8.02am to say Rishi Sunak would be the first person of colour to be PM.
Grant Shapps, the home secretary and leading Rishi Sunak supporter, was doing interviews this morning on behalf of the former chancellor and runaway favourite for next PM. Here are some of the points he made.
Rishi doesn't think that it's in the bag. He's speaking to colleagues this morning, he's working very hard to attract those supporters who were perhaps with Boris Johnson previously.
Shapps declined to say that Penny Mordaunt should withdraw from the contest. Asked if she should, he said:
That's up to Penny Mordaunt and her supporters. What I do know is that Rishi enjoys the support of a large number of Conservative MPs, and there's a very high nomination threshold of 100.
We elect a party and we elect individuals as members of that party, and the 2019 manifesto is actually the thing – the document, if you like – that Rishi is standing on.
He rejected suggestions that Suella Braverman is backing Sunak because Sunak has promised her she can return to her old job as home secretary, which Shapps now has. When this was put to Shapps half-jokingly, he said he was "pretty sure" Sunak had not made that promise to Braverman. Sunak wanted a "free hand" to "build a team of the best people", Shapps said.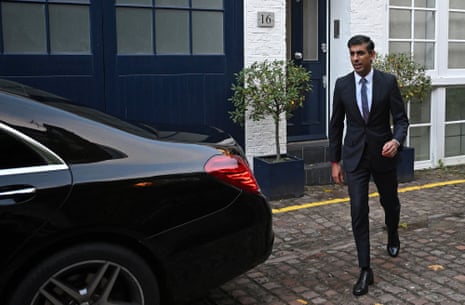 Michael Gove, the former levelling up secretary, has also urged the Tories to unite behind Rishi Sunak. That is no surprise because he backed Sunak in the summer, after Kemi Badenoch, his first choice for leader, was knocked out of the contest.
Former Johnson supporter Priti Patel backs Sunak for Tory leader
Priti Patel, the former home secretary, has become the latest Tory to switch from backing Boris Johnson for the leadership to supporting Rishi Sunak.
Andrea Leadsom, the Tory former cabinet minister and a leading Penny Mordaunt supporter, told Sky News there was "no prospect" of an early general election under Mordaunt because she would have a mandate from the 2019 election.
There is no prospect of an early general election under a Penny Mordaunt leadership. You know, we have a mandate from 2019 from the people to fulfil the promises that we made to them then.
In her memoir Snakes and Ladders Leadsom said she and Mordaunt used to have "a longstanding agreement – only slightly tongue in cheek – from our days as backbenchers that we would have senior roles in each other's administrations should either of us ever become prime minister".
Christopher Chope joins other Johnson supporters in calling for general election
Sir Christopher Chope, a Conservative MP who wanted Boris Johnson to replace Liz Truss, told the Today programme this morning that he thought the next prime minister should call a general election to get a mandate. He said:
If people who are now seeking the crown want to have the respect which comes from having a mandate, then what I'm saying is that the best way they can get that respect is by winning a mandate with the people, and that's why I think a general election is essentially the only answer, otherwise we're just going to go from bad to worse.

The party is ungovernable in the House of Commons and so we're going to have continuing rebellions as we try to change policies and so on, and so I must say I'm very pessimistic, I'm very angry, and I feel that Boris has been let down once again and undermined by our parliamentary colleagues.
Most Conservative MPs dread an early general election, because polling suggests they would lose by a landslide. The latest Politico poll of polls gives Labour a 34-point lead. Electoral Calculus, which uses figures giving Labour a 27-point lead, estimates that an election now would lead to Labour winning 507 seats, and the Conservatives getting just 48.
But Chope is not alone, and other Tories – particularly Johnson supporters – have been making the same point. Last night Nadine Dorries, the former culture secretary, said she thought a general election was inevitable.
Zac Goldsmith, the Foreign Office minister, made the same point yesterday.
And in his Sunday Telegraph column the Tory peer Daniel Hannan (who worked with Johnson at the Telegraph, and was given a peerage by him) claimed that an early election could even benefit the Tories. He said:
The constitutional case is that circumstances have changed: neither the pandemic nor the war had happened in 2019, manifestos have been overtaken by events, and there is a need for fresh mandates.

The tactical case is that a Labour government elected now is more likely to be short-lived than one elected in two years' time when the Tories have carried out arduous and unpopular repair-work, and when the economy is recovering.

It is even possible that, if the choice is put starkly enough, the Tories might win.
In his statement yesterday anouncing he would not be a candidate Johnson himself claimed he was "uniquely placed to avert a general election now", implying that another PM would find it hard to avoid calls to hold one.
Almost all opposition parties are demanding an early election, and a public petition calling for one has now attracted more than 865,000 signatures.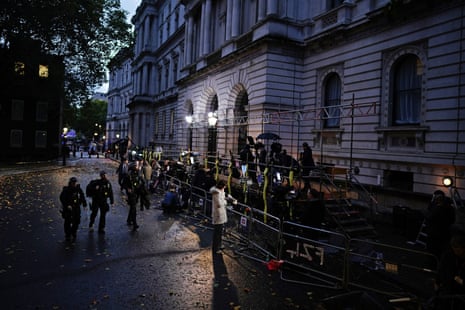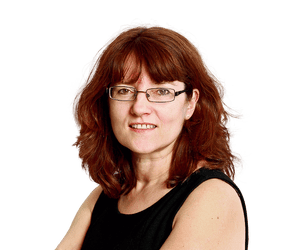 Harriet Sherwood
If Rishi Sunak is named as the new prime minister later today, he will become the UK's first Hindu premier – and will take up the position on Diwali, the Hindu festival of lights.
Sunak is a practising Hindu, although he has rarely talked about his faith in public.
Two years ago, when chancellor, he lit candles to mark Diwali on the doorstep of No 11 Downing St at a time when Covid restrictions remained in force. He said: "We're going to get through this. And it's going to be so much better on the other side."
Diwali is a five day festival celebrated by millions of Hindus, Sikhs and Jains across the world. It is a festival of new beginnings and the triumph of good over evil and light over darkness.
This year Diwali takes place from 22 October to 26 October, with the main day of celebration being today.
Lights and candles will be lit on streets and people's houses, and fireworks will mark the festival. Families will visit relatives for celebratory feasts.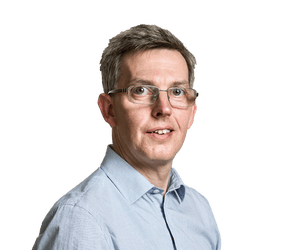 Andrew Sparrow
Good morning. I'm Andrew Sparrow, taking over from Helen Sullivan, on a morning when the UK wakes up to learn that one national icon is staging a comeback, but it's David Tennant as Dr Who (see 6.44am), not Boris Johnson as prime minister. News does not always have to be depressing.
And it looks very, very likely that by the end of the day Rishi Sunak will be the next prime minister. New prime ministers seem to come along quite regularly now, but this will be a more historic handover than the last. If he does become PM, Sunak will be the first person of colour to hold the post. It will be the first time since 1940 that a new PM has taken over for the second time since the previous general election. And it will be the first time since 1834 that the we've had three prime ministers in year.
Sunak may also become PM despite have said almost nothing in public about how he intends to govern – although, since he was a candidate in the summer, we do have a policy platform that he set out recently.
We will know soon after 2pm whether or not that is the outcome. That is the time when nominations close and Penny Mordaunt, the only other candidate still in the contest, is struggling to collect 100 names. Since Boris Johnson pulled out of the contest last night, we've seen more of his supporters back Sunak than Mordaunt.
We don't have timings yet, but if Mordaunt fails to get the 100 nominations, or pulls out, then it is possible that Sunak could have an audience with the King later this afternoon to be asked to form a government. He could be doing a speech from No 10 before nightfall.
If Mordaunt does get 100 nominations, there will be a hustings for Tory MPs at 2.30pm, and then they will have an "indicative vote". This is so that members will know how much support each candidate has amongst MPs. The person coming second (almost certainly Mordaunt) would be under pressure to withdraw at that point, although theoretically the decision could still go to a ballot of members, in which case we would not have a new PM until Friday.
That's it for me, Helen Sullivan, for today – thanks for following along. Andrew Sparrow will take the helm for the next while, so stay tuned.
The shadow attorney general, Emily Thornberry, has just said on BBC Radio 4 that the Conservatives, "crash the economy and then they say that they have the solution and they won't let anybody else have a say".
She has called for a general election, saying that had there been one when Boris Johnson resigned, the recent economic turmoil would have been avoided.
"Isn't it interesting that we're now talking about austerity version 2 after the Conservatives crashed the budget when we weren't talking about it at all in the summer?" she asked, pointing out that the Office for Budget Responsibility forecast has been held back until after a new PM is chosen.
Guy Hands, a long-time Conservative supporter and the founder of the investment firm Terra Firma, has told BBC Radio 4 listeners that the UK economy is "frankly doomed".
He warned that Britons will face steadily increasing taxes, steadily decreasing social services, higher interest rates and the need for a "bailout from the IMF" in the long term if the next Tory leader doesn't renegotiate the Brexit deal.
He said that Britain was on track to become the "sick man of Europe".