Pulmonx: FDA Approved Technology But Adoption Issues (NASDAQ:LUNG)
Read Time:
8 Minute, 55 Second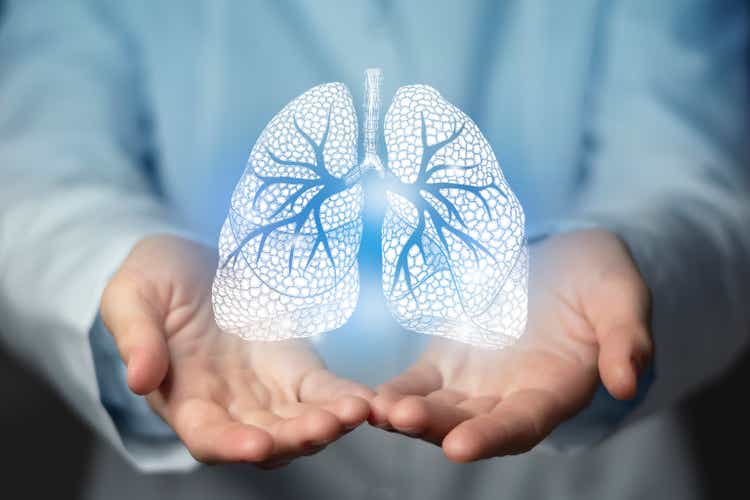 The best thing to do during an equity bear market is to not give up and stick with one's research process in trying to find the leaders of the next bull market. For that reason, I have been spending a lot of time researching new and interesting companies, to try to find the next Google (GOOG) (GOOGL) or Intuitive Surgical (ISRG).
While Pulmonx Corporation (NASDAQ:LUNG) does have an interesting technology treating an underserved medical condition, I think the business is struggling to ramp up adoption for its Zephyr Valves technology and investors are best served to wait on the sidelines.
Introduction To Pulmonx
Pulmonx Corporation is a commercial stage medical device company that sells the Zephyr Endobronchial Valve and associated screening and management software. The Zephyr Valve is a minimally invasive treatment for patients with severe emphysema, a form of chronic obstructive pulmonary disease (COPD). Pulmonx estimates its solution is suitable for 1.2 million patients around the world, representing a $12 billion market opportunity.
Zephyr Valves have been clinically proven to alleviate patient symptoms, with over 100 scientific articles published in the New England Journal of Medicine, The Lancet, and the American Journal of Respiratory and Critical Care Medicine.
Pulmonx received FDA approval in 2018 for its Zephyr Valve technology and launched commercial production shortly afterwards. To date, over 100,000 valves have been used to treat 25,000 patients. Zephyr Valves are commercially available in over 25 countries and have been included in COPD treatment guidelines worldwide (Figure 1).
What Is Emphysema?
Emphysema, a form of COPD, is a debilitation lung condition characterized by the patient's shortness of breath. Emphysema progressively destroys lung tissue and reduces a patient's ability to breath and engage in basic daily activities. Globally, it is estimated that 175 million patients suffer from COPD as of 2015, and about a quarter of them is due to emphysema.
In patients with emphysema, the air sacs in the lungs are damaged. Over time, the inner walls of the air sacs weaken and rupture – creating larger air spaces instead of many small ones (Figure 2 shows healthy vs. emphysema lung tissue). The diseased areas of the lung become over-inflated and crowd out the healthier tissue. This reduces the surface area of the lungs and the amount of oxygen that reaches the bloodstream.

The lung damage from emphysema is irreversible. Treatment for emphysema usually begins with medication to reduce inflammation and airway obstruction but does not address the underlying lung tissue damage. As the disease progresses, patients may be prescribed supplemental oxygen and pulmonary rehabilitation exercises. In severe cases, patients may require lung transplants or lung volume reduction surgery (LVRS) to alleviate their breathlessness. These invasive surgical procedures involve high risk of complications, long hospital stays, and high risk of death (Figure 3).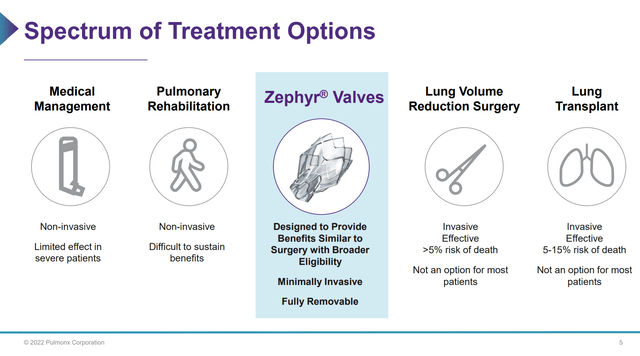 The Pulmonx Zephyr Valve is designed to provide bronchoscopic lung volume reduction without invasive surgery and its associated risks. During a minimally invasive bronchoscopic procedure that typically lasts only one hour, Zephyr valves are placed in airways to close off the most diseased parts of the lung that have become hyperinflated. Trapped air is allowed to escape, which shrinks the diseased lung tissue. This allows healthier parts of the lung to expand and take in more air. Patients who have received the Zephyr Valve report improved breathing and the better quality of life.
Sizeable Market Opportunity
Pulmonx believes that of the global population of COPD patients, approximately 8.5 million have severe COPD and 3.2 million have severe emphysema. Of that 3.2 million severe emphysema population, Pulmonx believes 1.2 million (500k in the US, 700k international) would quality for Zephyr Valves, representing a $12 billion market opportunity.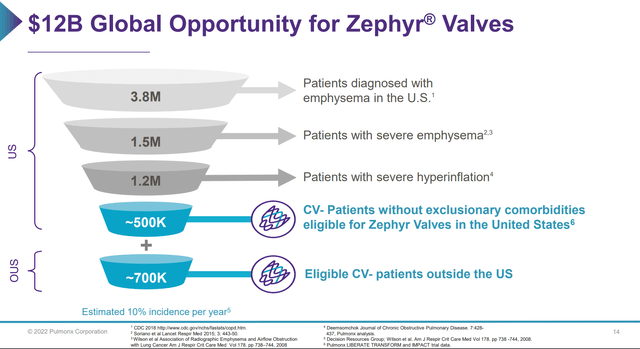 Pulmonx IPO and Price Action
Based on the promising technology and sizeable market opportunity, Pulmonx completed a successful IPO in 2020. Initially, the company wanted to raise $86 million in fresh capital at $13 per share. However, due to strong demand, the company raised $190 million instead by issuing 10 million shares at $19 a share. The stock opened at $40 on day 1, and soon galloped to almost $70 a share (Figure 5). However, Pulmonx, along with other speculative equities, soon cooled off. From the peak in January 2021, LUNG has steadily declined by almost 80%.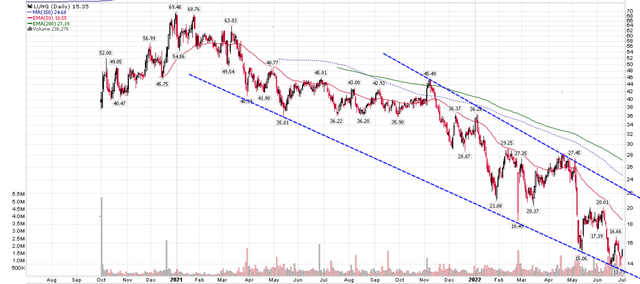 Sales Traction Curtailed From COVID-19
The main issue with the Pulmonx story is that its sales ramp-up failed to gain significant traction as sales were impacted by the COVID-19 pandemic. Figure 6 shows quarterly US and International revenues for Pulmonx.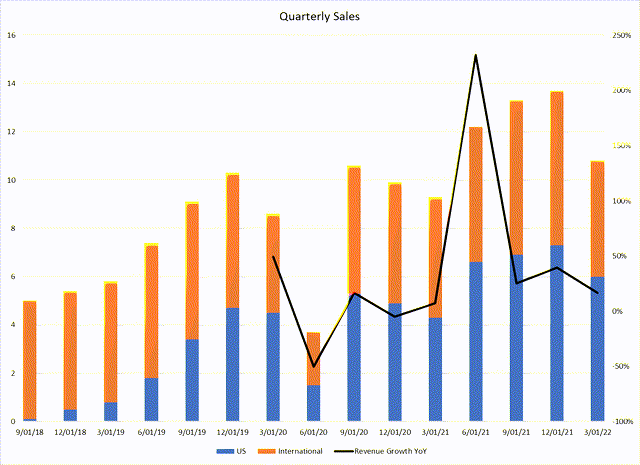 In fact, when COVID-19 initially appeared, Pulmonx saw a 55% YoY decrease in units sold in Q2/2020. As hospitals were rushing to treat patients with COVID-19, many elective surgeries such as Pulmonx's Zephyr Valves were delayed. Moreover, the pandemic also severely impacted the company's ability to attract and train surgeons on the Zephyr Valves treatment.
Even though COVID-19 has become less of an issue, it continues to have a negative impact, with management commenting in the latest Q1-2022 quarterly that…
"…COVID shut us down for roughly half of the first quarter."
– Quote from Glendon French, CEO, during Q1/2022 earnings call
For the full year, management only guided to $55 to 60 million in top line revenues, a modest 13-24% YoY growth rate that is not typical for an emerging technology meeting strong patient demand.
Financial Model Challenged
While the sales ramp up has been disappointing, the company has not slowed down its infrastructure buildout. Pulmonx grew SG&A 26% YoY in the latest quarter, far above the 17% revenue growth. In fact, management expects full year expenses of $100-105 million, a 23% growth rate YoY at the midpoint.
The net result is that the company is not expected to break even in the near term. Even if we assume operating expenses were to be held constant at $24 million (Q1/2022 levels), revenue will have to grow to $131 million to break even, assuming a stable 75% gross margin. Unless Pulmonx can achieve a step change in its sales adoption curve, the company is highly unlikely to break even in 2023 either.
Valuation
How should we think about a growing company but struggling to break even? Pulmonx currently has a market cap of $570 million, with $20 million in debt and $170 million in cash. This gives an enterprise value of $420 million. At the midpoint of guidance, this translates to 7.3x EV/Revenue.
The following is a presentation I found on valuation multiples for the medical devices industry from Cogent Valuations, a valuation and financial advisory specialist firm.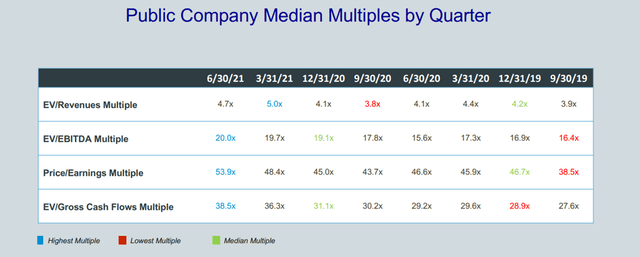 While the data is a little dated as it is from Q2/2021, I think it is still very useful. As we can see from the figure, EV/Revenues for the industry peaked at 5.0x in Q1/2021, basically the time when Pulmonx's valuation also peaked at $2.5 billion. Since Pulmonx's current valuation multiple of 7.3x is higher than the peak industry median multiple of 5.0x, I think Pulmonx's shares are still too richly valued.
Insiders Agree With My Assessment?
Insiders appear to agree with my analysis that the stock price is overvalued. Over the past two years, insiders, from the directors to C-level executives, have sold a collective $194.6 million in shares. The CEO has personally sold $13.4 million in stock, with his most recent sale on June 1st.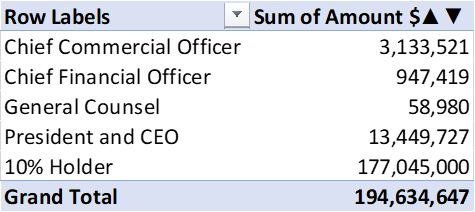 Key Risks
Competition
One of the key risk to the Pulmonx story is competition. While the company claims its Zephyr Valves are a novel treatment for severe emphysema, they do mention that there are other treatments and devices on the market competing with Zephyr.
The closest competitor is the Spiration Valve (Figure 9) from Olympus Medical. A brief examination of the technology shows that the two devices are very similar and performs essentially the same function. Both valves are implanted using a flexible bronchoscope and occludes the damaged airways while allowing trapped air to pass through. Even their information videos are nearly identical (Figure 9 vs. Figure 10).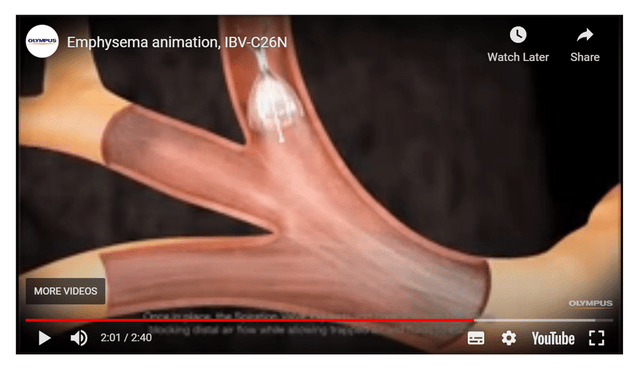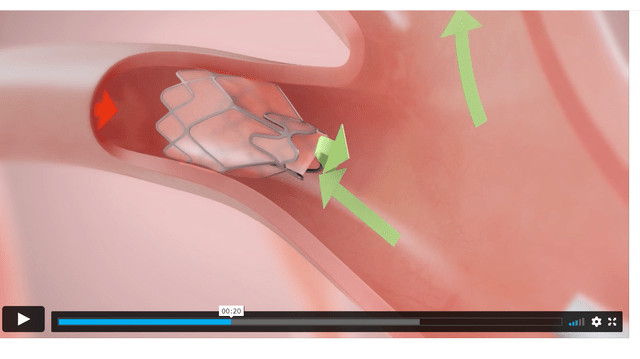 The problem for Zephyr is that Olympus Medical is part of Olympus Corp. (OTCPK:OCPNY), a $25 billion Japanese conglomerate with far more financial resources and sells a whole suite of medical equipment in addition to the endo-bronchial valves.
Endemic COVID-19 May Continue To Disrupt Adoption
Another risk is that as the COVID-19 pandemic becomes endemic, it periodically flares up and causes patients to avoid elective surgeries. Some scientists warn of further mutations and outbreaks as the western world enters fall this year.
Moreover, it is clinically shown that patients with COPD have a much higher mortality rate from COVID-19 (15% vs. 4%). So sadly, repeated outbreaks of COVID-19 may dramatically reduce the patient population of those with severe emphysema.
Pulmonx Could Be Sold
One upside risk to my analysis is that it makes much more strategic sense for the Zephyr Valve to be part of a larger medical devices company like Olympus. It doesn't make strategic sense for a dedicated sales force selling a single product. So as Pulmonx's valuation continues to decrease, it becomes increasingly likely a larger company snaps it up and puts the Zephyr valve into its product portfolio.
Conclusion
While Pulmonx has a very interesting valve technology to treat severe emphysema, I think it is still too richly valued relative to the demonstrated growth rate. I am also concerned that its product is not materially different from the Spiration Valve sold by Olympus Medical, a company backed by a much larger conglomerate with a suite of medical products to sell/bundle. Finally, I do not like the fact that insiders have been continuously dumping stock. I would rather take a wait and see approach with Pulmonx.
One potential upside is that it makes much more strategic sense for Zephyr Valve to be part of some other company's portfolio, so a sale could be in the future.