New Jersey arts and entertainment news, features, and event previews.
Read Time:
2 Minute, 26 Second
NEWS | FEATURES | PREVIEWS | EVENTS
originally published: 06/21/2022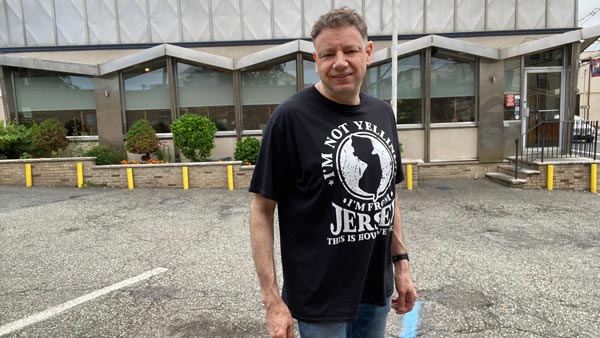 Montclair singer/songwriter Jason Didner is set to release a compilation of his most quintessentially Jersey music from over 25 years of his songwriting and performance. It's a Jersey Thing will include his Jersey rock songs for adults and kids. 
The lead track is a newly re-recorded "You Can't Get There from Here in Jersey." In 2001 the song had its debut on National Public Radio's Car Talk program (Jason wrote the song specifically for that show). "I felt compelled to use the improved home recording technology that's available and my growing multi-instrumental skills to realize the song to its full potential, so it meets modern standards for streaming," Jason explained. 
The song has an official video, a collaboration with his father Bob, who provided motion-stabilized roadway footage used to illustrate the comical gripes in the lyrics about New Jersey's jug handles, traffic, hard-to-reach and far-apart highway exits and more. 
It's a Jersey Thing will also highlight Jason's career making Jersey rock songs for kids and their grown-ups. "Jersey Dinosaurs" and "Summertime Santa" serve up an E Street-esque helping of the Jersey Shore sound while describing the "Jersey attitude" of the Hadrosaurus, a dinosaur first discovered conveniently off Exit 4 of the Turnpike in Haddonfield. In "Summertime Santa" we find the legendary gift giver spending his summers – where else? – but down the shore serving up ice cream on the boardwalk! 
The album reaches back to grab a studio recording in 1996 of "Cubicle" – Jason's comedic ode to entry-level white-collar work written soon after graduating college into a recession on the Jersey side. "Jackals on the Prowl" is Jason's sports anthem for the New Jersey Jackals – first recorded to help the charitable organization Parents Who Rock run a food drive at a Jackals baseball game.
Advertise with New Jersey Stage for $50-$100 per month, click here for info
---
"Salt and Sand," one of Jason's more earnest and anthemic offerings, the title track of his previous album, appears in the new collection, thanks to its Jersey Shore and highway imagery and its use of the Jersey Shore sound. 
Also included are Jason's acoustic cover of Bruce Springsteen's "Thunder Road" and a live acoustic recording of "You Can't Get There from Here in Jersey" which really highlights the crowd's reaction to the song's humor. 
It's a Jersey Thing will be released on Friday, July 15 on all music streaming platforms and Bandcamp, where downloads of the album and a digital songbook can be purchased.  
Advertise with New Jersey Stage for $50-$100 per month, click here for info
---