New Jersey arts and entertainment news, features, and event previews.
Read Time:
7 Minute, 37 Second
NEWS | FEATURES | PREVIEWS | EVENTS
By Jennifer Petrics
originally published: 07/24/2022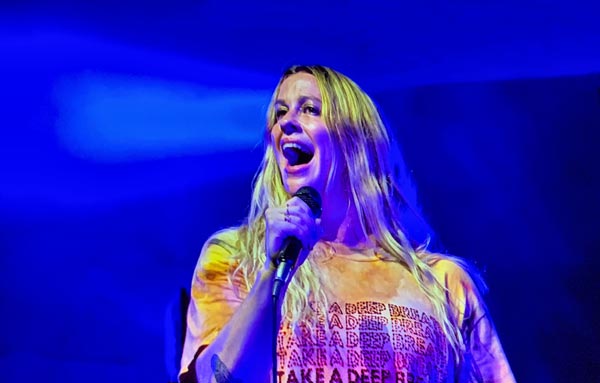 On July 21, 2022, Alanis Morissette performed at PNC Bank Arts Center, Holmdel, NJ.  Garbage opened the night.  Jennifer Petrics was on hand to cover the show.
Twenty-seven years (and two tour cancellations) after the release of one of the most critically acclaimed, generational defining albums of all time, Alanis Morissette revisits Jagged Little Pill in celebration of its 25th anniversary world tour.  From selling 10 million copies in 1995 to more than tripling that today, Jagged Little Pill has been proclaimed as a feminist manifesto, winning multiple Grammys and becoming the antidote for broken hearts around the world.  Guy Oseary, who signed Morissette to Maverick at the time, thought "Here was a songwriter who was speaking for our generation, a generation that most people think just doesn't have much to say."
By today's standards, Alanis has truly become an alt-pop icon and immersed herself as a pioneer, paving the way for many female artists and songwriters—artists like Hayley Williams, Olivia Rodrigo, Tate McRae, and Gayle—among others.  It's interesting to note that Alanis and Olivia co-hosted a Musicians on Musicians podcast and interview with Rolling Stone last year, where they discussed the universalism and concourse of heartbreak.  You Oughta Know—the song which catapulted Alanis to unparalleled heights—has seen so much adoration and connectivity over the years and has been performed live, in fact, by both Morissette and Rodrigo… as well as Morissette and Taylor Swift (a queen of heartbreak in her own right with a songbook of breakup hits).
The show opened with a trio of large screens, displaying a video montage, highlighting Alanis's career-spanning influence and the impact she's had on pop culture and other artists, collectively, throughout the years.  The reel touched on everyone from fans like American Idol contestant Alanis Sophia to parodic impersonations by Kelly Clarkson, Alessia Cara, Nicole Scherzinger, and P!nk—as well as Morissette's reach into TV, film (Dogma) and Broadway.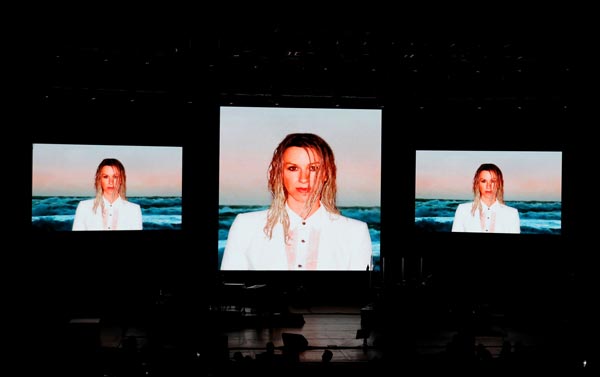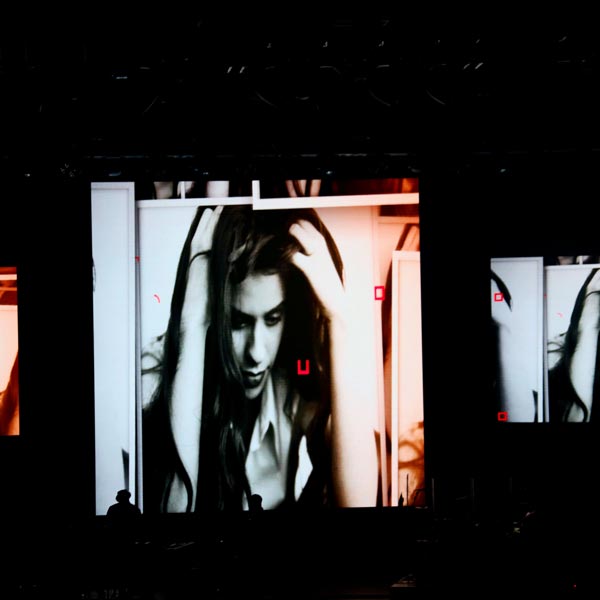 Some of the imagery used as a backdrop in the cut scenes included religious, corporate, and social (protest) elements.  There was a stained glass of patron Saint Patrick, juxtaposed with a modern dance routine in between church pews, and an ornate aumbry with a holy statue in the recesses—as well as people fighting for their rights and beliefs amid oppression.  A screen projector of interchanging magmatic and kaleidoscope bursts of rainbow hues, rising like a geyser, became an engaging focal point for visuals.  Colossal ocean sprays seemed to symbolize cleansing/rebirth, while at times engulfing the ampitheatre in a glittery underwater aquarium… which, to me, centered on a feeling of voyeurism, inherent of being in the spotlight.  Upon a closer look, Alanis confirms how she was feeling during the initial release of the album (and in dealing with the spotlight), saying "All eyes on the fishbowl," in this 2021 interview with Rolling Stone.  She also says "We're on tour right now, and every night onstage is this invitation to whatever you see up here or whatever you're perceiving…. it's like a churn. It's like taking the energy and really alchemically crunching it out of my body, but also getting it out."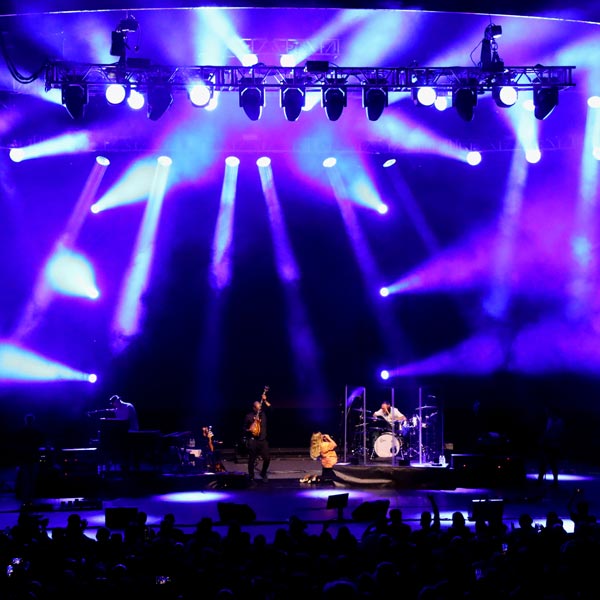 Advertise with New Jersey Stage for $50-$100 per month, click here for info
---
Alanis did not disappoint—performing every song from the album, as well as some bonus tracks.  When it came to Mary Jane, the video montage continued to take a trip down memory lane, where Morissette placed emphasis on perceived body image, with variations of her size throughout the years in the lyrics "I hear you're counting sheep again Mary Jane/What's the point of tryin' to dream anymore?/I hear you're losing weight again Mary Jane/Do you ever wonder who you're losing it for?"  Similarly, in Perfect, great visual and symbolic use is made in contrasting a series of accolades with the destruction of them—indicating that trophies and awards are not a measure of success; rather, impact and purity is… and who and how you affect in this world.  The collection of memories (of Alanis's kids) is equally profound and evocative, while she performed Ablaze in dedication to them… as well as the very emotional and touching tribute to her lost bandmate Taylor Hawkins (also of the Foo Fighters) during the song Ironic, who recently passed this year.
Morissette showcased her multi-instrumental abilities with harmonica and acoustic guitar (Head Over Feet) and broke out a black glittery electric guitar, while wailing on Wake Up.  Singing was on point and as crisp as 1995, as Alanis fiercely held and belted out notes steeped in pain and angst.  Temperatures soared to over 90 in Holmdel, which unfazed the artist, as she exerted an uninhibited primal energy, connecting to the music and the audience on a cathartic level—Morissette was literally spinning on stage with vertigo-inducing centrifugal force, for nearly a full minute before kneeling to the stage in I Remain.  The crux of this catharsis came at You Oughta Know—the career-defining song that broke barriers and records worldwide, and (performed live, 27 years later) continued to strike a chord and powerful connection to a fully amped up crowd… it was a long-awaited release.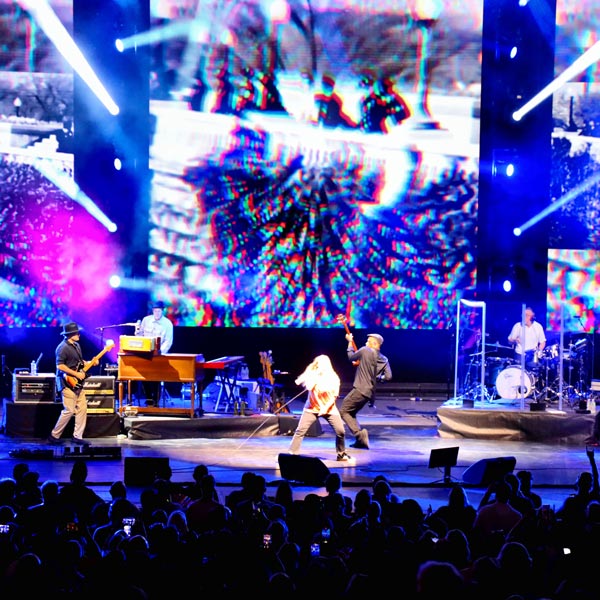 Morissette opened up about her music with unabashed honesty in the aforementioned Musicians on Musicians podcast: 
I think love and anger and pain are energies that move worlds. They open things up, they start the currents moving again if something's stuck. If we're depressed or riddled with anxiety — and they usually go hand in hand — in order to move out of that a tiny bit, maybe conjuring a little anger is going to help. What I love for my music to be able to provide is just this intimacy, and it's an invitation for our humanity.
In a 1995 interview, when the album first debuted, Alanis shared a major insecurity.  "I didn't have enough self-esteem to know that perhaps people break up because of incompatibility… I think anger is ultimately pain.  It's a cowardly extension of pain, because to be vulnerable is far more scary than to be angry."  A reviewer at the time, Tom Lanham, expressed that "You Oughta Know, if you listen closely, is one of the most saddest, most heartbreaking vulnerable entries in Morissette's candid diary."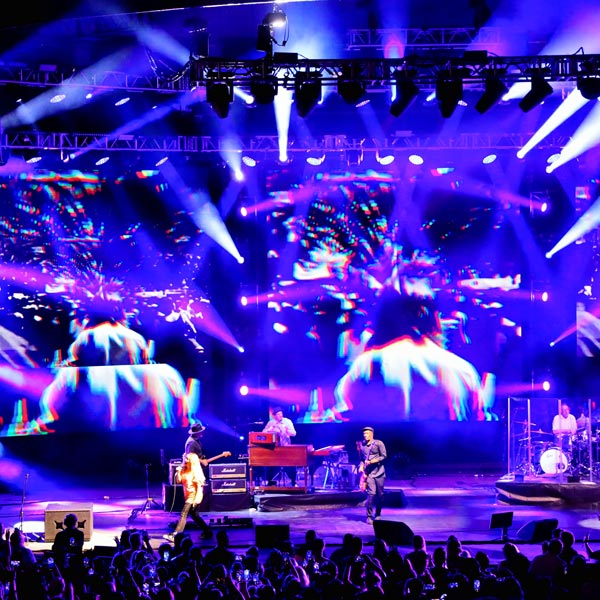 When Alanis sang Your House at the encore, it hit an emotional apex.  For anyone going through a soul-rending or bitter breakup, this song (especially performed live) sends a raw-nerve shockwave to the core—resurging all of the pain and sadness associated with it.  And it was at this point in the show that I was nearly brought to tears, having recently gone through my own gut-wrenching breakup.  It hit… hard.  It was also my favorite song of the night.  Alanis and the band playfully experimented with different styles and tempos… pausing to transition each time, while inflecting new energies, and landing the last verse a cappella, true to the album, while maintaining the gripping power of her voice.  Additionally, the song bared strong resemblance to the forlorn and jilted lyrics of Taylor Swift's All Too Well, especially in the respective verses:  I took off my clothes/I put on your robe/And I went through your drawers/And I found your cologne (Your House); I walked through the door with you/The air was cold/But something about it felt like home somehow/And I left my scarf there at your sister's house/And you've still got it in your drawer even now (All Too Well).  Swift has personally hailed the icon a hero and major inspiration to her songwriting, as well has performed live together, as mentioned.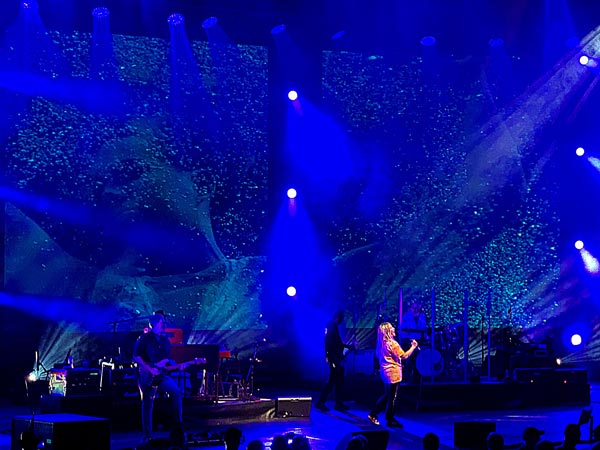 Uninvited was a second wind of that unhinged release during encore, with the audience singing as loud as they could in unison.  By the time the show ended on Thank U, we had all reached a feeling of resolution and zen level on this emotional and spiritual journey.  Thank-you notes (of tweets and messages from fans with an outpouring of gratitude) cascaded off the screen and affirmed the positivity and healing power of forgiveness and showing gratitude towards others—even despite betrayal, rejection, or any other hurt or transgression.  One line captures this intrinsically:  "How 'bout how good it feels to finally forgive you?"  When one offers tranquility, they are also allowing themselves the freedom to move on and find peace—and there's no greater meaning to life than that—to exercise compassion and kindness.  Even the shirt Alanis wore resonated with this message, "Take a Deep Breath."  We'll be OK.
Alanis Morissette is currently closing out her North American tour and picking up another leg in Canada—her homeland—in late July-August.
Here are more photos from the show.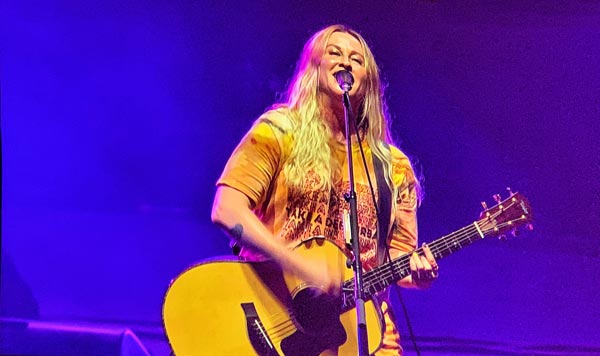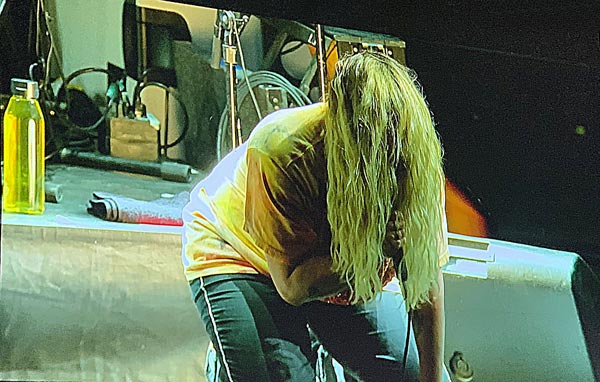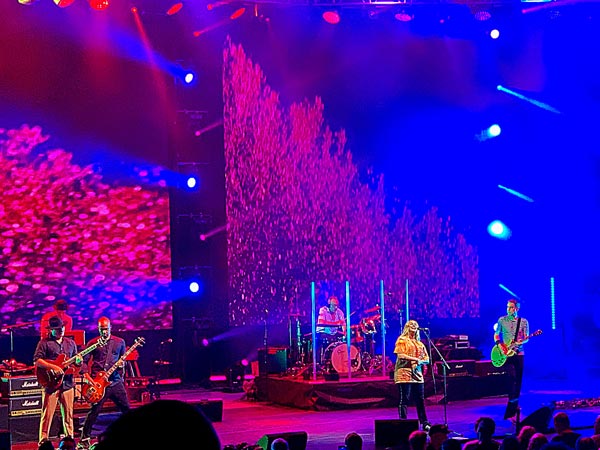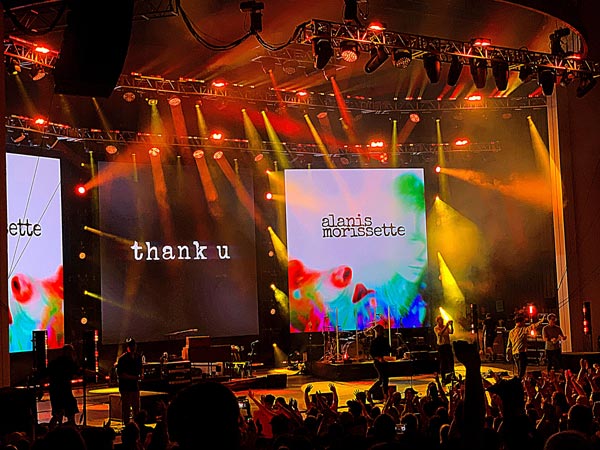 Advertise with New Jersey Stage for $50-$100 per month, click here for info
---