New Jersey arts and entertainment news, features, and event previews.
Read Time:
7 Minute, 49 Second
NEWS | FEATURES | PREVIEWS | EVENTS
By Gary Wien
originally published: 07/19/2022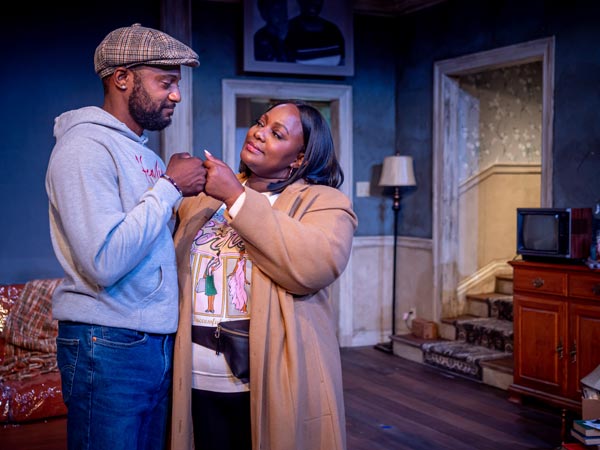 Imagine that you learn your grandmother's house was left to you in her will – a house full of bad memories that you haven't seen in many years.  You go to check out the house and realize someone has been living there as a squatter…
That's the scenario which opens Dominique Morisseau's Mud Row. The play is currently being staged by Premiere Stages at Kean under the direction of Marshall Jones, III.  It is the first play in Premiere's first full season since the pandemic. 
In 2017, Premiere Stages presented Dominique's play Skeleton Crew, which would go on to earn a Tony Award nomination last year. Six years before that they presented the playwright's first work, Follow Me To Nellie's – so it's fair to say their audience is familiar with her style. She is wonderful with dialogue, creating powerful confrontations between characters, and recognizing how one moment can change a lifetime.
The play starts with a flashback of Regine's mother, Elsie (played by Ashley Nicole Baptiste), getting ready for a date with her sister, Frances (Lekethia Dalcoe).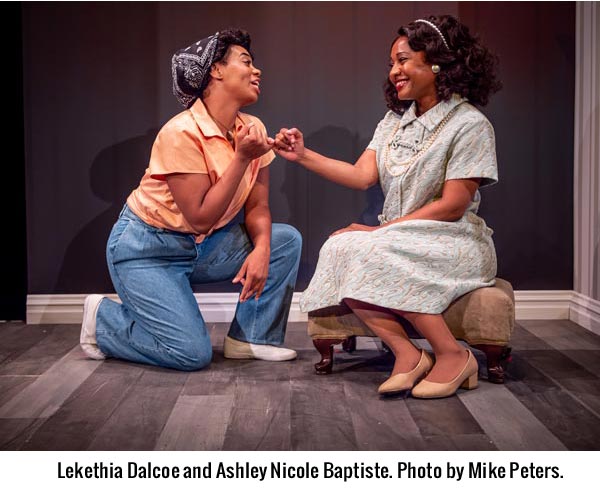 We then move to the present with Regine (Stacey Sherrell) and her husband, Davin (Landon Woodson), entering the house for the first time.
Advertise with New Jersey Stage for $50-$100 per month, click here for info
---
One of my favorite aspects of going to a play at Premiere Stages is to see their set design (props to David M. Barber for the scenic design). The stage itself is rather unique as it extends out into the audience, providing a very intimate space and interesting viewing angles.  Mud Row's set is the living room of Regine's grandmother.  There is a couch with a plastic cover, an old black and white television, and a few lamps that don't work when Davin tries to turn them on.  He heads into the other room to see if he can find some light bulbs.
After seeing the place in the light, Regine says, "May make more sense to knock the house down and build another one."
Her husband replies, "I don't know how you can say that with such detachment."
"I am detached," said Regine.
There's a lot of baggage in the house for Regine.  Most of her memories were of her grandmother berating Regine's mother for having a child at 16.  This was a house paid for originally by prostitution with the family passing down the sins with each generation. Her grandmother never stopped reminding Regine's mother of that.
After they leave the house, we see Toshi (Alinca Hamilton) and Tyriek (Malik Reed) who have been squatting in the home for the past three months. They notice the place has electricity and lights on in places that had dead lightbulbs.  They begin to get nervous. Nobody had done anything to the house since they first starting living there.
"This is our space!" said Toshie.  "We embraced it like it was our inheritance."
Toshie has read spiritual books and now believes she sees colors that serve as premonitions.  She sees magenta – the color for harmony.  "Something is coming into this space… something magenta."
"If our ride is up, we may have to take that and go somewhere else," said Tyriek.  "That's just the way the mud flows when you livin' life vagabond-style."
They light a candle and Toshi says, "Let's bless every room in this house so it remembers who it truly belongs to."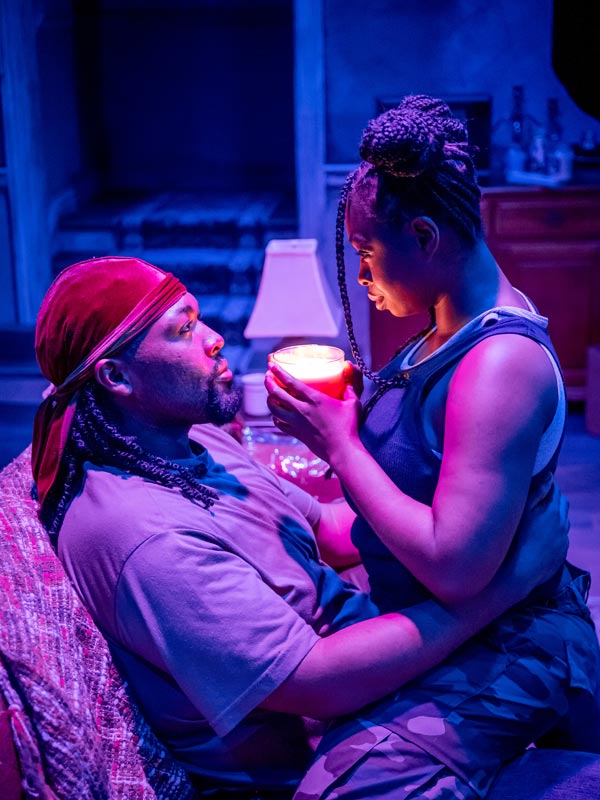 Malik Reed and Alinca Hamilton. Photo by Mike Peters
The play goes to another flashback, this time of Frances with a sign getting ready to protest a diner that refused to serve colored people. She says her sign is to convince people on the fence to consider not eating at a place that is racist.  Meanwhile, Elsie tells her sister that she is pregnant. We start to see the lives of the two sisters going in very different directions.
Back to the present, we see Regine and Davin checking out the entire house the next day.  They notice things seem different, including the scent of candles burned recently.
Advertise with New Jersey Stage for $50-$100 per month, click here for info
---
"I think someone is living here," said Davin.
They set up a meeting with an appraiser to start the process of selling the house. Davin thinks they are being lowballed as many in the area have been.  He believes the land is more valuable. 
The appraiser contacts him to reschedule later that night. Regine does not want to return at night.
"It's not a bad neighborhood Regine," said Davin.
Regine replies, "You can say that knowing someone's toothbrush is upstairs?"
Davin tells her he will meet up with the appraiser on his own.
It is a difficult time for Regine.  She moves from not wanting to think or talk about the past to telling her husband that "before they bulldoze this place and turn it into a parking lot, I'm gonna find the part of me I lost here, and I'm taking her with me.  All of her."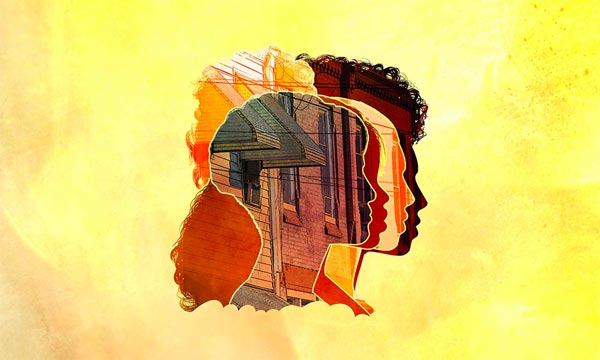 We soon see Toshi and Tyriek return.  They run through various ideas on how to scare the people off. Toshi tells him that this was her grandmother's house.  It was supposed to be left to her.  She says the house wouldn't have been left to my sister.  "They hated her," she said. 
The house kept Toshi safe from the life they had been living. They've been addicts, criminals, and living on the streets.  She thinks some of the neighbors probably know about them living there, but since they haven't been turned in she thinks they approve. Tyriek sees how important the house is to her and is willing to do whatever it takes for them to keep it.
"If you want me to get violent, I'll get violent…" said Tyriek.  "You are the one I would bloody someone for."
Those are the words Toshi wanted to hear.  "Let's take these bitches down!"
The play returns to the past and we see Elsie talking to her unborn child into a mirror.  She's promising her child that a better life is coming. Suddenly Frances returns from a protest bloodied up.  She plans to return the next day with a pocketknife.  She no longer believes in changing the world.  Now she just wants revenge.
"I'll fight the white folks, I'll find the uppity colored folks. I'll fight anybody tellin' us we ain't fit for more than the gutter," exclaimed Frances.
Back in the present time, Tyriek is holding a baseball bat as he waits with Toshi in the dark. Davin opens the door and Tyriek roughs him up.  They press him about why he's in the house.  He tells him he's meeting an appraiser. They want Davin to tell the appraiser not to come. Toshi is shown the phone and sees her sister's name. Davin says she's his wife.
"This muthafucka is family," cries Toshi and they put the bats away.  Tyriek puts him in a choke hold until he collapses.
That's how the first excellent first act ends – leaving you on the edge of a confrontation that's bound to occur.
The second act is very good as well, but needs some tightening in my opinion. While the playwright's Skeleton Key production at Premiere Stages appeared ready to move on, the second act runs far too long with several unnecessary flashback scenes.  They are scenes that tell the story, but cover events the audience is likely to have thought on their own.  As it is, the play is well over 2 hours and probably close to 2 1/2 hours.  I think losing a few of the flashbacks would help the second act, have it move a bit smoother, and improve the play as a whole.
As with each production at Premiere Stages I've seen, the actors are all outstanding.  Each has moments where they are the focus and they rise to the occasion. Director Marshall Jones, III keeps the play moving at a nice pace.
Mud Row is a very intriguing premise and the production at Premiere Stages is highly recommended.  I consider Dominique Morisseau to be one of the best contemporary playwrights.  This play may have flaws, but it's still a tremendous piece of art.
Premiere Stages at Kean is located on the Kean University campus in Union, New Jersey.  Mud Row runs through July 31 with performances Thursday through Sunday.
TOP PHOTO: Landon Woodson and Stacey Sherrell. Photo by Mike Peters
---
Gary Wien has been covering the arts since 2001 and has had work published with Jersey Arts, Elmore Magazine, Princeton Magazine, Backstreets and other publications. He is a three-time winner of the Asbury Music Award for Top Music Journalist and the author of Beyond the Palace (the first book on the history of rock and roll in Asbury Park) and Are You Listening? The Top 100 Albums of 2001-2010 by New Jersey Artists. In addition, he runs New Jersey Stage and the online radio station The Penguin Rocks. He can be contacted at gary@newjerseystage.com.
---