New Jersey arts and entertainment news, features, and event previews.
Read Time:
11 Minute, 46 Second
NEWS | FEATURES | PREVIEWS | EVENTS
By Spotlight Central, Photos by Love Imagery
originally published: 07/06/2022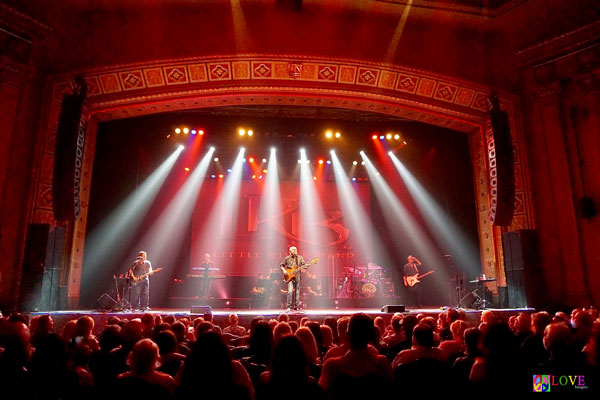 Throughout the '70's and '80's, Little River Band enjoyed huge chart success with multiplatinum albums and chart-topping hits. To date, the group's worldwide album, CD sales, and digital downloads top 35 million and, according to BMI, the band's hit, "Reminiscing," has registered over five million airplays on American radio.
On Friday, July 1, 2022, Little River Band made a summer tour stop at Red Bank, NJ's Count Basie Center for the Arts, the musical line-up consisting of bassist Wayne Nelson, keyboardist Chris Marion, guitarists Colin Whinnery and Bruce Wallace, and drummer Ryan Ricks.
Veteran musician Wayne Nelson originally joined the band in 1980 where he worked alongside the group's founding members to create LRB's unique sound, handling the lead vocals on two of the band's biggest hits, "The Night Owls" and "Take It Easy On Me."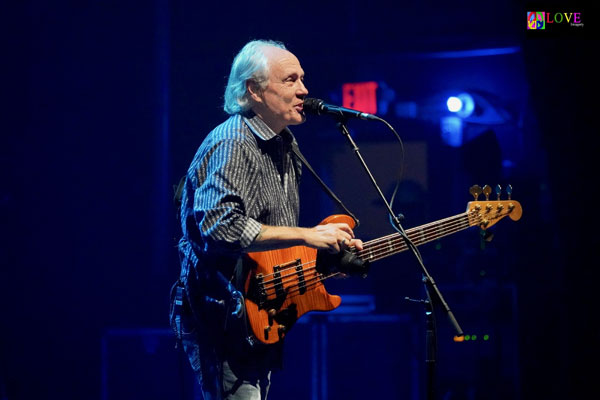 With Nelson as frontman, in 2013, Little River Band released an album of new material, Cuts Like a Diamond, and in 2020, released Black Tie, a recording which features the group's greatest hits performed with an orchestra.
Before tonight's show begins, we chat with a pair of long-time fans outside the Count Basie theater who are in the process of obtaining autographs from LRB band members including Wayne Nelson.
Advertise with New Jersey Stage for $50-$100 per month, click here for info
---
Recalls Tom from Toms River, "When I was nine years old, I saw my first LRB concert — that was on September 3, 1984 — and I became a fan. Since then, I've seen the group 12 times, including their last concert here at the Count Basie in January, 2020, which was right before the pandemic. Each time I see them, they get better and better."
Tom's friend, Joe from Toms River, agrees, adding, "This is my fifth time seeing Little River Band. They always sound great," before exclaiming with a grin, "and Wayne Nelson just put a happy face on my autograph!"
Inside the Count Basie auditorium, music lovers chat as they wait for the start of tonight's show — a performance that will also include the addition of the Night Owl Orchestra, a seven-piece musical ensemble from Philadelphia.
Cheers erupt from the crowd as the house lights dim and stage lights shine. Audience members clap along to the sound of a pre-recorded overture and hoot and holler as the musicians take their places on stage. The heavenly vocal stack on "It's a Long Way There" fills the theater with harmony as LRB's five singers expertly sing together, "Hey everybody yeah, don't you feel that there's something?"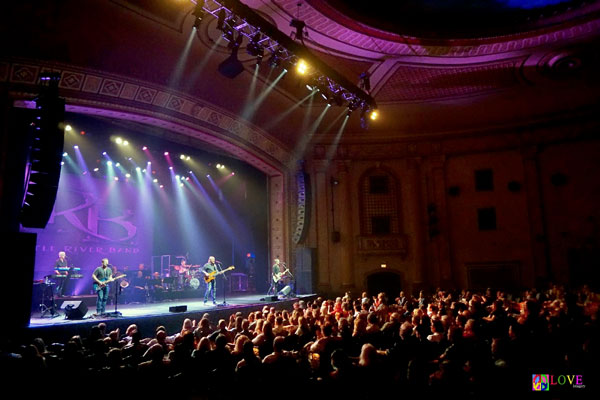 Heads bop to the groove as colored lights rain down on the stage and audience, the horns and strings accompanying the powerful sound of the band as the singers harmonize, "And it's a long way there/It's a long way to where I'm going."
Wayne Nelson's distinctive voice handles the lead on "Man on Your Mind," backed by three- and four-part harmonies on the catchy "I said baby, you've got a man on your mind/You got a weight on your shoulders" chorus.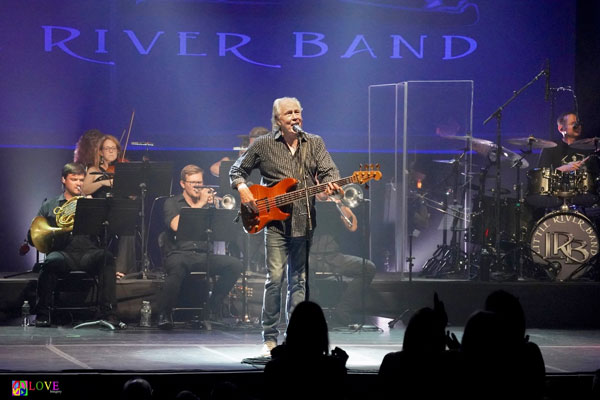 Flashing lights punctuate the easy groove as Bruce Wallace solos on guitar and Nelson slaps his bass while the crowd claps along to the infectious beat.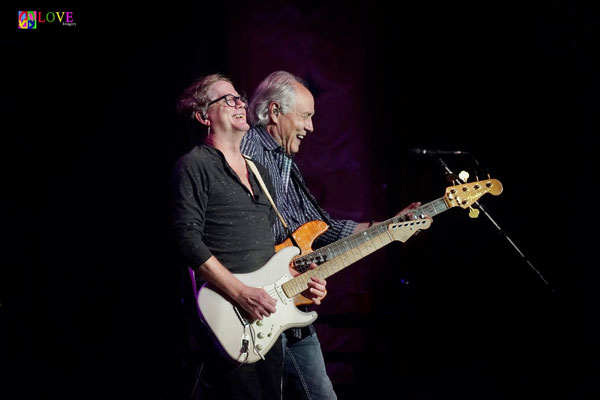 Nelson welcomes the audience, exclaiming, "Hello, New Jersey! It's good to see you! Let's give the Night Owl Orchestra, under the direction of Petula Perdikis, a hand!"
After asking the audience, "How many are seeing Little River Band for the first time in 47 years?" Nelson jokes, "Where have you been?" Announcing, "We're gonna do stuff you know and we want you to join in," he asserts, "This is your party, and we're just the band. Have a good time!"
LRB launches into the group's 1977 hit, "Happy Anniversary," where Whinnery trades off lead vocals with Nelson.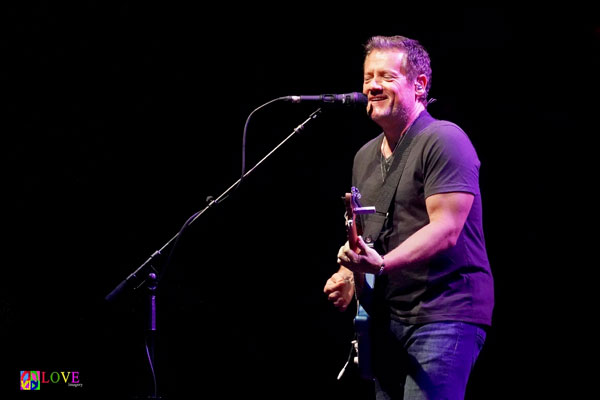 The crowd sings along before Whinnery plays a swirling guitar solo. The Night Owl Orchestra adds its voice to the mix as all five LRB musicians sing with the audience and Chris Marion straps on a keytar and plays a funky solo.
Advertise with New Jersey Stage for $50-$100 per month, click here for info
---
In the middle of the number, Nelson exclaims, "We're going to turn the show over to you guys!" Here, the crowd claps and echo-sings the song's ubiquitous "Happy anniversary, baby/Got you on my mind" refrain prior to Nelson wrapping things up, declaring, "Well done, Jersey!"
Next up is "Take it Easy on Me," a breezy country-rocker which has the orchestra rounding out the band's sound under colored lights.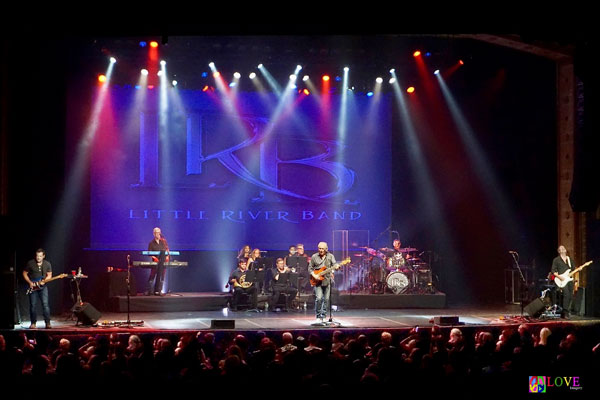 Wallace and Whinnery play a dual guitar solo, and Marion conducts the orchestra to a picture-perfect ending.
Percussionist Ryan Ricks starts off 1982's "The Other Guy" on the drums. Whinnery sings lead before Marion takes a turn handling the main vocal from his perch at the keyboard.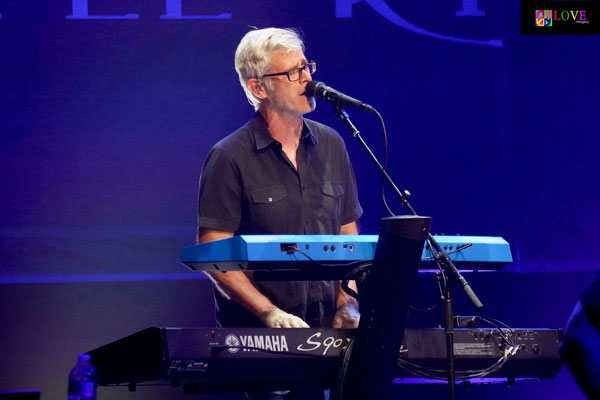 Ricks and Wallace each sing a verse on this bouncy shuffle and the crowd helps out on the "The other guy won't be around to talk to our kids" chorus. Whinnery and Nelson deftly add to the musical magic which inspires the audience to react with cheers and applause.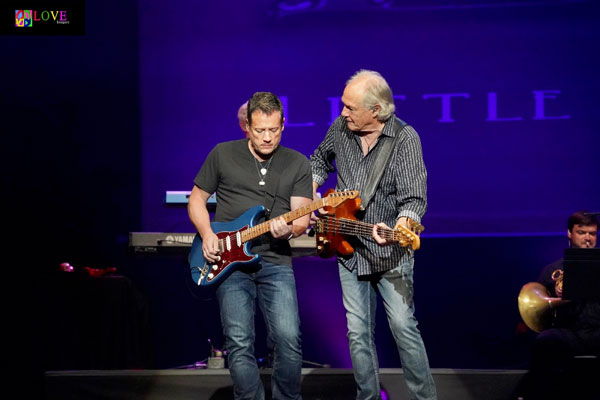 Nelson reveals, "We're about half way through the Greatest Hits CD, so now we're going to play a couple of new songs." Recognizing the people who "make a choice to put on a uniform," and acknowledging, "that choice deserves to be honored," the musicians perform their soft rocker from Cuts Like a Diamond, "The Lost and the Lonely." Nelson sings lead with four-part back-up harmonies from his bandmates.
The orchestra fills out the sound of the driving rhythm section on this powerful and touching song which has Wallace and Whinnery playing "stereo guitars" before the crowd responds with whistles and cheers.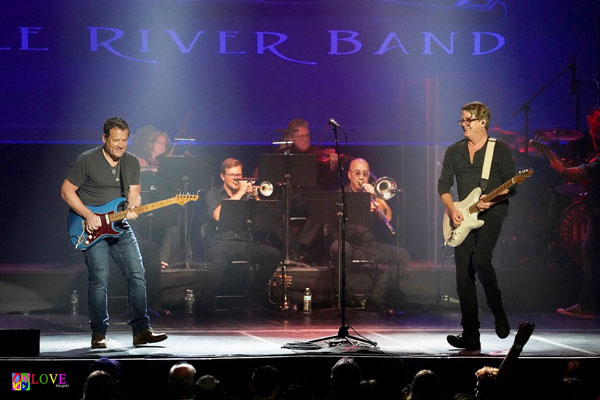 Little River Band follows up with another song from Cuts Like a Diamond, the country-rocker, "I'm an Island," where Whinnery plays a twangy guitar intro, Nelson sings lead, and Wallace accompanies on acoustic guitar.
Nelson jokes, "You may have heard this next song at a prom, or at a wedding, or at a roller skating rink skating backwards, or in the back of a car," before LRB launches into the group's 1978 hit, "Reminiscing."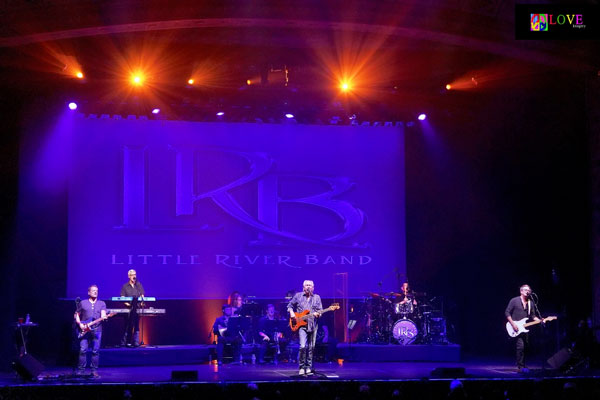 Audience members sing along on the well-known "Hurry, don't be late, I can hardly wait" refrain under the glow of colorful stage lighting. A flugelhorn solo brings cheers before Nelson moves backstage to play bass with Marion on keys as Whinnery plays guitar and the group's nostalgic sound surrounds the audience like a hug.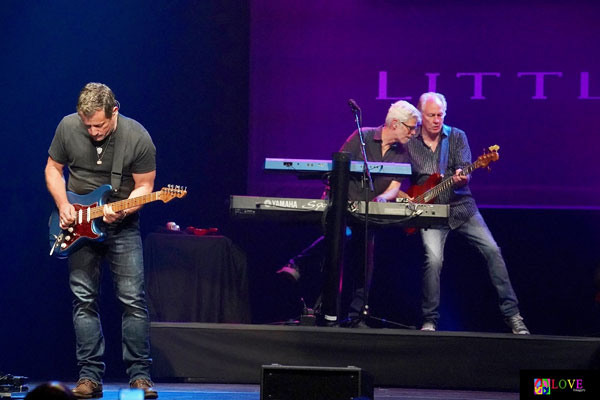 Nelson tells the crowd that the group had a request to play another song from Cuts Like a Diamond. Audience members clap along to the funky beat of "You Dream, I'll Drive." Colored lights flash and sweep over the audience as four-part harmonies ring out. Whinnery and Wallace duel with their guitars before the audience reacts with cheers and applause for this infectious tune.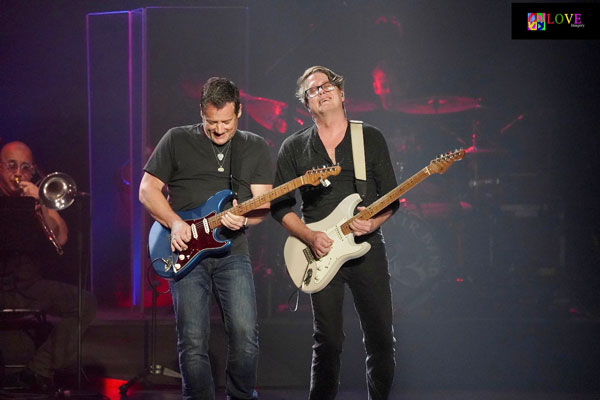 Nelson announces, "This next song is for every soldier you know. God bless them and bring them home safe." Music lovers stand, dance, and clap to 1977's "Help is on the Way." The arrangement builds like a rock symphony as audience members sing along on the "Hang on, help is on its way/I'll be there as fast as I can" chorus. Guitars move downstage and feed off the energy of the crowd as red, white, and blue lights swirl about the room.
The crowd cheers, and band members exit the stage leaving Ryan Ricks to perform a dynamic drum solo filled with complex rhythms.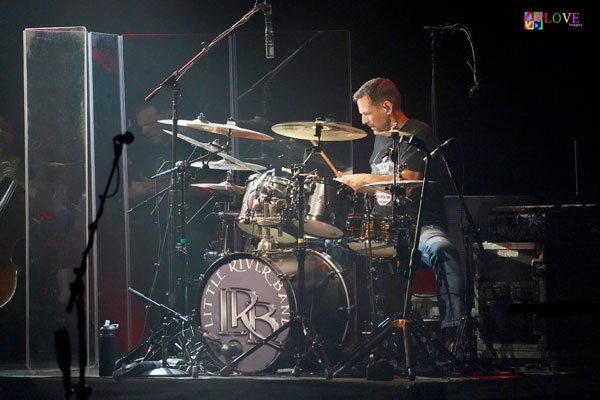 The musicians return and the guitarists play the swirly intro to "The Night Owls." The driving beat of the band and the sound of the orchestra combine to captivate the crowd as flashing lights and fog add to the groove of the music. Audience members happily sing along with Nelson and the group on the "Move on/There's a howl of a night owl calling" refrain.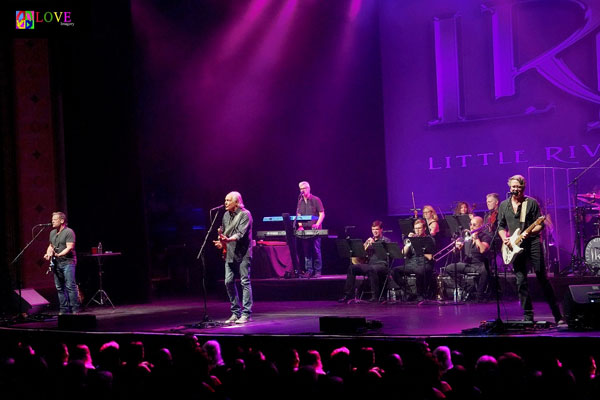 The guitarists come downstage to play together on this rhythmic rocker where, at the conclusion, Whinnery and Wallace toss guitar picks out to lucky fans in the crowd.
The fog clears to reveal Chris Marion seated at a grand piano playing an instrumental prelude to the next song under brilliant blue lights.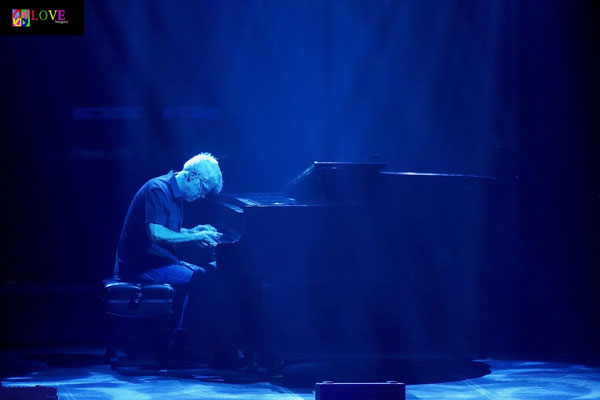 Whistles and cheers fill the air as Marion segues into 1979's "Cool Change." Nelson takes the lead on this classic ballad as music lovers join him in singing and swaying on the celebrated "Time for a cool change" chorus, and Wallace and Whinnery engage in an energetic guitar duel.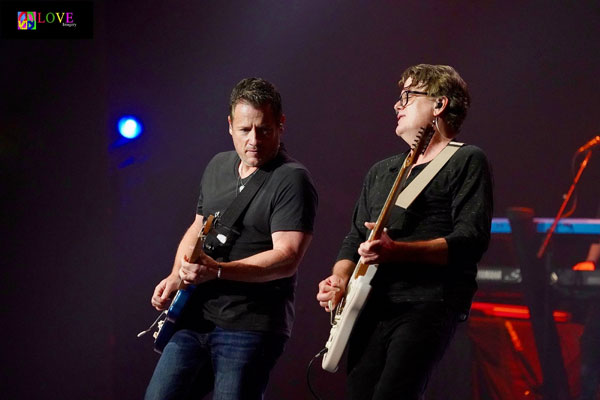 Nelson points to the band and asks, "Jersey, what do you think?" The crowd reacts with cheers and applause, to which Nelson responds, "Thank you for 47 years of support for Little River Band."
After introducing his stagemates, Nelson asks, "How about one for the ladies?" Here, LRB launches into 1978's "Lady." Women in the audience stand and clap with their hands over their heads as they sing along on the "So lady/Let me take a look at you now" chorus while guitars stroll downstage and colored lights flash on the extended coda.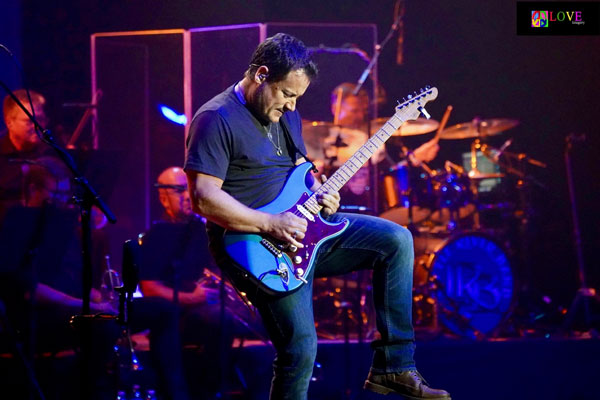 Nelson thanks the music lovers in the house for coming and takes out a camera to capture images of audience members enjoying themselves for the Little River Band Facebook Fan Page.
Orchestra members stand and clap along as Little River Band rocks out on an encore of 1979's "Lonesome Loser." Night Owl Orchestra leader Petula Perdikis is featured on electric violin jamming to the sweet and funky sound of the band. The audience claps and energetically sings along with Bruce Wallace and company on the rockin' "Have you heard about the lonesome loser/Beaten by the queen of hearts every time" refrain.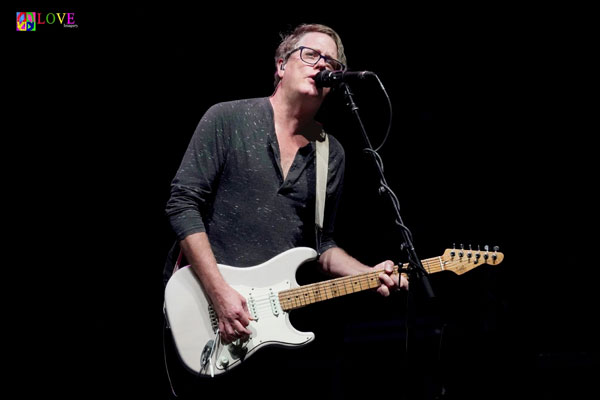 Nelson encourages the crowd to sing louder, inquiring, "See that beautiful roof? We're going to raise it!" He and the guitarists rock and Marion comes downstage playing keytar as lights flash on the extended ending.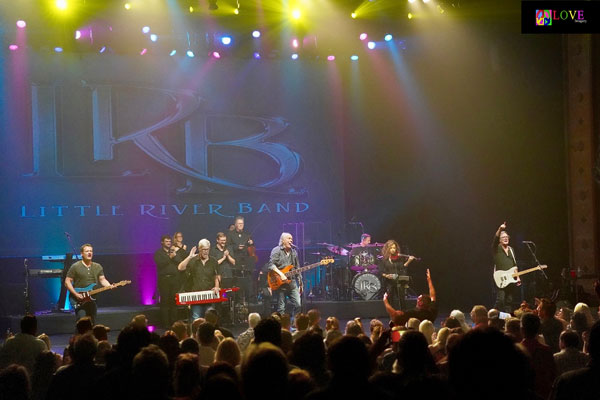 Nelson ends the show by saying, "God bless everybody. We'll see you next time!"
As happy audience members make their way out of the auditorium, we chat with several music lovers in the crowd who share their thoughts about tonight's performance. Exclaims Patty from Metuchen, "Little River Band's show tonight was awesome! It was so nostalgic; it triggered a lot of good memories for me. This was my first time seeing the group, and it was well worth the wait."
Declares Al, a musician from Chicago, "This is my 140th show! You can't beat five singers with rotating lead vocals." Noting, "Tonight's show was a great compilation of the band's hits along with some of their new tunes," Al recalls, "I've seen LRB with full orchestra and small orchestra — it's amazing how they've added that in the last few years," before concluding, "The back and forth between the guitars was great and the lighting was fantastic, too. Overall, I loved the show."
Joan from Toms River remarks, "Little River Band was excellent tonight and they were everything I thought they would be. They took me back to a place filled with wonderful memories. I'm a 40-year fan, so I was in my glory! I knew all the words and I sang along to every song." Joan's adult daughter, Carly, agrees, adding, "It was a great show!" recalling, "I knew a lot of the songs from my mom playing them when I was growing up."
Bob from Middletown acknowledges, "This is my first time seeing Little River Band, and now I regret not seeing them when I was younger — they're great!" His wife, Jennifer concurs, exclaiming, "They sound just like they do on the radio!"
Next, we chat with a group of golf friends, here tonight to enjoy LRB's music performed live. Says Ann from Manalapan, "They were terrific! I was dancing and reminiscing the whole time. It felt like it was 1978 again — I had a great time with my friends just rockin' the place." Kathy from Manalapan agrees, adding, "One of my favorite things to do when I'm golfing is to listen to Little River Band in the golf cart — it's a vibe," declaring, "I loved the show tonight! My hands were up the whole time — I'm a fan!"
Whereas Karay from Colts Neck calls tonight's show "Fabulous," explaining, "I grew up with this music from my high school days," Kristine from Millstone Twp. insists, "I had so much fun tonight — it's all about the music, friendship, and the vibe." Donna from Marlboro reveals, "I got a guitar pick they threw out into the audience tonight," acknowledging, "This is my first time seeing Little River Band. I've been a fan since high school, and I love listening to LRB when I'm golfing, too."
Lastly, outside the theater, we catch up with Tom from Toms River, the autograph seeker with whom we spoke before tonight's concert. Asserts Tom, "As usual, Little River Band was wonderful," before declaring, "I plan to keep seeing them again and again and again!"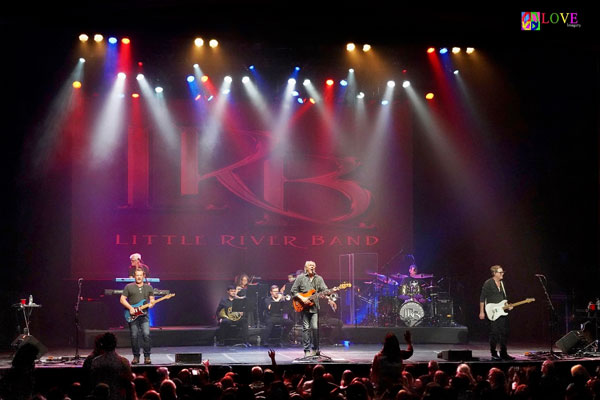 To learn more about Little River Band, please go to reallittleriverband.com. To find out about upcoming shows at Red Bank's Count Basie Center for the Arts — including Dion on July 14, Gordon Lightfoot on July 17, Smokey Robinson on July 27, and Herb Alpert and Lani Hall on July 29— please click on thebasie.org.
Photos by Love Imagery
Spotlight Central. Your source for Jersey entertainment news and reviews
Love Imagery Fine Art Photography. all you need. peace/love/flower/power
Advertise with New Jersey Stage for $50-$100 per month, click here for info
---