Morris County Delivers Another Small Business Grant – Morris County, NJ
Read Time:
3 Minute, 34 Second
Published on May 17, 2022
From Main Street to Large Malls, Grant Program Aids Entrepreneurs
A popular pizzeria at the Rockaway Townsquare Mall was the latest recipient of a $15,000 check today from the Morris County Small Business Grant Program, as the Morris County Board of County Commissioners continued to assist shops and nonprofits hit hard by the pandemic.
Gio's Artisan Pizza, established in 2017 as an open-mall eatery on the lower level of the Rockaway Township mall, was visited by Commissioner Deputy Director John Krickus, Rockaway Township's Ward 2 Councilman Jack Quinn and Township Recreation Director Dave Dyer, representing Mayor Joseph Jackson.
Commissioner Krickus handed a $15,000 check to Gio's owner, Rosaria Massa.
"It's great that you are helping out small businesses. Thank you. This is a great program. Things are still tough for small businesses. My costs have increased, and I still don't have the amount of business I used to have," said Massa.
One year after he opened his business, it was heralded as one of "New Jersey's Best New Pizzerias" by Peter Genovese of NJ.com. But Massa's eatery was closed from March through September of 2020, and he has continued to suffer from less business while paying rising expenses since surviving the pandemic shutdown.
Morris County Commissioners are personally delivering some of the grant checks to learn more about the struggles of small businesses, to learn if the grant program may be improved and to primarily spread the word that the program remains open.
"We tried to keep this program simple, and we are delivering some of the checks like this to get the word out. We have about $3 million that have not been committed," said Deputy Direct0r John Krickus.
Apply Now! Go to: morriscountysmallbusinessgrant.com
More than 600 applications have been filed since Morris County Small Business Program since it was launched on Valentine's Day with the slogan, "Morris County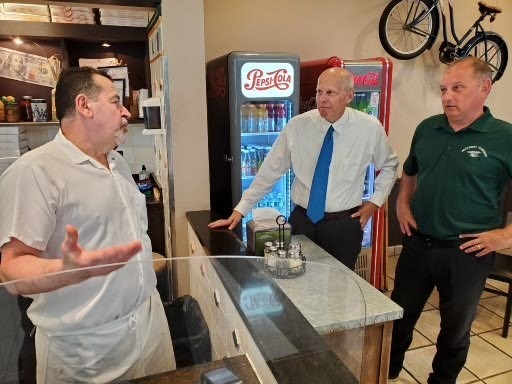 Loves Small Business." The Morris County Board of County Commissioners created the grant program from pandemic relief funding issued through the American Rescue Plan Act.
The Commissioners dedicated $10 million to the effort, and Morris County is still accepting applications.
Most of applications heading for final approval will provide each of the qualified businesses and nonprofits the maximum grant amount of $15,000.  While the remaining applications are still being reviewed, the program remains open to new applications.
There is no cost to apply.
The Small Business Grant Program eligibility requirements include, but are not limited to:
Business has 25 or fewer full-time employees (or equivalent)
In operation since Jan. 1, 2019
Located within Morris County
Less than $5 million in sales/revenue
Proof of a decline in sales/increased expenses due to the COVID-19 pandemic
Read the Qualifications & Apply: morriscountysmallbusinessgrant.com
Federal guidelines covering the grant program will determine exactly which expenses qualify for coverage under the grant program and which applications may be approved.
The grants are capped at $15,000 per applicant. However, business owners and nonprofits are encouraged to submit applications that include all costs they believe may qualify for the grant, even if the total amount of a single claim exceeds $15,000.
A final review may determine that some costs submitted for consideration are not covered under the program guidelines. However, by submitting all expenses that may qualify, applicants increase the possibility of getting the maximum amount of grant dollars possible.
Photos
Top Right:  Gio's Artisan Pizza Owner Rosario Massa talked proudly of his business, which a food critic ranked as one of the best new pizzerias in New Jersey a year after it opened in 2017.  Massa, who received at $15,000 Morris County Small Business Grant today, said the pandemic and rising costs continue to hurt his business.
Center Left:  In front of his open-mall pizzeria, Rosario Massa (center) holds the Small Business Grant check and a letter he was issued by the Morris County Board of County Commissioners. With him (l-r) are Commissioner Deputy Director John Krickus, Rockaway Township's Ward 2 Councilman Jack Quinn and Township Recreation Director Dave Dyer.
Bottom Right: Massa discussed his business challenges with Commissioner Krickus and Dave Dyer of Rockaway Township.