Missouri Senate candidates cross paths at state fair | Politics
Read Time:
4 Minute, 32 Second
SEDALIA — Two of the three major candidates seeking to replace retiring Republican U.S. Sen. Roy Blunt crossed paths Thursday at a summertime staple of Missouri's political circuit.
Republican Attorney General Eric Schmitt and Democrat newcomer Trudy Busch Valentine were among a throng of politicians, supporters and hungry fairgoers at the annual Governor's Ham Breakfast at the Missouri State Fair.
Before sitting down to eat under a crowded outdoor pavilion, Schmitt and Valentine shook hands and congratulated each other on their Aug. 2 primary victories.
The niceties were short-lived when the two returned to their talking points, outlining why they'd be the best fit to serve in the Senate.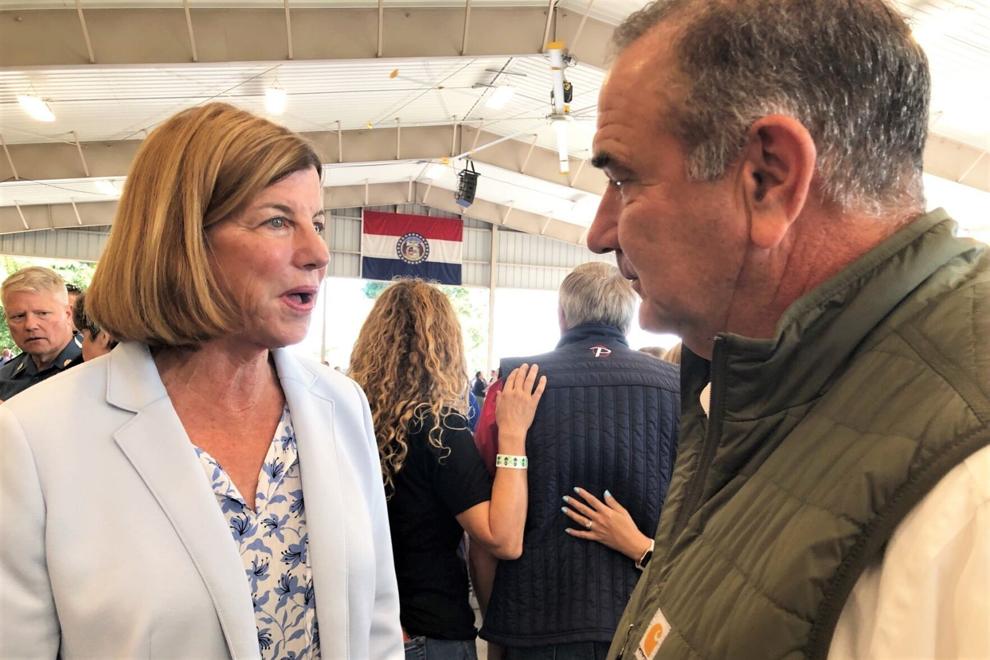 Schmitt, a former state senator from Glendale, said the passage this week of the Democrat-sponsored Inflation Reduction Act would instead create more inflation.
"I think the reckless spending, the runaway spending we're seeing right now is unprecedented," Schmitt said, promising to use his seat in the Senate as a check on President Joe Biden, a Democrat.
Schmitt also defended his decision to sue public school districts over their mask mandates during the pandemic. He said hundreds of parents have thanked him.
"The forced masking of kids is wrong," Schmitt said.
Valentine, an heir to the Anheuser-Busch beer fortune, said she'd bring integrity to Congress.
"I will not be bought by any big businesses. I'm doing this to serve. Not for ego. Not for power," Valentine said.
She rejected Schmitt's accusation that the Democrat-led Congress' work on environmental issues was "radical," saying it comes amid floods, droughts and major storms.
"I think we need to seriously look at climate change," Valentine said.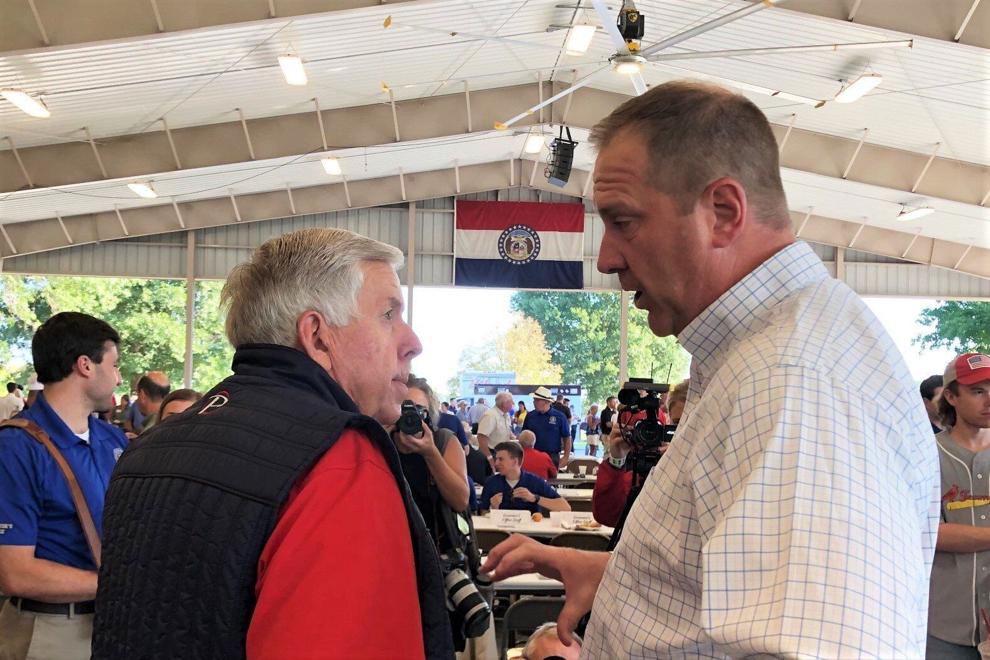 Independent candidate John Wood, a Republican attorney backed by former U.S. Sen. John Danforth, did not attend the breakfast.
Valentine, who has no previous political experience, won the Aug. 2 Democratic primary against populist Lucas Kunce after a late entrance into the race. She said she would bring a fresh perspective to Washington.
"I'm trying to convince voters that I'm not a politician," said Valentine.
Schmitt emerged as the clear front-runner in the crowded GOP primary, which included former Gov. Eric Greitens and U.S. Reps. Vicky Hartzler and Billy Long.
"This is a conservative state. I'm confident that people are going to look at my record and we'll be successful in November," Schmitt told reporters.
The duo held court with potential voters and top state officials during the two-hour-long event, which will be the final one as an elected official for Blunt.
"It's the state's showcase of agriculture," said Missouri Department of Agriculture Director Chris Chinn.
Gov. Mike Parson, who is not on the 2022 ballot, said as a farmer, the fair is a time when Missouri can celebrate its agricultural roots.
"It's just a great time to be at the state fair," Parson said.
Parson used the breakfast event to make a pitch for his plan to cut state income taxes to 4.8%, down from the current 5.4%.
He is scheduled to announce the dates of a special legislative session on tax issues on Monday.
Parson's plan would cost an estimated $700 million in revenue that could otherwise go to state services and higher pay for state employees and teachers.
The governor said he believes those responsibilities can be paid for even with the loss of revenue.
"We can afford to give the people the largest tax cut in history," Parson said.