Michael Gove tells Liz Truss that cutting tax for highest earners is wrong as protesters gather at start of Tory conference – live | Politics
Read Time:
16 Minute, 24 Second
Gove says government should abandon plan to scrap 45% top rate of tax
Gove is now taking questions from the audience. A man says Gove said the party should come together after the leadership contest. Is is actually following his own advice?
Yes, says Gove.
He says he has two concerns about the mini-budget: the tax cuts being unfunded, and the abolition of the 45% top rate of tax. It would be "wise to reflect" on those policies, he says.
Q: You mean they should be dropped?
Gove says the abolition of the 45% is wrong. The government should drop the idea, he says.
This was implied by what he said on the BBC'S Sunday with Laura Kuenssberg, but he is being more explicit here.
Key events
Steve Baker apologies to EU and Ireland for way he and some colleagues did not respect their concerns about Brexit

Welsh secretary Robert Buckland says government must not neglect poorest, even if greater spending needed

Former first secretary of state Damian Green says it's 'no-brainer' that Tories will lose if they're seen as party of rich

Truss showing 'genuine engagement' with NI protocol problem and wants negotiated solution, says Irish PM

Nadine Dorries accuses Truss of throwing Kwarteng 'under a bus'

Tories face large protest at party conference

Rees-Mogg booed by protesters shouting 'Tory scum' as he arrives at conference

Gove says government should abandon plan to scrap 45% top rate of tax

Michael Gove says people voted for one nation government in 2019

Tory chair Jake Berry says people facing higher fuel bills can cut consumption or get better job

Rees-Mogg's former business partner given peerage and made international trade minister

Rees-Mogg claims extending definition of SMEs will allow thousands of firms to avoid 'pointless paperwork'

Tory chair Jake Berry claims down significance of polls showing Labour lead soaring

Truss refuses to rule out public spending cuts as she defends substance, but not presentation, of mini-budget

Starmer urges Tory MPs to work with Labour to restore 'some semblance of economic sanity'

Treasury committee chair Mel Stride says delaying OBR forecast could mean higher interest rates

Truss's interview – verdict from Twitter commentariat

Truss stresses that decision to abolish 45% top rate of income tax taken by Kwasi Kwarteng

Liz Truss's interview with Laura Kuenssberg – snap verdict

Gove calls for publication of fiscal plan to be brought forward, saying 'course correction' essential

Gove hints he would refuse to vote for mini-budget, saying cutting top rate of tax 'display of wrong values'

Truss sidesteps questions about interest rates rising, saying they are matter for Bank of England

Truss dismisses objections to top rate of tax being axed, saying there has been 'too much focus' in politics on 'how things look'

Cabinet as whole was not consulted about decision to cut 45% top rate of tax, Truss says

Truss refuses to commit to raising benefits in line with inflation

Truss refuses to commit to increasing departmental budgets in line with inflation

Truss refuses to deny that she will cut public spending

Truss accepts presentation of mini-budget was flawed, saying government should have 'laid the ground better'

Tory chair Jake Berry defends party holding champagne reception with City financiers on day of mini-budget

Truss says she will extend number of firms qualifying as small businesses, allowing them to benefit from less regulation

Liz Truss says her critics are 'declinist' before Laura Kuenssberg interview at opening of Tory conference
Stephen Farry MP, deputy leader of the Alliance party in Northern Ireland, has welcomed Steve Baker's apology. (See 6.05pm.)
Steve Baker apologies to EU and Ireland for way he and some colleagues did not respect their concerns about Brexit
Steve Baker, the leading Brexiter and former chair of the European Research Group, has acknowledged that he and some of his Brexiter colleagues did not always fully acknowledge EU and Irish concerns about Brexit.
Speaking at on the stage at the Conservative conference in his capacity as a Northern Ireland minister, Baker also apologised for what had been said in the past. And he revealed that he had apologised in person to leading Irish figures.
Referring to his reputation as a Brexit "hard man" (a term he coined himself, although he says it was a joke), he said:
The thing I want to add is, as one of the people who perhaps acted with the most ferocious determination to get the UK out of the EU, I think we have to bring some humility to this situation. And it's with humility that I want to accept and acknowledge that I and others did not always behave in a way which encouraged Ireland and the European Union to trust us to accept that they have interests, legitimate interests, that we're willing to respect – because they do and we are willing to respect them.

And I'm sorry about that. Because relations with Ireland are not where they should be and we all need to work extremely hard to improve them. And I know that we are doing so.

The demise of Her late Majesty gave us an opportunity to meet leading Irish figures, and I said that to some of them. 'I am sorry that we did not always respect your legitimate interests.'

And I hope they won't mind me saying I felt the ice thawing a bit.
Baker also said it was time to reset relations and make sure the UK and Ireland went forward as "closest friends and partners" and to reinforce the Belfast Good Friday agreement before its 25th anniversary next Easter.
Baker did not explain in detail what he meant by not acknowledging the EU's legitimate interests. But some Brexiters were happy to downplay, or ignore, the EU's concern that Brexit would undermine the single market without a hard border between Ireland and Northern Ireland, which nobody wants. He may also have been referring to the way Brexit was imposed on Northern Ireland even though 56% of people in Northern Ireland voted for remain.
Baker's comment may help to explain why Micheál Martin, the taoiseach, said earlier today that he thought the UK government was serious about getting a solution to the Northern Ireland protocol. (See 3.37pm.)
But Baker also stressed that his apology did not mean the protocol was acceptable. He said the government would resolute about getting it changed.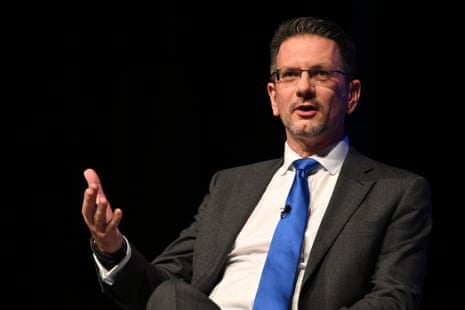 As my colleague Lisa O'Carroll reports, Steve Baker, the Northern Ireland minister and leading Brexiter, has apologised for the way Ireland and the EU were treated in negotiations as the UK left the EU.
I will post the full quotes shortly.
Welsh secretary Robert Buckland says government must not neglect poorest, even if greater spending needed
Aubrey Allegretti
A cabinet minister has hinted at his unease about the tax cuts in the mini-budget disproportionately benefiting the wealthy were expressed by a cabinet minister.
Sir Robert Buckland, the Welsh secretary, said while simplifying tax bands was sensible, he wanted to see "intelligent interventionism" instead of "trickle down economics".
He told a fringe event hosted by Chamber, a policy journal:
A sensible Conservative government must be very careful to make sure that at the other end of the equation, those in greatest need are not left behind …

We must remember that it is those who are in genuine need who will also need our help as a government.

We have to not shirk our responsibilities in that respect, even if it does mean that for the time being there has to be greater expenditure.
Buckland was speaking amid speculation that the government could cut benefits as one means of ensuring the tax cuts in the mini-budget are funded in the medium term. In her BBC interview this morning Liz Truss refused to commit to uprating benefits next year in line with the inflation figure for September, as Rishi Sunak, the former chancellor, had promised.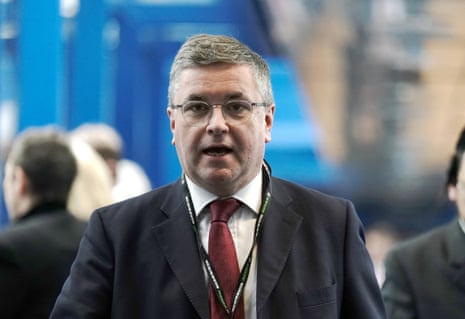 Former first secretary of state Damian Green says it's 'no-brainer' that Tories will lose if they're seen as party of rich
Damian Green, the former first secretary of state, has said the Conservative paarty will lose the next election if they are just seen as the part of the rich. Green, who chairs the One Nation caucus of Tory MPs, told a drinks reception hosted by the caucus and the Tory Reform Group:
Apart from the fact I think it's morally right, I also think it's a political no-brainer that if we end up painting ourselves as the party of the rich and the party of the already successful then, funnily enough, most people won't vote for us and we lose.
Green also indicated that he hoped there would be a rethink. He said:
I've been coming to party conference since the early 1980s so I've arrived at party conference in a mood of much gloom many times, frankly, in more than 40 years. And this one is more difficult than many.

Very clearly there are conversations that need to be had over the direction of government as we move between now and the general election.
Boris Johnson will be the new president of the Conservative Friends of Ukraine group. As PA Media reports, the current president, the former culture secretary John Whittingdale, announced his successor at a Tory conference fringe event, saying Johnson is "in many ways the obvious and most deserving person to lead this organisation because he was the first person, not just in this country but across the western world, to so strongly come out in support of the Ukrainian people".
Johnson is not attending the conference. Whittingdale said: "Boris is sorry that he can't be with us today, but he has sent his total support for what we all believe and our support continuing for Ukraine."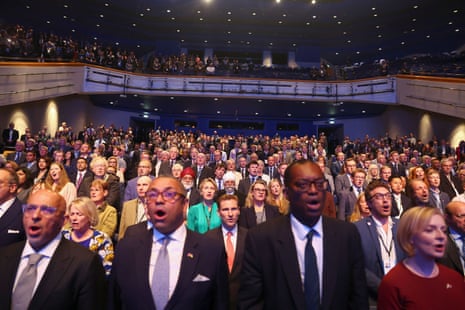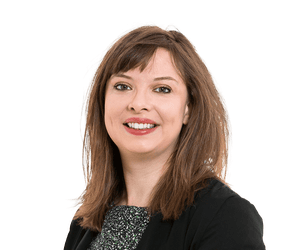 Rowena Mason
Kwarteng's budget only got a qualified endorsement from some panellists at an Institute for Economic Affairs (IEA) event and Taxpayers' Alliance event. Gerard Lyons, an economist who has advised Liz Truss, said the government could not make steep cuts to public spending after abolishing the top rate of tax. He said:
To take your target audience with you, this is not just about communications. Successful economies need to have clarity, predictability and credibility in terms of their strategy and policy … Markets need to be convinced changes in fiscal policies are necessary and not inflationary.

And for the general public, the very important message is that the social contract is a vital part of our postwar fabric … You cannot have a return to austerity and cut the top rate of tax at the same time.
He gave the budget a 7.5 out of 10 on substance but said the problems with it had dominated the last week.
However, the budget was fully endorsed by Chris Philp, the chief secretary to the Treasury, who gave it 9.5 out of 10, while acknowledging that there could have been some better "pitch-rolling" to warn people about the policies coming.
He also signalled the government is preparing to go much further on
deregulating businesses. He said:
We are going to be reducing business regulation. Jacob Rees-Mogg has a whole load of ideas to do that – one of which is making sure no business under 500 employees gets subject to business regulation – another critically important move. Jacob is going to lay out a whole load more ideas in that area.
At the Tory conference the activists in the hall have just followed Labour's example and sung the national anthem. At the Labour party the singing of the national anthem was a story (even though criticism of the move did not get much further than a mildly sceptical comment from Jeremy Corbyn). At Tory conference is looks more like something they would do every year (although they don't.)
Brandon Lewis, the justice secretary, told a fringe meeting at the conference that he was "hopeful" that the long-running strike by criminal barristers in England and Wales would end after the government offered them "a comprehensive package" including a 15% fee increase.
I'm confident that they will look at the proposals carefully, I'm hopeful that they will look at them positively and we will see an end to the strike.

It's a comprehensive package that deals with the issues that need to be dealt with and actually puts the whole structure, particularly for the junior bar, in a very different place in terms of covering off some of the issues.
At the Tory conference they are now showing video of all former Conservative prime ministers who are still alive – John Major, David Cameron, Theresa May and Boris Johnson – talking about their dealing with the Queen, and in particular how much they valued their audiences with her. It may be all the activists get to see of Johnson at this event.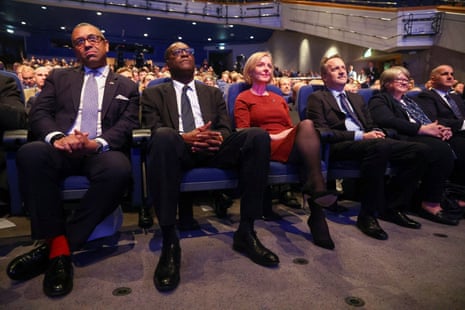 The formal conference proceedings have finally started. As Ben Quinn explains in a conference guide, this year speeches are taking place between 4pm and 6pm. The joke in the press room is that they've scheduled it like this so that most of the speeches will take place after the stock market has closed, limiting the opportunity for any cabinet ministers to crash share prices any further.
The first speech was from Penny Mordaunt, leader of the Commons, who paid tribute to the late Queen.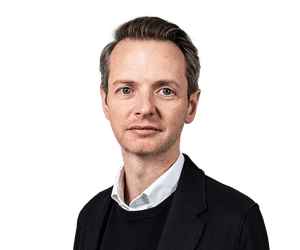 Ben Quinn
The former Spice Girl – Melanie Brown – has told an event at the Conservative Party conference of her fears that the "massive issue of domestic abuse" will slip down the agenda during "these times of absolute economic chaos."
The singer, known to millions as Mel B or 'Scary Spice', was speaking at a meeting organised by the Sun and Women's Aid, which she became a patron of in 2018 after leaving what she described as an abusive relationship.
"We need to reform everything, the courts, the police, even GPs, even people in your work environment, HR, you need to have a safe place where you can go without any shame and know the warning signs," said Brown, who was made an MBE for services to charitable causes and vulnerable women.
Women's Aid is publishing research which found that 40% of adults believe that people who carry out domestic violence against women were enabled by sexism, compared to some 60% who felt the opposite and regarded it – in the words of the charity's CEO – as "bad people doing bad things".
"What we have is a real gap in people's understanding of how prevalent this crime is," said Farah Nazeer, chief executive of Women's Aid. She went on:
We are not ready yet as a society to support women and that is the fundamental question. This is due to sexism and misogyny that underpins all those systems. They are not created to recognise the harm that women face on a daily basis.
The new Women's Aid research also found there was a 15% drop in how seriously people regarded an instance of domestic abuse, such as if a man slaps his wife, if the perpetrator apologised afterwards.
Truss showing 'genuine engagement' with NI protocol problem and wants negotiated solution, says Irish PM
Micheál Martin, the taoiseach (Irish prime minister), has said Liz Truss is showing "genuine engagement" with the Northern Ireland protocol problem and wants a negotiated solution.
Speaking on RTE, Martin said:
I had a positive and warm meeting with Liz Truss when we met the weekend of the funeral of Queen Elizabeth.

I did, to be fair, detect a genuine engagement and a wish to get this issue resolved.

I think she would prefer a negotiated solution and the subsequent meeting between Liz Truss and Ursula von der Leyen [European Commission presiden] went well also and I think in many respects it's about getting this into a process between the European Union and the United Kingdom to get this issue resolved once and for all, not least because of the issues [like] the war in Ukraine, the energy crisis.

Europe and United Kingdom need to be acting together on that.

Really the protocol should not be an issue causing that degree of distress in the relationship between the European Union and the United Kingdom.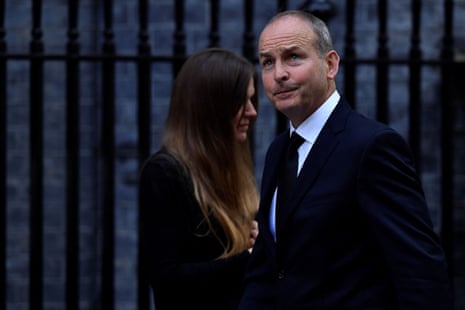 The Scottish Conservative MP Andrew Bowie has told BBC Radio Scotland that he agrees with what Michael Gove told the BBC's Sunday with Laura Kuenssberg this morning about unfunded tax cuts being a mistake. (See 9.14am.) Asked if Gove was right, Bowie replied: "Yes, he's right."
He also said that that if the government were to cut benefits to fund these tax cuts, that would be a mistake.
In principle, cutting welfare to pay for tax cuts would not be the right thing to do. But that's not what's been laid in front of us.
Bowie said he wanted to give Kwasi Kwarteng, the chancellor, time to "expand" on his plans. He said:
I share people's concerns about where we are right now. But I think it's incumbent on all of us to give the chancellor the space and the time to expand on those plans and set out more detail, and for us to be able to determine whether or not we support those plans.
But he refused to say that he would vote for the mini-budget. Asked what he would do, he said:
We're going to take a decision based on what those plans are, and every Conservative MP will have to examine those plans in detail and in depth and come to a decision as to whether or not they support it.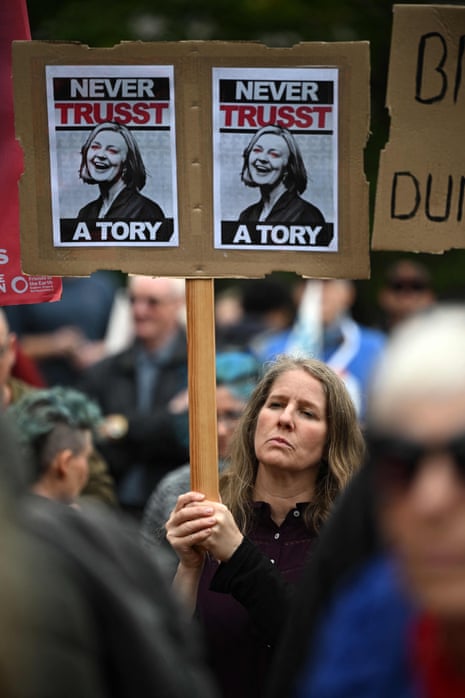 Jacob Rees-Mogg, the business secretary, has played down the significance of the protesters who booed him at the conference in Birmingham. (See 1.32pm.) He told Sky News:
There have been protests at Tory conferences since time immemorial, it's nothing new. It's a fact of democracy. They're shouting but it's perfectly peaceful. And the right to peaceful expression of your view is fundamental to our constitution.