Mercyhurst changed trajectory of nursing prof's career
Read Time:
2 Minute, 11 Second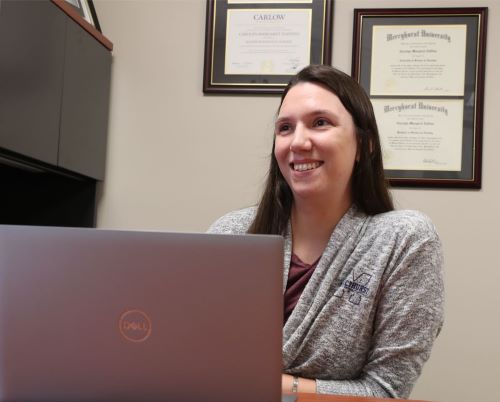 EDITOR'S NOTE: National Nurses Week is May 6-12.
For all the credentials after her name, it's hard to imagine Carolyn Zaffino, MSN, MBA, RN, PCCN, was a slow starter. Having been disappointed in her first college experience, she wasn't sure a nursing education was for her. That all changed when she enrolled at Mercyhurst University. 
"Mercyhurst is a place that lives its mission; it's not just words on its website," she said of the university where she earned her ASN and BSN in 2015 and 2017, respectively. "The faculty really care about their students' success. That was a huge eye-opener for me." 
The positive experience at Mercyhurst had Zaffino longing for the opportunity to further her education and earn a master's degree. Since Mercyhurst had yet to launch its own graduate program – now available as a Master of Science in Integrative Nursing Leadership – she looked elsewhere. The one requirement: it must be a Mercy college. So, she discovered Carlow University in Pittsburgh, where she earned her MSN and MBA in 2021.
"Even though it was online, you still had that welcoming feeling and faculty support that you get at Mercyhurst," she said.
Today, Zaffino is back at Mercyhurst, an instructor of nursing at the Mercy Motherhouse, where she is committed to preserving that welcoming, student-centered environment that meant so much to her. She also continues a per diem rotation at St. Vincent Hospital, where she was among the first cohort of medical professionals dealing with the early onslaught of COVID-19.
"It was March 19, 2020. I had barely been trained in the ICU before I was called to the COVID floor," Zaffino recalled. "The CDC hadn't even recommended what gear we should be wearing. Every shift, there was a patient who died. And I worried about what I might be taking home to my parents."
In the end, neither Zaffino nor her parents got COVID but, admittedly she said, it was a "scary" time. When the opportunity arose to teach at Mercyhurst, she took it. But she didn't leave her clinical work behind.
"By keeping up the clinical, I think it makes me a better teacher," she said.
With the nursing programs now under one roof at the Motherhouse, Zaffino said she is looking forward to collaborating with her colleagues to provide more opportunities for students. Already, they have created the American Holistic Nursing Club and are hoping to host speakers and a possible symposium soon.
PHOTO: Mercyhurst University nursing instructor Carolyn Zaffino in her office at the Mercy Motherhouse.