Liverpool vs Real Madrid delayed after problems outside Stade de France ahead of Champions League final | Football News
Read Time:
2 Minute, 21 Second
UEFA has blamed the Champions League kick-off delay on the "late arrival" of supporters at the Stade de France.
But that version of events has been fiercely disputed by those in attendance at Paris, including Sky Sports journalists and reporters inside the stadium.
There have also been unconfirmed reports that Liverpool fans were teargassed ahead of the showpiece fixture in which Jurgen Klopp's side faced Spanish champions Real Madrid, with the game eventually kicking off at 8.37pm.
Announcing the delay, a message was displayed on screens inside the Stade de France reading: "Due to the late arrival of fans at the stadium, the match has been delayed. Further information will follow in 15 minutes maximum."
But Sky Sports News' senior reporter Melissa Reddy countered: "Supporters have been queuing for over two hours outside. There are countless witness accounts of how this evening has unfolded amid horrid organisation."
Reddy had already tweeted almost 40 minutes before the scheduled kick-off time of 8pm: "Reports from those stuck outside the stadium – and footage feeding through as well – of poor organisation and communication, dangerously narrow routes with police vans further unnecessarily blocking space. All of it creating an uncomfortable, unwanted situation."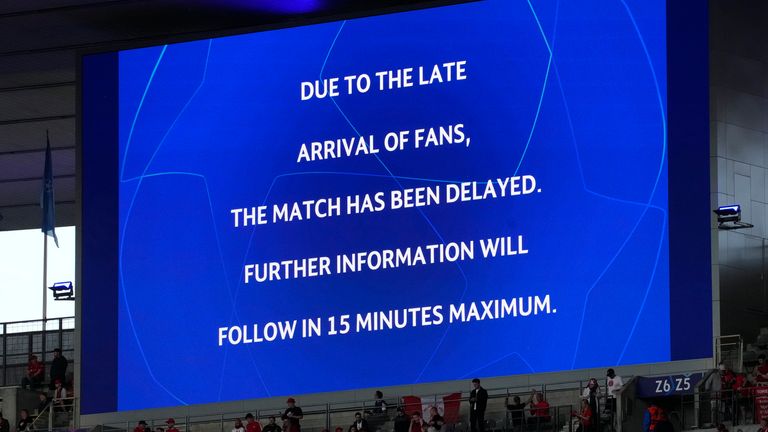 Sky Sports presenter Kelly Cates, attending the final as a supporter, had also tweeted: "Absolutely shambolic at the Stade de France. No way in, no way of knowing which way to go. Stay safe if you're heading in… It has the potential to be very dangerous."
And former England captain Gary Lineker tweeted: "I'm not sure it's possible to have a more poorly organised event if you tried. Absolutely shambolic and dangerous."
What happened outside the ground?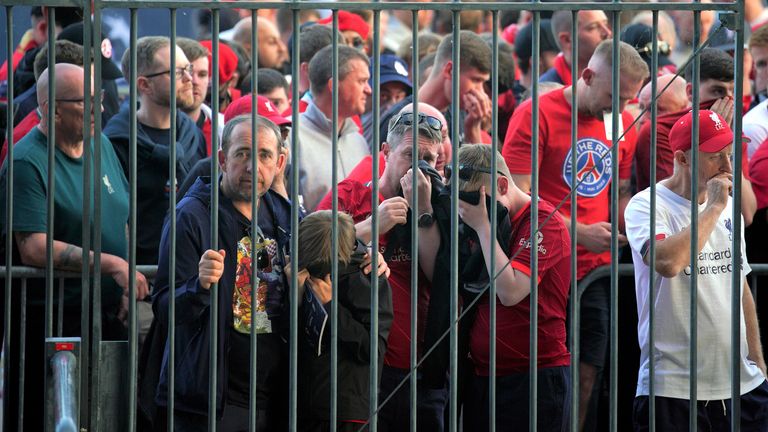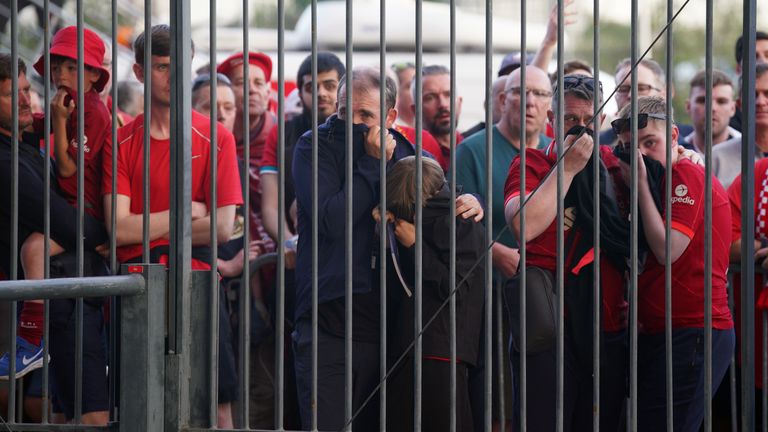 The Associated Press reported 'sporadic instances of fans, apparently without tickets, breaking through security and attempting to get into the stadium'.
The agency reported seeing two fans – one wearing Liverpool attire – wrestled to the ground by stewards and bundled out of the gates. Another fan evaded stewards and was seen sprinting through the concourse and into the bottom level of the stadium.
According to BT Sports, fans were also teargassed outside the stadium.