Jones Elected to Georgia Sports Hall of Fame – Football — Georgia Tech Yellow Jackets
Read Time:
1 Minute, 53 Second
MACON, Ga. – Georgia Tech All-America quarterback Shawn Jones, who helped lead the Yellow Jackets to the 1990 National Championship, has been named to the Class of 2023 for the Georgia Sports Hall of Fame, the organization announced.
Jones joins a class that includes NAIA basketball All-American Jackie Bradford, Dekalb County football legend and multi-sport captain at Delaware State Buck Godfrey, five-time MLB All-Star Andruw Jones, former general manager of the Atlanta Hawks and president of the Atlanta Braves Stan Kasten, 25-time national junior tennis champion Al Parker, MLB All-Star and 1980 Phillies World Champion Ron Reed, and revered college football coach Mark Richt.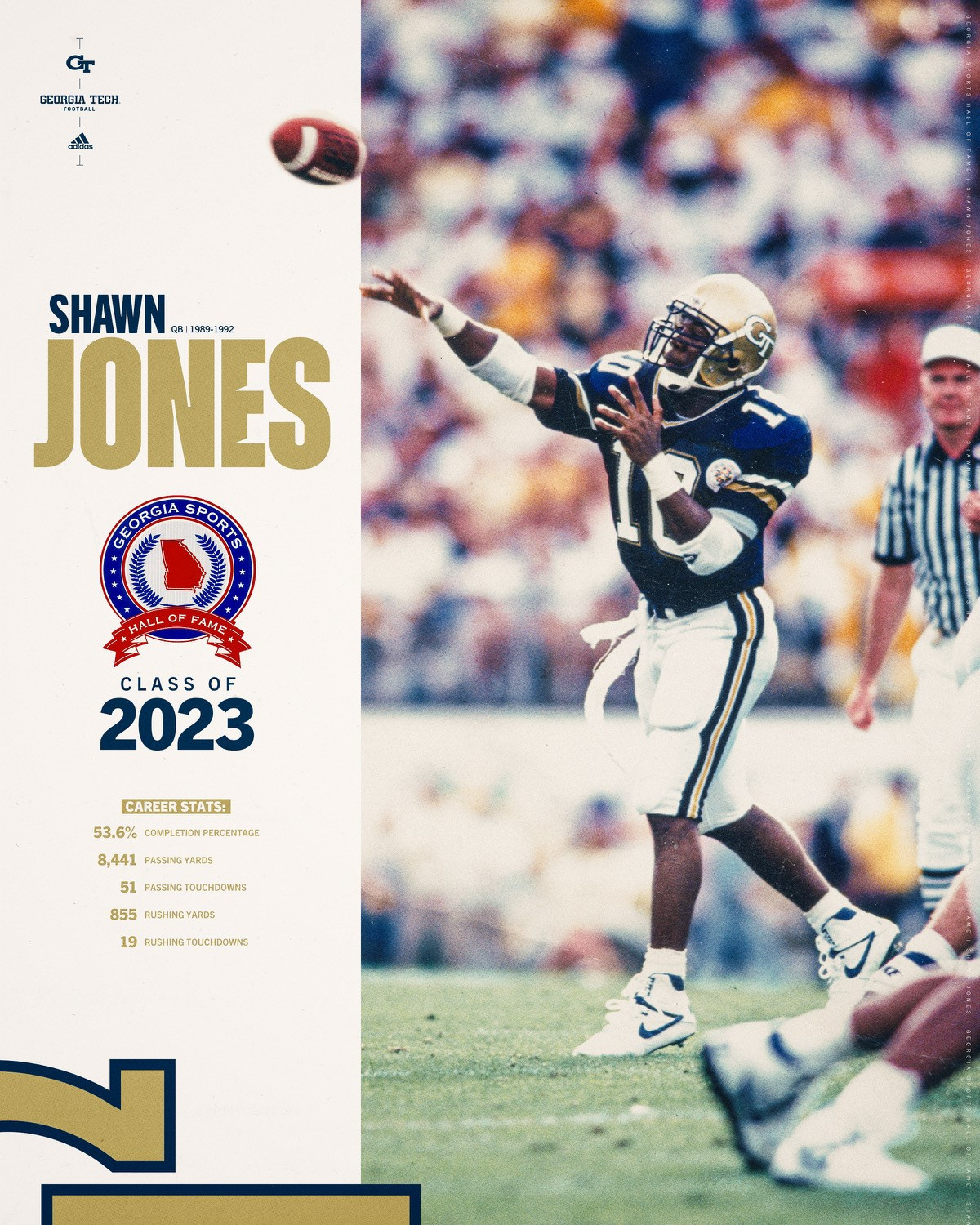 Regarded as one of Georgia Tech's greatest quarterbacks, Shawn Jones set multiple school and Atlantic Coast Conference records while guiding the Yellow Jackets to a National Championship in 1990 with a dominating 45-21 win over Nebraska in the Citrus Bowl where he was also named bowl game MVP. Jones amassed 9,296 total yards of offense (8,441 passing, 855 rushing), 70 touchdowns (51 passing, 19 rushing) and 35 wins while on The Flats, cementing himself as one of the best to ever don the white and gold.
Jones came to Georgia Tech after an exceptional career at Thomasville High School where he led the Bulldogs to a 29-8-1 record as a starter, including an 11-1 record as a senior where he threw for 1,369 yards and 11 touchdowns. He also rushed for 677 yards and three touchdowns.
Jones was enshrined in the Georgia Tech Sports Hall of Fame in 2003.
Alexander-Tharpe Fund
The Alexander-Tharpe Fund is the fundraising arm of Georgia Tech athletics, providing scholarship, operations and facilities support for Georgia Tech's 400-plus student-athletes. Be a part of developing Georgia Tech's Everyday Champions and helping the Yellow Jackets compete for championships at the highest levels of college athletics by supporting the Annual Athletic Scholarship Fund, which directly provides scholarships for Georgia Tech student-athletes. To learn more about supporting the Yellow Jackets, visit atfund.org.
For the latest information on the Georgia Tech Yellow Jackets, follow us on Twitter (@GTAthletics), Facebook, Instagram or visit us at www.ramblinwreck.com.