Jimmie Cannon's Valley Jazz ready to groove into 2022-2023 season | Entertainment
Read Time:
4 Minute, 32 Second
EL CENTRO — While only needing 17 members to have a full jazz band, Jimmie Cannon's Valley Jazz may have an advantage up on some of the other hybrid community/Imperial Valley College ensembles, but Director Renee Baker says the group is always open to having more musicians join.
The mix of brass, woodwinds and rhythm section has a core group of about 10 adults, with IVC students enrolling between 5 to 10 students each year, Baker said. On average, Valley Jazz usually has between 20 to 25 members, she said.
Yet even with meeting numbers for the band's minimum operating membership, that doesn't always translate to all instruments covered in the distribution they need, Baker said.
"This is our first rehearsal," Baker said at a Central Union High School band room on August 18. "I might have to do some recruiting to get the parts covered for the rest of the season, but we have another week before the final stuff for IVC is due."
Jimmie Cannon's Valley Jazz has had a tough ride the last few years, with some core elder members experiencing health issues, trombonist John Paul Mordasini passing away in 2021 at the age of 34, and trombonist Mike Capici passing away in June.
But despite their losses and health scares, the Valley's own jazz group since 1988 hopes to keep going strong, Baker said.
"The health issues we just have to deal with," she said. "We're still mentoring the students who come in, which helps them get better because they're also putting themselves out there a little bit more."
Though named "Jimmie Cannon's Valley Jazz," Baker said the group plays various genres of music, including but not limited to rock, swing, blues, country, and "a little bit of everything" in addition to jazz.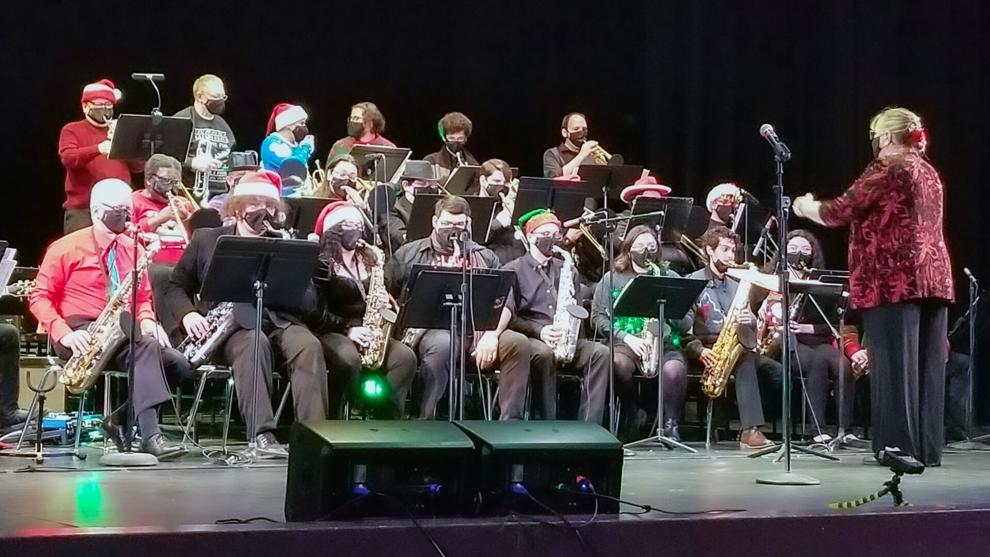 She said in addition to a bit of mentorship from section leaders, musicians who enter the ensemble get to learn skills such as solo improvisation on their respective instrument, be it trumpet, trombone, alto saxophone, tenor saxophone, baritone saxophone, or the rhythm sections' electric guitar(s), bass guitar, keyboard(s), and percussion.
"They'll get the opportunity to try improvisation and see if they like it or want to continue with it but they don't have to improvise," Baker said. "They can play and be a member of the group to just continue playing."
Baker encourages musicians who play the aforementioned musical instruments to not be scared of trying solo improvisation, but to "come, just play, and when you're comfortable you can do it."
She said the ensemble sometimes utilizes vocalists as well if the music charts call for it.
Baker said Jimmie Cannon's Valley Jazz has their Holiday Concert for December set for Friday, December 16 at 7 p.m. at the Jimmie Cannon Theater for Visual and Performing Arts at Southwest.
Baker said Mr. Cannon's son, Derek Cannon – long-time Music Department Chair and Director of Jazz & Afro-Cuban Studies at El Cajon's Grossmont College, and recent California Music Educator Association John Swain College/University Music Educator Award recipient – has confirmed to once again perform with the group his father formed, Jimmie Cannon's Valley Jazz, at the December concert.
Baker said the ensemble will then gear up in Spring 2023 for performances at the California Mid-Winter Fair in Imperial in March, and their annual end of year concert, titled "An Evening of Jazz" in May.
Baker said Valley Jazz has fun playing at the Fair, as the group uses more of their musical catalog there and the atmosphere is more "laid back" than the more formal concerts where the group aims for perfection.
Fittingly enough for the jazz band, the California Mid-Winter Fair & Fiesta's theme for 2023 will be something akin to "Feelin' the Groove," according to discussion at a recent Fair Board meeting.
Baker said the ensemble is also open to playing for community events and private weddings of parties. She said the group asks for a donation to help fund the various student scholarships given to local music students during their annual December and May concerts.
"We used to do community events like American Red Cross day, weddings and that kind of thing, we just haven't had as much in the recent past," Baker said.
"If people ask for gigs we'll play them," she said. "We need as many (musicians) as possible, and then if we couldn't accommodate that, we'd do like a smaller combo. It's working out right now."
In all, Baker said she is excited for upcoming concerts.
"Most of us just love to play," she said. "That's what we're here for."
Musicians interested in joining Jimmie Cannon's Valley Jazz who play trumpet, trombone, saxophone, any of the rhythm section instruments or sing can contact Renee Baker by email at rbaker@mycuhsd.org.
New or returning Imperial Valley College students interested in receiving course credit for Imperial Valley Symphony can contact IVC by telephone at 760-352-8320 for instructions on late registration. Baker said community members can also sign up with IVC for a non-credit course to help the band keep enrollment numbers up.