'I Was Riding For My Dad': DeShawn Parker Records 6,000th Career Win – Horse Racing News
Read Time:
4 Minute, 3 Second
by Tammy Knox/Horseshoe Indianapolis||
DeShawn Parker after career win No. 6,000 aboard For Mama
Tuesday, June 21, will be a date that forever sticks with Jockey DeShawn Parker. He rallied home aboard For Mama to score his 6,000th career win, a feat that only 20 other jockeys have accomplished in the history of Thoroughbred racing.
Parker started off his night two wins away from the milestone and connected with Wicket Intent in the third race of the night for Trainer Caio Caramori. Parker had one more shot on the card at Horseshoe Indianapolis. There, he climbed aboard the Jeff Greenhill-trained For Mama seeking to complete the milestone.
For Mama got away in heavy traffic in the six-furlong sprint and racing room never shook loose and was surrounded, so Parker kept the 3-year-old gelding behind leaders Circle Indy and Alex Achard, Got Lost and Sammy Bermudez, and Runaway Image and Declan Cannon. Around the turn, the field remained tightly bunched and it appeared For Mama would have to wait for another day to break his maiden. But Parker did what he's done so many times before, he waited patiently until the right time arrived.
That time arrived a quarter of the way down the stretch for Parker and For Mama. A slight opening appeared between Got Lost on the inside and Circle Indy on the outside. It took a little urging at first, but Parker encouraged For Mama to split rivals to find the racing room they needed. Once he was through, it was only Got Lost he had to get past. The two matched each other stride for stride until late in the stretch when For Mama got the slim margin at the wire for the win, just a head in front of Got Lost. Golden Rapper and Marcelino Pedroza Jr. closed in to finish third.
For Mama was the favorite of the maiden field, paying $2.60 for the win. The Can the Man Indiana bred gelding is owned by James Wyenandt's Bosharon Stable, who also teamed up with In Good Company Farm as the breeder.
Parker was joined by Eric Halstrom, vice president and general manager of racing, along with Rachel McLaughlin, racing broadcast manager, for the presentation. Several jockeys came in to help Parker celebrate such a significant milestone.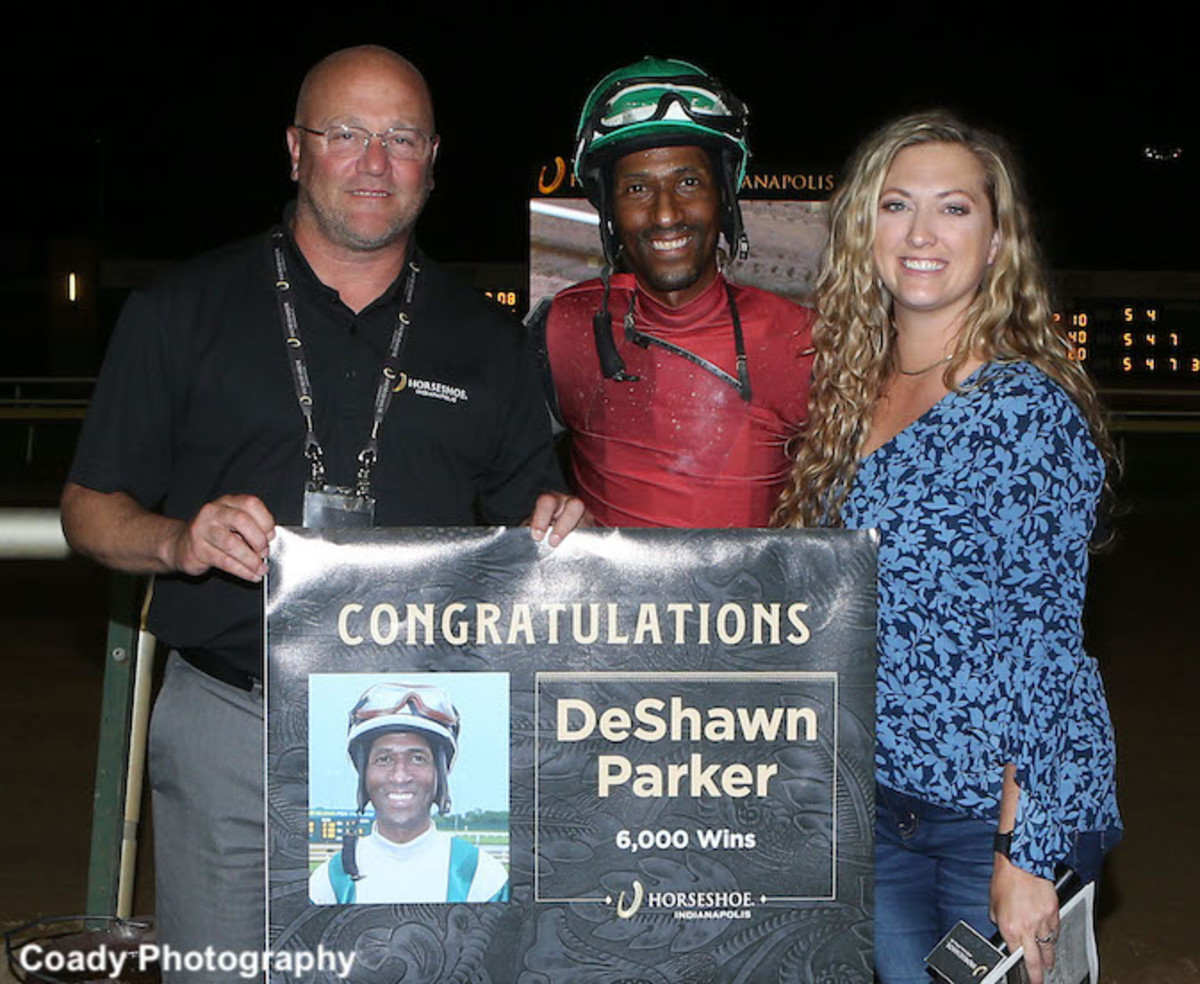 "This means the world to me, and I was riding for my dad, because I couldn't have been here without him," said Parker, who lost his father, Daryl, a longtime steward in the state of Ohio in the spring of 2021 to cancer. "He knew I was getting close to this milestone, but he never said much about any of the milestones. He's the one that kept me calm, and if I was getting worked up over something, I would give him a call and tell him what was going on and he'd calm me down. I miss not being able to do that."
Parker earned his 5,000th  career win at Mountaineer Park in 2016. He moved his tack to Indiana on a full-time basis in 2017 and scored the leading rider title at the track just three years later in 2020. In five and one-half years of riding at Horseshoe Indianapolis, he is already among the track's top 10 with 492 career wins and just under $13 million in earnings in Indiana.
"I'm happy to get this (milestone) done," added Parker. "I wanted to do it, and I've been trying to do it, but it seemed like I just didn't have the right horse at the right time. Everyone kept encouraging me to get it, which was nice, but I have to say it's even better than I expected to get this milestone. It's a load off, and I couldn't be happier."
Parker's milestone win will forever be remembered aboard For Mama for Father Daryl.
The 20th season of live Thoroughbred and Quarter Horse racing extends through Wednesday, Nov. 23. Live racing is conducted at 2:30 p.m. Monday through Wednesday with Thursday post times set for 2:10 p.m. A total of 12 Saturdays will feature live racing in 2022 highlighted by the 28th running of the Grade 3 $300,000 Indiana Derby and the 27th running of the Grade 3 $200,000 Indiana Oaks set for Saturday, July 9. For more information on live racing at Horseshoe Indianapolis, visit www.caesars.com/horseshoe-indianapolis.