Historic Stoughton building becomes woodworking paradise | Business
Read Time:
8 Minute, 40 Second
A historic Stoughton building that stood vacant for nearly a decade now invites visitors in to buy and build wood crafts.
Dubbed the Doughboy Building because it was once the home of Doughboy Feeds, the century-old building at 501 E. Main St. was last occupied nine years ago by a fleet of milk trucks. In the 1920s and 1930s, it was an auto showroom.
In February, following a major renovation, the building reopened as Grand Inspired, a combination woodworking gallery and membership-based workshop designed to celebrate fine handiwork and provide a space where everyone from novices to experts can create.
The business is the brainchild of veteran educator Joanne Grassman, 60, who spent 32 years working as a school psychologist and administrator in Madison schools before retiring in 2021. Growing up in a family of woodworkers in the central Wisconsin town of Granton, she spent each Sunday facing the church altar her great-great-grandfather built, and she dreamed of one day renovating their old farmhouse.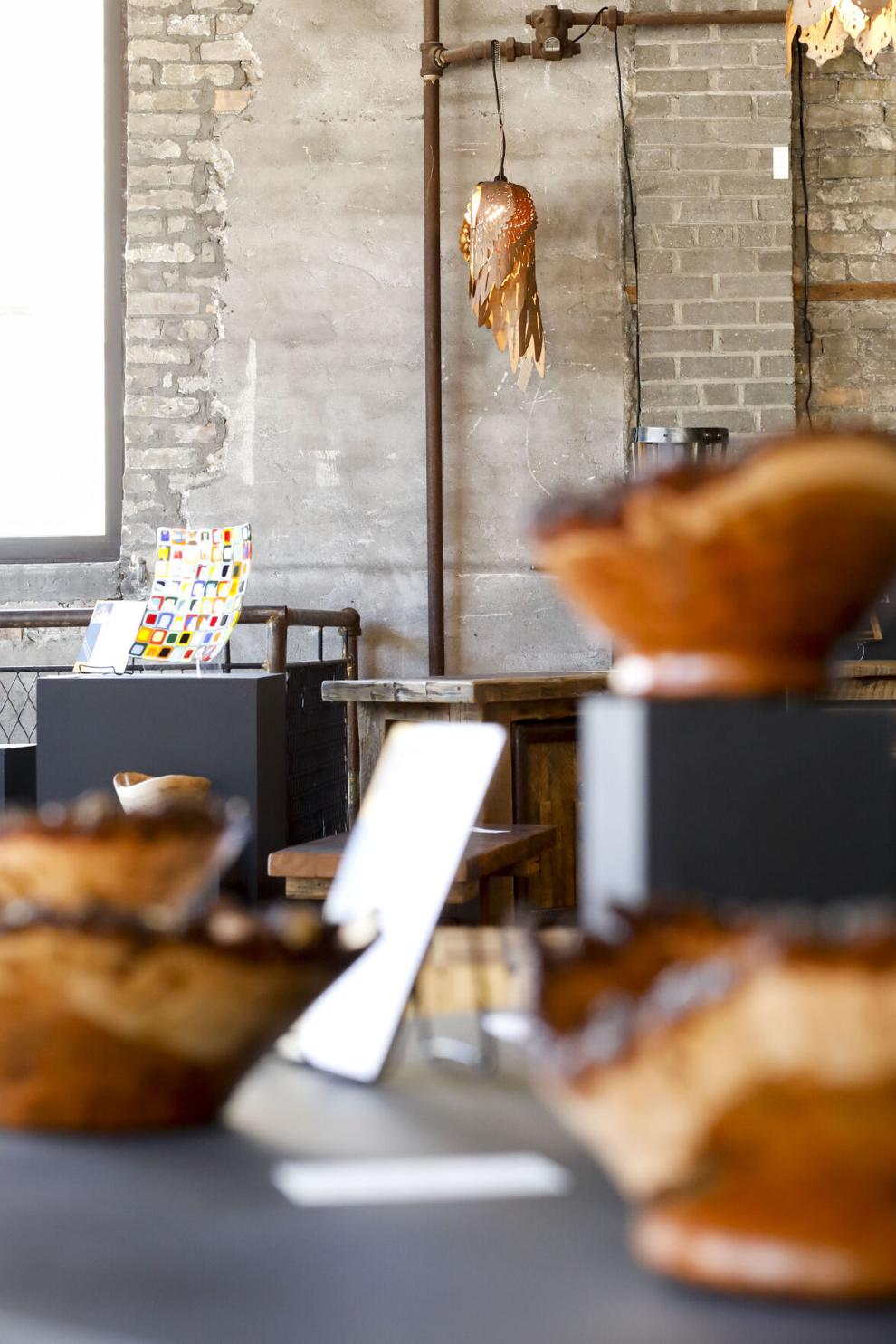 "I've dabbled in (woodworking) for most of my life while I worked another career," said Grassman, who joined Madison makerspace The Bodgery a few years ago, driving to the shared workshop from her home in the town of Dunn.
As she contemplated her coming retirement, she began looking around Stoughton for a historic building to rehabilitate. The search took nearly a year, but by May 2021, she'd bought one.
"It needed pretty much everything," Grassman said, including heating and new electrical wiring. The renovations cost about $300,000, of which a grant from the Wisconsin Economic Development Corporation covered around $76,000. 
Grassman's son Darren Bell, 30, who at the time was living in Thailand and running a coffee roasting company, helped with planning and built the website before returning to Wisconsin earlier this year to join his mom in running the business. 
Together, they designed a business that would fit their interests, the space and the town. With other galleries nearby, including the Abel Contemporary Gallery just across the street, Stoughton is "really becoming kind of an arts destination place," Grassman said.
Six days a week, visitors can drop in to browse furniture and art in the Grand Inspired gallery. And those looking for a place to do their own woodworking can sign up for a workshop membership, which costs $40 a month for hobbyists and $70 a month for those who sell their work. Members can take free classes where they create projects like cutting boards and boxes that they can take home. They can also sign up for one-on-one sessions with instructor Rob Gurke, who can demonstrate how to use the shop's various power tools or consult on their next project.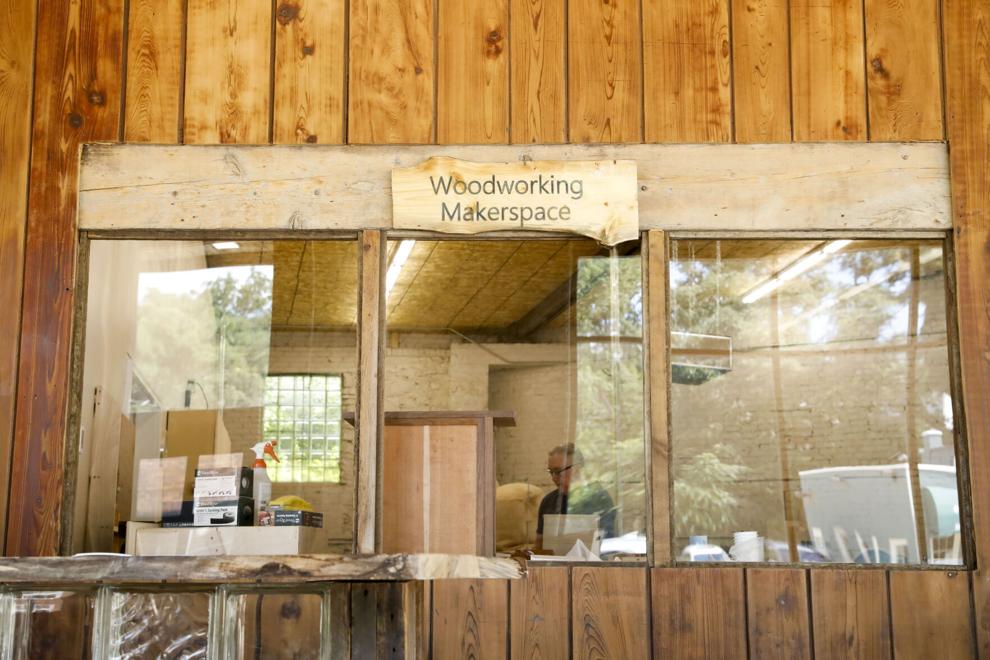 While there are plenty of galleries and a handful of local makerspaces, Grassman and Bell aren't aware of any other business that serves as both a woodworking gallery where artists can sell their work and a community woodworking shop where people can learn and build.
By offering both, Grassman hopes to "build that appreciation for the time and the talent and the effort that really goes into making something by hand." 
"We're so happy when somebody decides to try to make something themselves," Bell said.
Gallery offers goods, ideas
Where once the windows were boarded up, today light pours in and passersby peek inside. Grassman and Bell greet them warmly, eager to show off the dream they've turned into reality. Visitors can explore the gallery on their own or get a spontaneous tour of the woodshop, which can also be seen through a large window behind the front counter. 
"It's almost a daily occurrence that somebody stops in and says, 'I'm so glad that somebody did something with this building,'" Grassman said.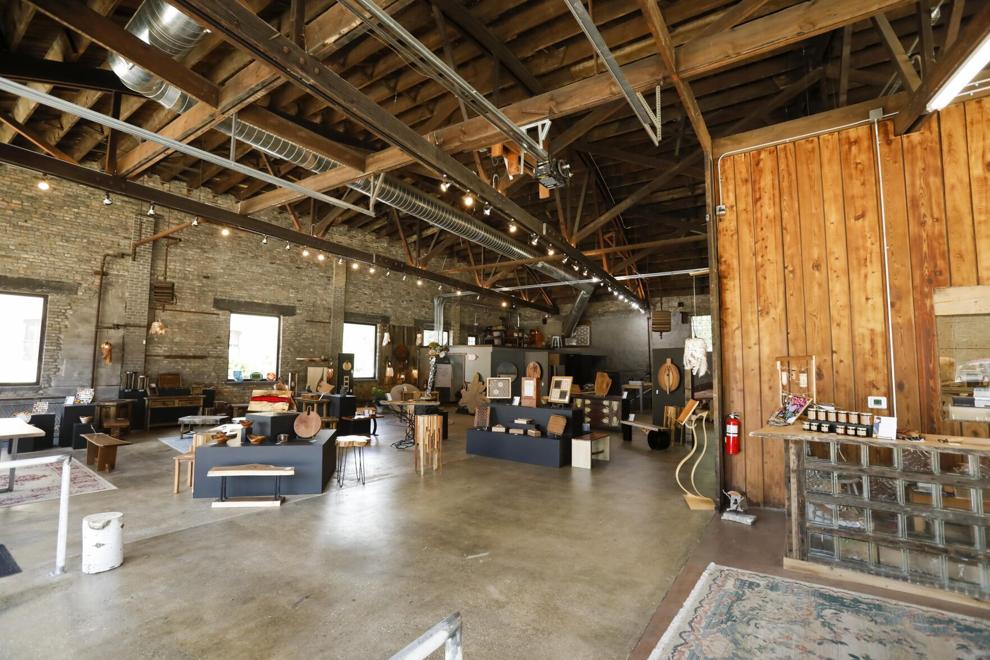 The gallery features work ranging from tiny spice bowls to hefty tables, with prices from less than $10 to more than $5,000. The styles vary widely too. There are benches combining rustic reclaimed barn beams and sleek steel. There are tables made from wood from old tobacco-drying sheds, and smooth bowls turned from the lumpy burls that grow on the sides of trees. There's even an assortment of pieces adorned with lattice in the meticulous Japanese kumiko style, which uses pressure alone — rather than nails or glue — to hold pieces in place. 
In line with the business' name, visitors can also stop in for a dose of inspiration for their own projects. People regularly visit the gallery and then mention some piece of wood they've been holding onto, just trying to figure out how to make something from it. 
"Often people want a custom project because they have some wood that has a story behind it," Bell said. "Their old barn came down, or this piece of this tree from their childhood home came down, and they want to turn it into a table."
The shop offers expert consultations on such projects, and it takes commissions if the person wants to hire any of the shop's artists to make a custom piece.
And, leaning against one wall, there's an array of wooden planks, harvested and processed from urban trees cut by the city of Stoughton, available for sale for those looking for inspiring materials for their next projects. 
Workshop of wonders
The workshop features all of the woodworking essentials, including some of the most advanced tools available. The SawStop table saw shuts off and retracts its blade within 5 milliseconds if the blade makes contact with skin. There are jointers, planers, sanders, bandsaws and a programmable CNC machine for engraving wood. There's also a massive dust collector that sucks up sawdust, some of which becomes bedding for members' backyard chickens. 
A collection of homemade wooden jigs, made by Gurke, help members cut common angles or circles easily and consistently. "We want people to experience woodworking … in a successful way," said Grassman, thinking back on her career as an educator. "That's really what keeps somebody going in a hobby, right?"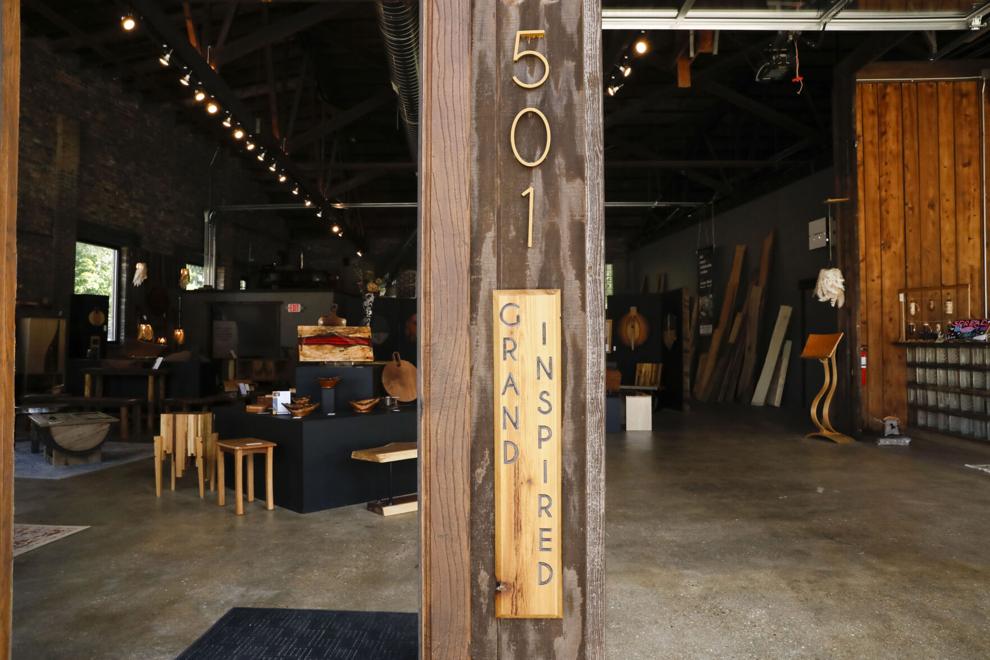 The shop has around 55 members, with more signing up each week. Around half of the members are novices, and many are older women who weren't allowed to take shop classes when they were in school. 
Those who aren't members can sign up for classes by paying a fee, if space is available. At upcoming classes, students will use band saws to make bud vases and epoxy to make coasters.
Visitors can also stop in for community events, including pop-up shops and music shows. Next up is a mug show featuring artisan-made drinking vessels (Aug. 20-21), followed by an October show featuring scarves and shawls. The pair are looking forward to filling the shop's calendar with more events.
"You can be a member here, you can come shopping here, and you can take classes here," Grassman said. "It's kind of become a part of the community."
The four questions 
What are the most important values driving your work?
Grassman: I think that the value that has driven the business is really developing the appreciation for the time, the talent, the skills, the persistence that goes into making something that's truly handmade.
Bell: The appreciation for something that's had care put into its creation. When something has care put into its creation, then you continue to care for it. And it lasts truly — not just physically, but you remember it.
Grassman: Even with the building itself. There are some people who may look at an old building and say, "Take it down." But (we have) that appreciation for what went into it. 
How are you creating the kind of community that you want to live in?
Grassman: When I think about the kind of community that I want to be a part of, it's a community that is uplifting the people in it. It's inspiring. It's working to solve problems creatively. It helps people grow and learn. And that's what we do here. We hope people come into this place and they're inspired by what they see. 
Bell: Our makerspace, too, has really become an excellent community area. We have so many members working together on projects and making friendships. It's really cool to see people learning and growing together. And I think the events that we have here are helping the community as a whole, even those who aren't woodworkers or wouldn't want to just shop.
What advice do you have for other would-be entrepreneurs?
Bell: When you're first starting out in business, I think a lot of people want to start to tackle it (by) themselves, and then when they build up, they think, "OK, now I can start to hire out." But I think it's helpful for people at the start to have somebody to give them some guidance, whether that's a service that you're paying for or just a friend who has some experience in business. To start with some training wheels on is a good idea, and then once you're feeling like you know what you're doing, then you can start to take it on yourself.
Grassman: The thing that I was thinking about is that brick and mortar businesses have changed. You can buy anything online, but you can't experience things online. And so thinking about your business as an experience is important. How do you give people something that they can't get online? That's a big part of what we do here. People want something that creates a memory for themselves, and their time away from home needs to be meaningful.
Are you hiring?
Grassman: We're not looking for another hourly employee at this point, but we're always looking for artists who work with wood, who work with metal, who work with natural materials to be a part of the gallery.