George Russell claims first pole of his career at Hungarian Grand Prix | Formula One
Read Time:
4 Minute, 15 Second
Good times have been in short supply at Mercedes this season. The team's poorly performing car has left them stoically having to grin and bear it. In qualifying for the Hungarian Grand Prix and out of the blue, they finally had the chance to just grin as a good time came to them in George Russell delivering an extraordinary lap to take his first Formula One pole position and Mercedes' first of the season.
There was elation in the Mercedes garage at the Hungaroring as mechanics and engineers who have been under the cosh all season were finally able to enjoy the adrenaline surge of success once more. While Russell, the 24-year-old who is always careful to keep a tight rein on his emotions, was lit up with pleasure.
"This is what racing is about," he said. "Why I wake up every single day because feelings like this are something you can't really dream of."
Nicknamed Mr Saturday for his skill over the single lap in qualifying while in an underperforming car at Williams, Russell will surely find the moniker all but impossible to shake off in future.
The scale of his achievement cannot be overestimated. His car has been down on pace all season and he had looked to be more than half a second back on the leaders at best. As late as last night he and the team were still furiously searching for ways to bring it up to speed. Yet with so little preparation when it mattered Russell threw it round the Hungaroring with an abandon that was breathtaking then paid tribute to his team.
"Yesterday was probably our toughest Friday of the whole season," he said. "We were all here until 11pm last night scratching our heads, morale was pretty down and we felt pretty lost. To come back and grab pole position 24 hours later, it's just such a feeling because I know what we went through last night. There's no points for qualifying but getting this result for all of us is pretty huge."
A technically challenging circuit with a preponderance of medium and slow-speed corners, the Hungaroring has to be managed with absolute precision. This has then been Russell's teammate Lewis Hamilton's fiefdom, with a record eight poles here. Yet he could manage only seventh place on Saturday as his heir apparent flew. Russell's talent has never been in doubt, here with every flick of the wheel it was writ large as Hamilton acknowledged.
"Huge congratulations to George," he said. "It's an amazing feeling to get the first pole position and it is huge for the team, we don't know where the pace all of a sudden came from, it came from nowhere, that's a huge positive. He should be able to win from that position at this track."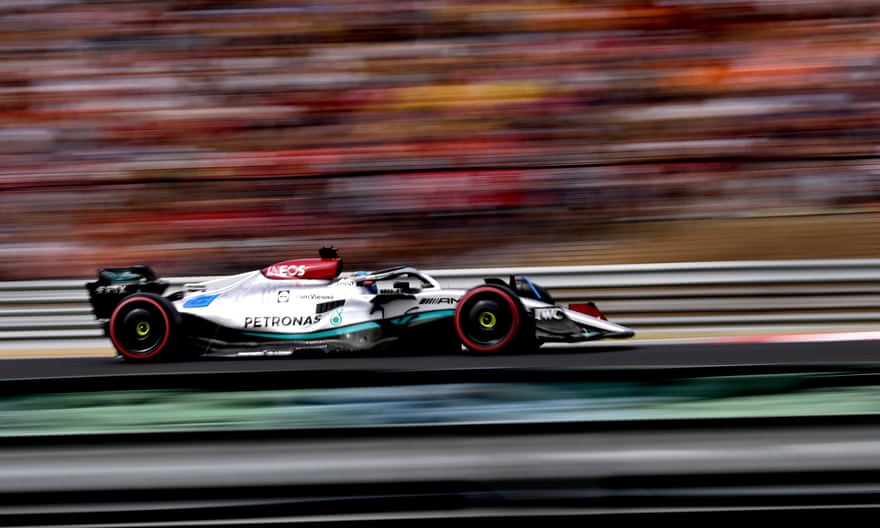 The lap was the best of his four-year career, one that included an outstanding second on the grid in the wet at Spa for Williams. Yet it had to be to squeeze Ferrari's Carlos Sainz and Charles Leclerc into second and third, albeit while the championship leader, Max Verstappen, had a poor afternoon, his Red Bull losing power on his final lap and finishing 10th. On this form, Russell would have the measure of the Dutchman regardless.
The Mercedes this season is a mercurial car, difficult to setup, to balance and with a narrow operating window where it performs at its best. In Budapest they and Russell found it. As team principal Toto Wolff noted with some relieved humour that reflected the mood. "We just need to write down everything we did this morning, including the food and drinks we drank in order to replicate it," he said.
So dare Mr Saturday dream of leaving Hungary with a debut win under his belt on the day that really matters in F1? He was, as always, circumspect but knows he has every chance. Their car has been consistently better in race pace this season and if Russell can hold his lead off the line he will be no easy task to pass. There was certainly no lack of ambition. "We'll be absolutely going for it, victory is what we're going for," he said, still grinning.
On Saturday morning F1 launched a campaign to combat fan abuse online and in person, under the banner "Drive it Out". It is supported by all the teams and the FIA. "Abuse of any kind is unacceptable. If you cannot be respectful then don't be part of our sport", F1 stated. The Austrian GP was marred by accusations of sexist catcalling, inappropriate touching of female fans and homophobic and racist abuse, while social media has seen an increase in the often vitriolic and offensive discourse between fans of different drivers.