Fact-checking the debate between Gov. McMaster and Democrat Cunningham | Palmetto Politics
Read Time:
9 Minute, 30 Second
COLUMBIA — Voters heard a lot in the only debate between South Carolina's major party candidates for governor where incumbent Henry McMaster cast himself as a steady hand overseeing a booming economy, while Democratic challenger Joe Cunningham argued his opponent is a relic holding the state back. 
The two made a lot of claims during their Oct. 26 faceoff co-hosted by SCETV and The Post and Courier, leaving plenty to wade through.
Neither was entirely accurate. 
Here's a dissection of some of their statements and allegations:
Abortion
Their stances on abortion do offer voters a "clear contrast" between the 75-year-old governor and 40-year-old challenger, as Cunningham said at the debate's onset. 
Cunningham, who has made abortion central to his campaign, would prefer returning to the guarantees granted by the 1973 Roe v. Wade ruling the U.S. Supreme Court overturned in June. That would require GOP legislators to legalize abortions through the second trimester, or 24th week of pregnancy, which they won't do.
Recognizing that, Cunningham said the difference is he would veto legislation that bans all abortions without exceptions, while McMaster would sign it. 
"Gov. McMaster wants to ban all abortions and have no exceptions for rape or incest or even for the life of the mother," Cunningham said. "His position is the most egregious form of government overreach you can imagine."
In May, McMaster did say he supported a ban without exceptions. He has since repeatedly said the exceptions in the law he signed last year, which banned abortions around the sixth week, are reasonable. That law, which remains suspended by the state Supreme Court, provides exceptions for victims of rape or incest, fatal fetal anomalies, and to save the mother's life or prevent lifelong health problems.
McMaster accused Cunningham of being disingenuous. 
"Mr. Cunningham well knows no such bill is going to ever reach my desk," he said of a total ban.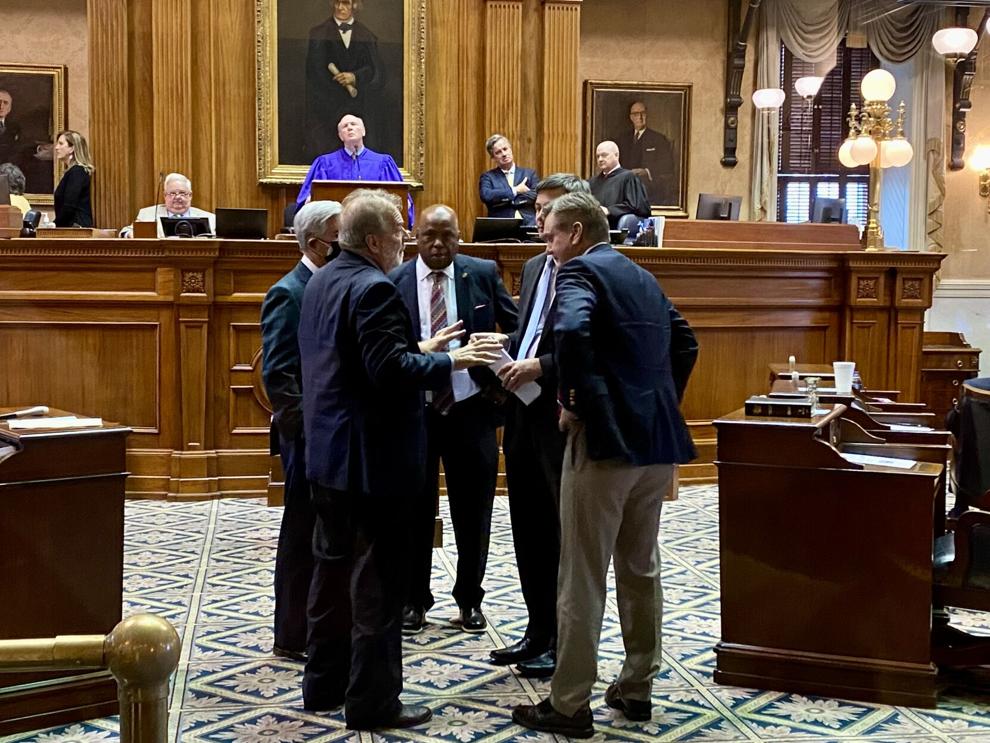 Despite returning to Columbia over the last few months specifically to debate further restrictions, the House and Senate remain at an impasse, with the Senate lacking the votes to ban abortions before six weeks. Senators also insist on more exceptions than the House. The governor has declined to weigh in on either chamber's version. The legislation officially expires Nov. 13. 
"He's trying to scare people, and I think it's a bad service to the people to continue with that line of irresponsible charges and accusations," McMaster said. "What he says is not correct."
He threw the "extreme" label Cunningham's been using for McMaster back at him, saying the former congressman's position of supporting abortions through six months "for any reason or no reason at all" is what's radical.  
But the governor never gave a definitive "yes" or "no" as to whether he would sign a hypothetical outright ban. 
Crime
Cunningham seems to be taking a cue from the national Republican playbook, but in reverse, blaming McMaster for rising crime in the state. 
As he has on the campaign trail, the Democrat repeatedly faulted McMaster for "the highest crime rate we've ever had in our state's history."
At one point he added, "Our crime rate is higher than New York City's, and that's all under Gov. Henry McMaster."
Crime is not the highest ever. South Carolina's murder rate specifically is the highest it's been in three decades. But the overall rate for all violent crimes has dropped by 45 percent in that span, according to the latest report from the State Law Enforcement Division, which includes data through 2020. 
In 2020, there were 550 homicides in South Carolina, ranking much higher per capita than the 468 in New York City. 
The FBI's latest crime report, released earlier this month, shows violent crime is down nationwide for 2021. But there's a significant gap that makes comparisons impossible. The FBI switched to a new, voluntary system, and data from many police departments, including New York City's, is missing.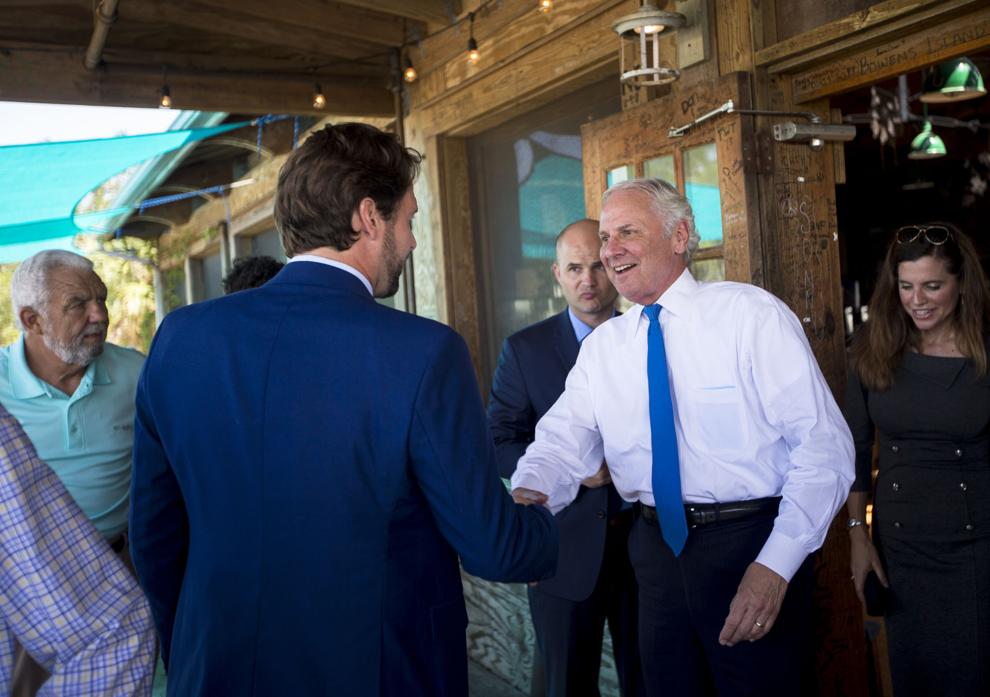 Cutting income taxes
McMaster regularly touts signing the largest tax cut in state history. The law signed in June cuts income taxes by $1 billion once fully phased in, starting with a $700 million reduction in this year's budget. 
What the governor called a "good start" is indeed the largest single recurring cut to revenue. But he claimed several times in the debate that it represented the first-ever income tax cut.
"I'll remind you again: This is the first time our state income tax has ever been cut in the history of South Carolina," he said. 
That's not accurate, especially given South Carolina's long history of taxing income.
An income tax dating to colonial times was abolished by the state's 1868 Reconstruction-era constitution. Its 1895 replacement allowed a new income tax, but after 20 years, it too was eliminated. The modern income tax structure dates to the 1920s, and the top tax rate was increased to 7 percent in 1959, according to the Tax Foundation.
McMaster is correct that the 7 percent top rate remained in place for 63 years. But he leaves out that in 2007 the Legislature cut from the bottom, eliminating income taxes for the lowest earners. It's why 44 percent of South Carolina tax filers pay no state income taxes.
Cunningham's agenda includes eliminating the state income tax, which would wipe out roughly half of the state's revenue.
He wants to do that, he says, because South Carolina "has the highest income tax rate in the entire Southeast." It's an argument McMaster and his Republican predecessors have made for years in calling for cuts. 
It's true for the top marginalized rate — what legislators have referred to as the sticker price — even after the tax-cut law reduces it to 6 percent.
But what Cunningham doesn't mention is that the effective rate, or what taxpayers actually pay after South Carolina's generous deductions, was already low and falls further to 2.7 percent this year, according to the state Revenue and Fiscal Affairs Office.
Cunningham says other parts of his agenda — notably legalizing sports betting and marijuana, both for recreation and medical purposes — will replace the income tax revenue, plus pay for other things. 
"This may be news to Gov. McMaster, but this is already going on anyways," he said of betting and marijuana use. "If it's going on anyways, the state may as well regulate it, tax it, make some money off it and give that money to our teachers or fix our roads."
For starters, the governor — no matter who it is — cannot decriminalize anything on his own. 
Cunningham could use the gubernatorial bully pulpit to encourage the Legislature to do so. McMaster will not. The former, two-term attorney general reiterated his opposition to gambling. And while he indicated the yearslong debate over medical marijuana could move him to support limited use for "people who cannot get relief anywhere else," he added, "that's a completely different animal from recreational marijuana." 
But even if Cunningham could convince legislators long reluctant to expand gambling or legalize weed in any form to go along his plans, it seems far-fetched that the revenue would fill a $6 billion income tax gap.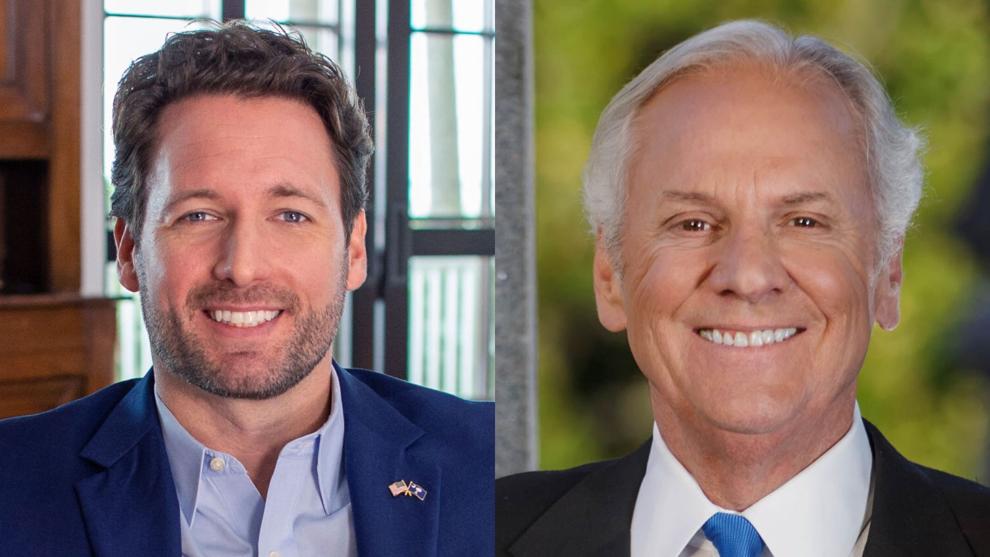 Teacher salaries
Cunningham proposes boosting the starting pay for a teacher coming out of college with a bachelor's degree to $50,000 and raising all teachers' salaries by 10 percent over the course of his potential eight-year tenure. 
"Our teachers deserve a lot more than what they're getting," he said. "Teachers are feeling betrayed. They're leaving in droves because of it, for the same reason most people leave their jobs — because they're disrespected, they're underpaid and they're overworked."
Raising teacher pay to stem the teacher shortage is something lawmakers across the political spectrum have advocated. But $10,000 over eight years is not as generous as it may sound. 
Since 2017, legislators have increased the minimum pay for first-year teachers from $30,100 to $40,000, a 33 percent increase. 
South Carolina's average teacher salary last school year was about $55,000, in line with the Southeastern average, as encouraged by state law, according to the Fiscal Affairs Office. Before COVID hit, former GOP House Speaker Jay Lucas was pushing to raise teacher pay above the national average within five years. 
"We've already raised pay. It's not enough, but we've raised it that $10,000 Joe's talking about," McMaster said in the debate. "We're going to raise it some more, and we're going to do it a lot sooner than what he said."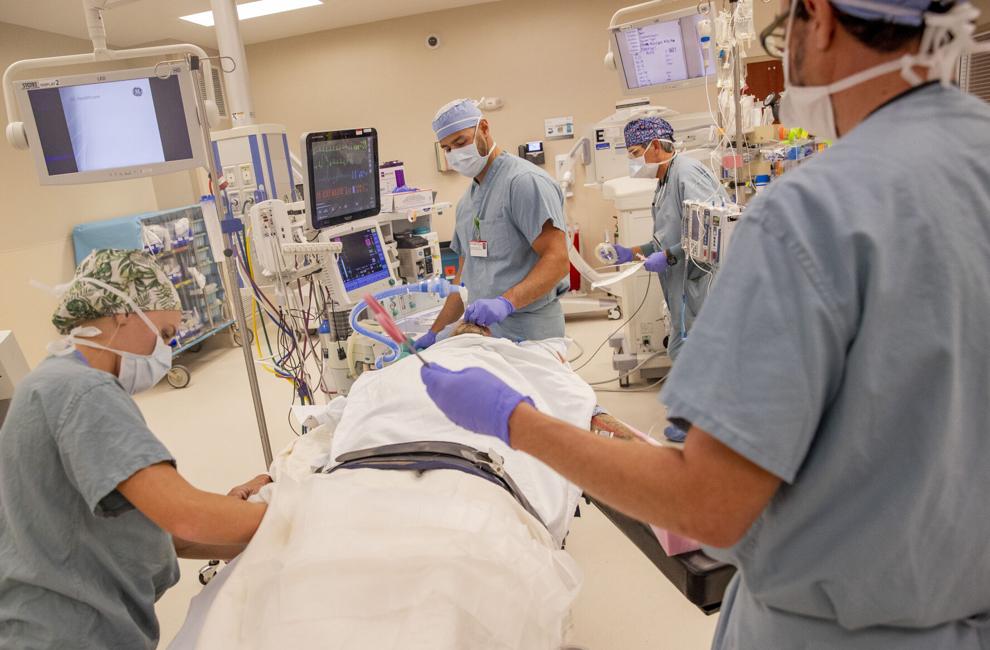 Medicaid expansion
Ten years after the U.S. Supreme Court made Medicaid expansion an option instead of a mandate, South Carolina GOP lawmakers have not budged from their refusal to extend eligibility for the government health insurance program to more poor adults.
South Carolina is among 12 states — most of them in the South — still not doing what Congress intended in the 2010 law known as Obamacare, which called for covering all adults with incomes up to 138 percent of the federal poverty level. This year, that cap for Medicaid eligibility would be $19,000 for a single adult or $25,300 for a family of three.  
Cunningham insists he can get them covered with the stroke of a pen.  
"I won't hesitate for a second to expand Medicaid on day one," he said in the debate, later adding that would be the first thing he does.
But the governor does not control the state's purse strings.
If elected, Cunningham could sign an order directing the state's Medicaid agency to apply for the federal money. But the agency would still need approval from the GOP-dominated Legislature before sending it. That's because the application requires assurances the state will fund its 10 percent share of the extension, said Health and Human Services spokesman Jeff Leieritz.
Over the next decade, the state match is estimated to cost $2.6 billion to cover up to 450,000 newly eligible adults. Some portion of those likely already have insurance through their work or the Obamacare marketplace, so precise numbers are unknown. Medicaid currently covers 1.3 million South Carolinians, according to the agency. 
Ultimately, Cunningham would need to convince Republican legislators the benefits outweigh the costs. 
Kansas and North Carolina are among states where Democratic governors have pushed for Medicaid expansion and included it in their own budget recommendations, but it hasn't happened because their GOP-controlled Legislatures won't approve it, according to the Kaiser Family Foundation, a nonprofit that focuses on health issues. 
Cunningham may or may not be more persuasive. But two things are certain: Whatever he does on "day one" wouldn't get it done. And McMaster, like his predecessor Nikki Haley, will continue to discourage an expansion if re-elected.
"What that means is more and more federal entanglement," McMaster said during the debate. "We've got enough."