EXPO NEWS: Live from Day 1 in Stuttgart!
Automotive Testing Expo Europe is back to a full-capacity, full-size show and sees a true and full return of person-to-person discussions and physical demonstrations. There is an incredible amount of innovation everywhere you look and the first day has already seen new launches and cutting-edge technology across the floor, including the latest from MORAI, Rohde & Schwartz, Solid Sands, Messring and MTS.
The show is taking place at Messe Stuttgart, Germany, June 21, 22, 23, 2022, and is completely free to attend. If you haven't already done so, register now for your free entry pass!
')
}
// –>
')
}
// –>
Come and see the cloud solution that promises scalability in simulation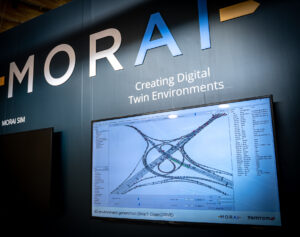 Learn how to make your driving simulator programs more efficient with a new Cloud-based tool from first-time exhibitor MORAI. As the AV market becomes larger and more competitive, the need for simulation verification technology will only increase, as the company has noted.
Jiwon Jung, CEO of MORAI, said, "MORAI is introducing its cloud-based offering called MORAI SIM Cloud. This method increases test efficiency as it enables users to run many simulations requiring multiple computers to run, with only a single computer, simultaneously. MORAI continues to respond to the growing demand for autonomous vehicle driving simulators by providing the most optimized verification tools for clients."
The company believes that simulation is the most powerful solution to achieve full autonomy. When it comes to developing driverless vehicles, development speed, verification cost and coping capabilities vary greatly depending on the effectiveness of the simulator. Hence the testing technologies that are used during the process are a key factor in the success of a development program, and harnessing the cloud is one way to streamline activities.
"As a first-time exhibitor we are happy to be showcasing our advanced technologies and bringing innovation to the autonomous driving industry," added Jung. "We will actively engage in sharing our insights in autonomous driving simulation technology with industry leaders and hope to further foster global partnerships."
Discover advanced radar test technology that opens up new prospects in lab testing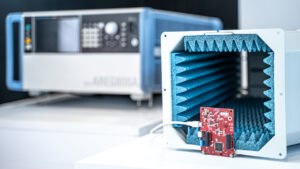 With test techniques for the development, verification and production of chipsets, components and vehicles advancing exceptionally quickly, Rohde & Schwarz is using Automotive Testing Expo Europe to draw attention to its advanced automotive radar test system (RTS) along with its portfolio of C-V2X, 5G, Ethernet and UWB test technologies.
"We are pleased to be presenting our solutions, but most of all we are happy to finally meet our customers and partners again," said Juergen Meyer, vice president of market segment automotive at Rohde & Schwarz. "Automotive Testing Expo is one of the best platforms to see how the industry is changing, what challenges it is facing, and of course, how Rohde & Schwarz can help developers tackle these challenges."
Due to the increased complexity of automated driving and ADAS, and the development of new radar technology, the amount of labor required during analysis is growing very quickly and relying mainly on road testing is no longer practical.
"The RTS opens a completely new field of possibilities for lab testing of radar-based ADAS and AD features, including ensuring their correct operation in HIL and VIL testbeds," noted Meyer. "This enables errors to be detected at an early stage and delivers significant cost savings. Multiple moving objects can be emulated with variable distance, angular velocity, size, elevation and azimuth without physically moving antennas or devices thanks to innovative antenna array technology."
Explore a unique requirements-based test suite for the C standard library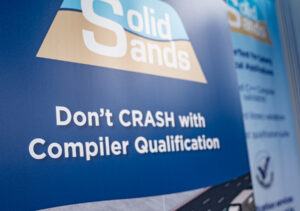 Solid Sands has announced that a C++ version of its specialist requirements-based test suite for the C standard library – SuperGuard – is scheduled for release in the third quarter of 2023. The product is a breakthrough solution for developers seeking a tool for library qualification when building safety-critical applications, and was created in response to the lack of professional tools for this specific task.
"Library qualification is key because code from the library is linked into the application and installed onto the target device," explained Marcel Beemster, CTO at Solid Sands. "If a library component is defective, the functional safety of the entire application is therefore jeopardized. Every functional safety standard has its own specific objectives when it comes to the use of software libraries, but in general they all share a common goal: to verify that the library implementation complies with its specification. The challenge is that while C has a widely recognized ISO specification that contains all the information needed, it does not provide a list of requirements.
"We launched SuperGuard last summer and much of the interest came, as we expected, from the automotive sector, which is heavily regulated in terms of standards and compliance, in particular the ISO 26262 standard that covers both reused and open-source software. We anticipate seeing SuperGuard more and more widely used, especially as the move toward autonomous vehicles gathers further pace."
According to Beemster, Automotive Testing Expo is a great opportunity to demonstrate the potential of SuperGuard to players across the automotive sector seeking a reliable and verifiable library qualification tool for C.
On display: The latest CPD test dummy you need to meet new Euro NCAP evaluations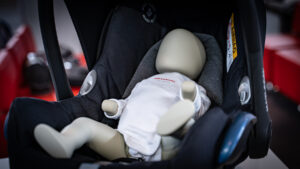 From 2023, the Euro NCAP evaluation process will assess child presence detection (CPD) systems within vehicles. To address this development, Messring has developed a new CPD dummy that accurately represents a newborn child in not only size and weight but also respiratory characteristics and related body movement. The dummy, which is on show at Automotive Testing Expo Europe, can be programmed via either a web-based portal or a mobile app, providing excellent flexibility for test engineers.
As Dr Igor Doric, executive director at Messring Active Safety, explained at the expo, "You can control all the parameters, the respiration rate – including the rate the dummy inhales and exhales – while also running set test programs as well as monitoring  the system operating parameters and pressures."
In addition to the CPD dummy, Messring is also presenting a new guardrail soft target (GST) that replicates a guardrail in terms of radar sensor signature and visual appearance. This can be used to test functions such as lane assist, an essential feature for L2 and L3 driving. Messring's modular system is easy to set up, rugged enough for outdoor use, yet soft enough to protect the vehicle under test from damage in the event of a collision.
Also on display is a new load cell to meet the need for higher load cases during crash tests due to the increasing weight of electric vehicles. The M=Wall heavy duty offers overload resistance up to 1kN and ensures highly accurate evaluation of crash tests for heavier vehicles. The load cell range is complemented by the new M=Wall lightweight, specially designed to equip crash barriers with data acquisition systems.
Find out more: the damper NVH test solution tailor-made for EV applications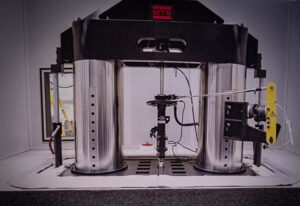 MTS has revealed its Model 853 NVH damper test system, engineered to address the entire range of damper noise phenomena, including swish, squeak and chuckle.
"It's a really exciting time in the automotive market with the drive toward electric and new-energy vehicles," explained Scott Bieganek, senior director for product management and strategy at MTS, speaking at Automotive Testing Expo Europe. "As you move away from the ICE, ride becomes much quieter inside the vehicle. That is driving suppliers to make a quieter ride as noises that were previously masked become a discomfort – and one of those sets of noise comes from the damper."
The lighter, thinner materials making up the chassis create an environment where not only air-borne 'swish' and 'squeak' but also structure-borne 'chuckle' noises threaten to compromise ride comfort and quality. "The challenge is to understand where that noise is coming from and to mitigate it," added Bieganek. "The first part of that challenge is to measure it. To do that we have combined our damper testing technology with some of our high-frequency elastomer test technology to create an environment that can reproduce those noises and allow the customer to measure them at high frequency."
The Model 853 NVH damper system employs high-bandwidth transducers – typically used in high-frequency elastomer testing – to perform damper NVH measurements with fidelity and accuracy up to 700Hz. It also features an elastomer system's high-stiffness load frame, along with larger-diameter columns, a thicker crosshead and a more robust base to avoid the resonant modes that can corrupt measurements. Linear electromagnetic actuation technology provides the clean sinusoidal input and low total harmonic distortion (THD) the system requires for effective chuckle testing. The Model 853 is driven by a versatile FlexTest controller capable of reproducing virtually any type of signal, making it suitable for basic damper characterization and even elastomer testing.