Dubawi to Stand for Career-High £350,000
Read Time:
5 Minute, 17 Second
Dubawi  will stand at a fee of £350,000 (US$397,269) in 2023 after a year which, even by his stellar standards, has been truly outstanding.
The news was announced by Darley Nov. 9, with their British and Irish champion sire-elect having stood for £250,000 ($283,764) since 2017.
Only a short while earlier, Juddmonte had revealed that Frankel 's fee had been raised to £275,000 ($316,448) from £200,000 ($230,144).
Three classic winners head up a personal-best tally of 43 black-type winners for Dubawi in 2022: he has sired seven group 1 winners this year over distances ranging from the six furlongs of the Platinum Jubilee Stakes (G1) to the 14 and a half of the Cazoo St Leger Stakes (G1).
Just last weekend, Dubawi enjoyed another tremendous Breeders' Cup, taking his tally to five wins in the past two seasons headed by FanDuel Breeders' Cup Mile Presented by PDJF (G1T) winner Modern Games .
Sign up for BloodHorse Daily
Dubawi will earn a well-deserved first sires title this year, having had to play second fiddle to Galileo  for so long, and then his son Frankel last year.
Dubawi
Dubawi was retired to Dalham Hall in Newmarket after winning the Dunnes Stores National Stakes (G1) at 2, and then the Boylesports Irish Two Thousand Guineas (G1) and Prix Jacques le Marois (G1) at 3, with the son of Dubai Millennium introduced at £25,000 ($43,012).
It has not all been plain sailing—he dipped to £15,000 ($21,889) in 2009 after returning to Dalham Hall after one season at Darley's Kildangan base in Ireland—but he has been on the march for at least a decade now and sits atop the table of the world's most expensive sires.
Royal Ascot group 1 winner Naval Crown , the fastest son of Dubawi, is a new addition at Kildangan Stud, meaning Dubawi will now have six sons on the Darley roster.
When winning the Platinum Jubilee at this year's Royal Ascot, Naval Crown beat no fewer than 11 group 1 winners, including Highfield Princess , Kinross , Alcohol Free , Campanelle , and Minzaal . He was also the first colt home in this year's Darley July Cup Stakes (G1), this time with five group 1 winners behind him.
Naval Crown broke his maiden by four and a half lengths in the prestigious Convivial Maiden. He was champion 3-year-old in the UAE, taking the Meydan Classic, and enjoyed further success in Dubai this year when winning the Al Fahidi Fort Presented by Mina by Azizi (G2).
Naval Crown is the first foal out of the stakes-winning Dansili mare Come Alive, herself a daughter of group 2 juvenile Portrayal. Naval Crown will stand at a fee of €15,000 ($15,017).
Dubawi's stallion sons have also enjoyed tremendous success this year, with Night of Thunder  further cementing his position as his sire's successor.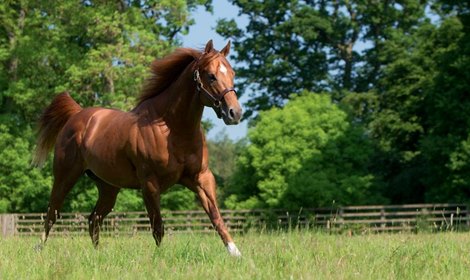 Night of Thunder at Kildangan Stud
Remarkably, Night of Thunder is performing even better than Dubawi at the same stage of his career. He has an exceptional 22% stakes winners from his first crop, led by Europe's leading sprinter and multiple group 1 winner Highfield Princess.
Night of Thunder has been a star of the sales ring too, with his yearlings averaging €236,000 ($236,260), with five topping half a million. He will stand at Kildangan at a fee of €100,000 ($100,110), up from £75,000 ($85,129) in 2022.
Another new boy to the Dalham Hall Stud roster is the speedy Perfect Power , who will stand for £15,000 ($17,026).
The first horse for 20 years to win three group 1 sprints by June of his 3-year-old campaign, Perfect Power annexed the Norfolk Stakes (G2) at Royal Ascot just eight days after breaking his maiden, before completing the Darley Prix Morny (G1)-Juddmonte Middle Park Stakes (G1) double. He returned to Royal Ascot this year with a scintillating victory in the Commonwealth Cup (G1).
Young stallions Blue Point  and Too Darn Hot , whose fourth-season fees have been trimmed to €35,000 ($35,005) and £40,000 ($45,402), from €40,000 ($40,005) and £45,000 ($51,077) respectively, topped the first-crop sires averages at both Goffs Orby and Tattersalls Book 1 and 2.
Investec Derby (G1) hero Masar  (unchanged at £14,000 ($15,891)) had the highest median of any first-crop sire at Book 1 and 2.
Ghaiyyath , Earthlight , and Pinatubo  have been strongly supported since retiring to stud and will soon have their first foals go through the ring.
Fees for Ghaiyyath (€25,000/$25,003) and Pinatubo (€35,000) remain unchanged for 2023, but Earthlight moves to £18,000 ($20,431) from £15,000.
First-season sire Cracksman  has exceeded most expectations with his second-crop yearlings averaging almost 40% more than his first. He has sired three black-type performers to date, including group 2 winner Aloa , and his fee remains at £17,500 ($19,863).
Harry Angel  has also made a superb start to his stud career, with his tally of 24 individual winners and four stakes horses putting him right up there with the best young stallions in Europe. He will stand at a competitive £10,000 ($11,351), trimmed from £12,000 ($13,621).
Ribchester  (€7,500/$7,501 from €12,500/$12,502) has enjoyed significant success in France courtesy of recent high-profile group winner Facteur Cheval . He joins the Darley roster at Haras du Logis in Normandy, having stood at Kildangan for his first five seasons. 
Darley's director of stallions Sam Bullard said: "There's no bigger name in the business than champion sire Dubawi. He's set even higher standards for himself in 2022, and it's only right his new fee should reflect this.
"Equally, demand for his best stallion son Night of Thunder is also extremely gratifying.
"It's great news we have Dubawi's Platinum Jubilee winner Naval Crown joining the team in Ireland, and, with Perfect Power at Dalham Hall Stud, we're proud to have two tremendous commercial prospects for breeders to get stuck into.
"Looking down the list, we've tried to be as competitive with our prices as we can, knowing how hard it is for breeders in today's market."