Dexter Williams leads Indiana to victory in first career start
Read Time:
4 Minute, 53 Second
They say the most important stat for a quarterback is wins, and in the first start of his Indiana career Dexter Williams II led IU to a 39-31 double-overtime road win over the Michigan State Spartans.
Williams said there was no way he could've led the team to victory if it wasn't for the way his teammates rallied around him.
"This team is very resilient," William said. "These guys never gave up. They knew it was my first start, and they gave me what they had, and I really appreciate this team. I couldn't have done it without those guys."
Head coach Tom Allen said after Williams had a rough second quarter there was some thought to making a change at quarterback, but after a good start to the second half they decided to stick with Williams.
"I thought he got a little rattled in the second quarter, to be honest, but you know what, you only learn how to handle those situations by going through them," Allen said. "What I told him was just to relax and just be you. Obviously, he lacks experience, and so, you do not get it any other way other than by doing it. We just stayed the course, and we were kind of waiting to see how things would start in the second half to see if we thought about making a change there just to be able to get ourselves back on track if we thought we needed to that. Then we started to get it going. It is just a matter of having a feel for the game and I think he had a great feel for it. I just told him to be you, and whatever that is, he got some key first downs with his legs when the protection may have broken down."
While Williams did not do much through the air, he certainly proved to be a dangerous for the Hoosiers with his legs. The Georgia native ran for 86 yards and a touchdown on 16 carries. Allen said getting Williams involved in the run game was a big key for IU offensively.
"Obviously, the quarterback runs are a big part of what we wanted to do," Allen said. "Just felt like that would give us a chance to run the football and honestly, we knew we had to. We just knew we had to run the football against these guys with these conditions with the way they were going to play the game on both sides, so that was the plan going in. I am just really proud of our coaching staff and our guys for executing."
Not only was Williams able to make plays with his feet, so were the running backs that got playing time. The Hoosiers finished the game with a season high 257 yards rushing on 44 carries. Shaun Shivers was the biggest beneficiary of Williams being at quarterback as he ran for a team high 115 yards and two touchdowns.
"It's important because guys are going to be scared of him, and then that will open up more lanes for us as running backs," Shivers said about how much having Williams at QB helps the run game for IU. "It could be whatever play it is, and once they see him they don't know if he is about to hand the ball off or he is about to run it. I think that's a big part of our offense."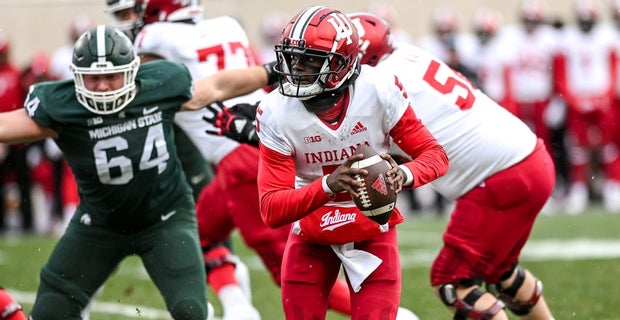 Freshman Jaylin Lucas said he could tell a difference in how the Michigan State defensive line was defending them with Williams at quarterback.
"Dex really opens up the run for us," Lucas said about Williams. "A lot of the D-linemen get a key on Dex, and for them going to him that really opens up the gap."
Even though Williams only completed two passes on the day, one of those two was a crucial throw in the second overtime when he hit tight end AJ Barner for a 24-yard gain that set Indiana up with a 1st and goal from the MSU one-yard line. Williams said he knew there would be a play where he would need to make a big throw, and he just wanted to come through for his teammates.
"Just knowing what this team needed me to do," he said about the key pass in the second overtime that led to the game winning score. "I knew I needed to come back locked in. I knew they needed me to push the ball down the field at some point in this game. We knew the weather coming in, and we knew it would be a little rough, but we knew we'd have to throw the ball at some point. Just when that moment came, our offensive line did a perfect job of protecting me, and we got the ball down the field."