Coinbase Integrating Politician 'Crypto Scorecard' Into Its App After Banning Politics at Work
Read Time:
2 Minute, 28 Second
Coinbase has begun integrating a crypto scorecard that ranks members of congress in the U.S.-based on their stances on crypto. The data is taken from Crypto Action Network.
Coinbase has begun integrating a scorecard into its app that estimates the sentiment of various politicians on the crypto market. CEO Brian Armstrong posted a tweet on Sept. 15, showing how they were integrating their crypto policy efforts into the app. The objective is to educate users on the positions of politicians on crypto, based on where they live.
Currently, the feature focuses on the United States, though Coinbase plans to cover more regions. U.S. users can see a crypto sentiment score from members of congress based on the public statements that they have made. It also plans to help solicit donations from the community, with Armstrong saying,
"Over time, we want to help pro-crypto candidates solicit donations from the crypto community (in crypto). We'll also expand to get more geographic coverage in global elections, and add data on various candidates running for office (not just current elected officials)."
The data itself comes from an organization that Coinbase has supported, called Crypto Action Network. Armstrong hopes that the crypto community can play its part in electing pro-crypto officials.
How the scorecard works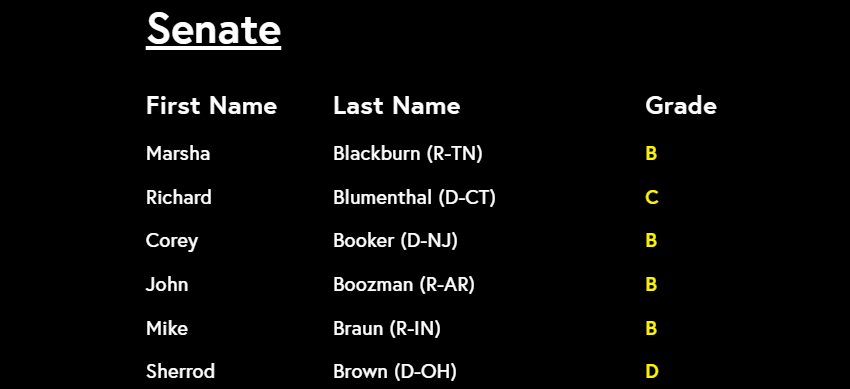 The scorecard published by Crypto Action Network takes publicly available statements and actions to grade officials. The methodology used includes sponsored and/or co-sponsored legislation, positive or negative public statements, selected cryptocurrency votes, crypto-caucus membership, and more.
Coinbase has been active in trying to win officials over, whether by regulatory compliance or lobbying. Some individuals may worry about a bias creeping in, but that remains to be seen.
Coinbase and politics, a contentious topic
Coinbase, being so active in trying to get politicians on board with crypto, has had some somewhat controversial incidents regarding politics. The exchange notably banned discussions of politics and social causes at work. Some in the crypto community may see the introduction of a political crypto scorecard feature as questionable as a result.
However, Coinbase may argue that its scorecard is not the same, and it is in keeping with the mission-focused statements that it made in the original post. It's clear that the exchange wants to win lawmakers over, and Armstrong has even said that it wants every company in the world in crypto.
Disclaimer
All the information contained on our website is published in good faith and for general information purposes only. Any action the reader takes upon the information found on our website is strictly at their own risk.