Career Readiness Week (Nov. 7-10) Supports Short- and Long-Term Growth
Read Time:
1 Minute, 23 Second
Campus & Community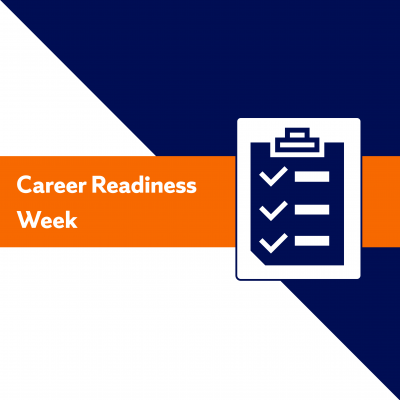 Starting early as an undergraduate student, often lends itself to a successful career built upon a strong foundation of proactive and frequent professional development experiences. In support of growing the student experience and each unique career journey, Career Services, alongside schools, colleges and unit career teams will be hosting Career Readiness Week, Monday, Nov. 7, through Thursday, Nov. 10, 2022.
Helping to lead Career Readiness Week is Kate Mercer, Career Services career exploration specialist. "Our teams are excited to host the first Career Readiness Week, during which we support undergraduate students in developing several facets of their professional persona, while also preparing for life post-graduation," Mercer says. "I am especially excited for our networking event, where students will have the opportunity to mingle with local alumni working in a variety of industries."
Well-rounded topics throughout the week offer post-graduation insight for students navigating the workplace professionally and the transition to employment personally. A mix of virtual and in-person events will be offered; all are free to attend.
Monday, Nov. 7, 4-5 p.m.: Money Essentials for Young Professionals Workshop
Tuesday, Nov. 8, Noon-1 p.m.: Professional Communication Workshop
Wednesday, Nov. 9, Noon-1:30 p.m.: Dining Etiquette 101 Lunch
Wednesday, Nov. 9, 7-8:15 p.m.: Authenticity and Self-Advocacy in the Workplace Workshop
Thursday, Nov. 10, 6-8 p.m.: CNY Alumni-Student Networking Event
For more information or to request accommodations, please email Career Services or call 315.443.3616.
This story was written by Student Experience communications intern Esteban Quiñones '24, S.I. Newhouse School of Public Communications.
0
0