Boris Johnson visits Rwanda as voting gets under way in crucial byelections – UK politics live | Politics
Read Time:
8 Minute, 46 Second
Speaking in an address to the Commonwealth Business Forum in Kigali, Rwanda, Boris Johnson said: "How absolutely wonderful to be here in Kigali for our long delayed family union as the Commonwealth."
He said he is "sorry to say" he missed the dancing last night, adding that the weather is lovely but that it is "actually hotter in London".
Says weather is lovely but that it is "actually hotter in London".
Boris Johnson about to arrive on stage at the Commonwealth Business Forum in Kigali, Rwanda…
Boris Johnson suggests would be 'crazy' for him to resign if loses both byelections
While we wait for Boris Johnson's address, the prime minister earlier suggested it would be "crazy" for him to resign if the Conservatives lost both byelections.
"Are you crazy?" he told journalists travelling with him to Kigali when prospects of his departure was raised, reports PA.
He added:
Come on, it was only a year ago that we won the Hartlepool byelection, that everybody thought was… you know, we hadn't won Hartlepool for, I can't remember when the Tory party last won Hartlepool – a long time. I don't think it ever had.

Governing parties generally do not win byelections, particularly not in mid-term. I'm very hopeful but, there you go. That's just the reality.
He declined to comment on suggestions that the Conservatives' 1922 Committee could change the rules to allow a leadership challenge sooner, but said:
I'm focused entirely on delivering on the agenda of this government. My golden rule is the less you talk about Westminster issues, the more you talk about the things you want to talk to the country about.
Boris Johnson due to speak shortly in Kigali. Will be covering here on the blog.
President Paul Kagame and Boris Johnson talked about existing partnerships between Rwanda and the UK, including migration and the economic development partnership, reports Rwandan newspaper The New Times.
It may never be clear whether Brexit 'succeeded or failed,' says Lord Frost
In more from Lord Frost, the former Brexit minister (see also 10:35), he has said the true economic impact of Brexit may never be known.
Speaking on the sixth anniversary of the Brexit vote, he said at a UK in a Changing Europe conference:
I'm not sure it is ever going to be clear in that sense whether it's succeeded or failed because so much else is going on and extracting the causality about this is always going to be extremely difficult.
Meanwhile, also in Kigali, Prince Charles visited the Commonwealth business forum exhibition.
He was joined by Clare Akamanzi, chief executive officer of the Rwanda development board, reports PA, and Jeremy Cross, Prince's Foundation international director at the Kigali cultural exhibition village.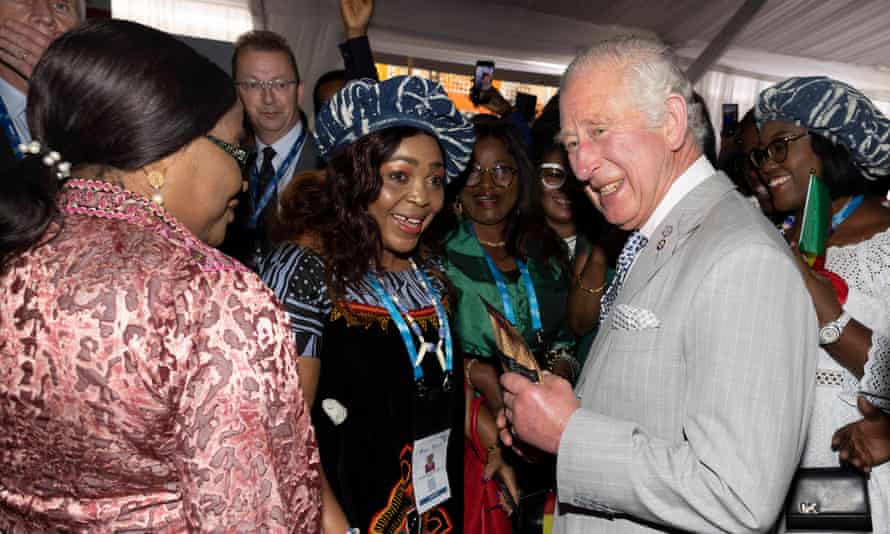 Boris Johnson has been read a story by school children about "Hetty the unhealthy hen", reports Dan Bloom, the Mirror's online political editor in Kigali.
He tweeted:
Here's his picture from the prime minister's arrival:
Tweeting this morning, Boris Johnson said he is in Rwanda to "address global challenges, from hunger to climate change, and to turbocharge trade with some of the world's most dynamic economies".
He added: "With our shared values, history and language – the Commonwealth is a unique and vital association."
Lord Frost says he wishes PM would stop making 'factually incorrect statements'
Lord Frost, the former Brexit minister, said he wished Boris Johnson would stop making "factually incorrect statements".
Speaking six years after the EU referendum, at an event held by the think tank UK in a Changing Europe, he claimed that Brexit was working but called on Brexit supporters to be "honest" about the trade-offs of leaving the EU.
Asked about the prime minister's claims that there were more people in work now than before the pandemic, which has been criticised by the Office for National Statistics, the former Brexit minister said:
I wish he would not say things like that which are obviously not true, making factually incorrect statements.

But in the end it's for the Prime Minister's own party and MPs to decide is that how they want to do things or is it not.
He denied that Brexit has prompted a breakdown in trust in UK politics.
Britain's exit from the EU should be seen as a "gateway" for a "broader project of national renewal" for the UK.
UK "policy elites" have "forgotten how to govern" in the EU, he claimed, but that it would improve in time.
He said:
The task now is to devise a meaningful programme of supply-side reform, focused on boosting the productive capacity of the economy, and to drive it through.
But, he warned, the government would need to "raise its game massively" if Brexit is to lead to a "visible economic pay-off".
If Brexit is still being debated in the same way in five or six years, he said, it would be "evidence of failure".
On honesty over trade-offs, he said:
I think it would be much better to be honest about these things and show where the possibility for doing things better really exist instead of pretending nothing is going on.
PM visits Rwanda as voting under way in crucial byelections
Boris Johnson visited the Rwandan president this morning while voting got under way in Wakefield and Tiverton and Honiton, where the Conservatives face two vital byelections.
The prime minister is in Kigali where he visited Paul Kagame at his office following heavy criticism about his deportation policy to the east African country.
Last night, before boarding his plane, he called on critics to stop their "condescending" attitudes towards Rwanda.
Tomorrow he faces a potentially awkward "cup of tea and catch-up" with Prince Charles in Kigali after the heir to the throne criticised the government's plan to fly people there on a one-way ticket as "appalling".
After arriving at the entrance to the office of the president by car, PA reports, he walked up red-carpeted stairs and shook hands with the president.
They then went next door to the president's meeting room where they sat in white armchairs in front of a Union flag and a Rwandan flag.

Mr Johnson said: "How are you? Very good to see you. What an exciting time to be here in Rwanda. Congratulations on taking over as chair of office. This will be absolutely superb."

Mr Kagame said: "It is a pleasure. Thank you."

The media were then asked to leave the room.
Meanwhile, in the UK, both seats were held by the Tories before the byelections were triggered following the resignation of two disgraced MPs. Labour is the clear favourite to win in Wakefield and the Conservatives are in a close race with the Lib Dems in Tiverton and Honiton.

Polls, which opened at 7am, will close at 10pm and results are expected overnight.
As Peter Walker, the Guardian's political correspondent, reported this morning, the results will be viewed as a hugely important verdict from voters on Boris Johnson's premiership. A double defeat is expected to reignite speculation about a fresh leadership challenge from his party.
These are the 15 candidates standing in Wakefield, including the Conservative Nadeem Ahmed, Labour's Simon Lightwood and Jamie Needle for the Lib Dems.

There are eight candidates standing in Honiton and Tiverton, including the Lib Dems' Richard Foord, Helen Hurford for the Conservatives and Liz Pole for Labour.
Walker writes:
The byelections were called after the respective MPs resigned in disgrace. Imran Ahmad Khan stepped down in Wakefield having been convicted of sexually assaulting a teenage boy, while Neil Parish quit in Tiverton and Honiton after watching pornography in the Commons.

The West Yorkshire seat had been safely Labour before Khan took it for the Conservatives in 2019, and Labour is the clear favourite to win on Thursday. The Devon constituency, in contrast, is seen as neck-and-neck between the Conservatives and the Liberal Democrats, despite the seat in its various forms having been strongly Tory for more than a century.

Parish won in 2019 by a majority of more than 24,000. If the Lib Dems win, it is being billed as the biggest majority ever overturned in this way, although there have been higher percentage swings.

Losing Tiverton and Honiton would be likely to particularly worry Conservative MPs given not just the size of the majority but also that it would be another rural, Brexit-minded Tory stronghold to shift to the Lib Dems in less than six months. In December the Lib Dems took North Shropshire, overturning a Tory majority of nearly 23,000 after the former MP, Owen Paterson, quit over a lobbying scandal.
I'll be looking after the UK politics blog today. For all strike-related news, please follow Rachel Hall is following developments here:
If you have any tips or suggestions, please get in touch: miranda.bryant@guardian.co.uk