A Foreign Service Career—Blindness Didn't Stop Me
Read Time:
10 Minute, 8 Second
The evaluation and promotion process contains potential pitfalls for disabled members of the Foreign Service, the first blind FSO at State attests.
BY ROY GLOVER
Avraham Rabby, the blind FSO who died in April 2020, is rightly recognized as a trailblazer for disabled individuals who seek careers in the U.S. Foreign Service. Although our years of service overlapped, Rabby and I never met. I became officially blind in 1981 as the result of an injury, joined the United States Information Agency in 1983 and retired in 2008.
After passing the Foreign Service written and oral exams five times, Rabby finally entered the Department of State as an FSO in 1990. I recently learned of his death when I was searching for information about him and came across his obituary. Some of the comments by senior FSOs (published with the obituary) expressed views about excluding the disabled from Foreign Service employment that both surprised and disturbed me.
I'd like to believe that those views are not widely shared, but reading them convinced me that it was time to record some of my own career experiences.
The First Blind FSO
Rabby was not the first blind officer in the U.S. Foreign Service, nor was Maryanne Masterson, who was a member of Rabby's entry class. I entered the U.S. Information Agency in the Junior Officer class of May 1983 after what may have been a record span of years between passing the FS exam and reporting for duty. I took the written and oral exams in 1979 (my third attempt) while teaching philosophy at the College of St. Benedict and St. John's University in Minnesota. I also applied for a Fulbright Fellowship in Sweden at that time.
When offered the Fulbright lecturing position, I accepted. My wife and two children accompanied me to Gothenburg University in the summer of 1979. Shortly after we had settled in Sweden, I received an offer to join USIA. Once I explained my situation to USIA personnel, they told me that my place on the register was secure. The Fulbright Fellowship, they explained, also served U.S. interests. I received three more offers to join USIA during the two-year term of my Fulbright grant, and we went through the same back and forth each time. I returned to the United States with my family in the summer of 1981 without a job, but with the expectation of another offer to join USIA when the next class formed.
My experience was that it became part of my job to discover technological innovations that would make me more effective in the workplace.
As we hoped, an offer to join USIA arrived in September. What we hadn't planned on was that I would be unconscious in a hospital in St. Louis Park, Minnesota, when my wife received the offer. I had suffered a traumatic brain injury in August, and the prognosis was uncertain. I remained unconscious for two months, with complications caused by meningitis. USIA personnel assured my wife that they would hold my place on the entry register. Conveniently, a federal budget crisis gave me time to leave the hospital and undertake physical therapy.
We hoped that a new offer from USIA would be the answer to our prayers. However, there was a possible complication: I was legally blind when I recovered consciousness. I couldn't drive. I could see just enough to read one word at a time. When the next entrance class was formed at USIA, I was advised that my blindness meant that I no longer qualified for the duties of a Foreign Service officer. The EEO counselor at USIA intervened on my behalf, and the rejection of my candidacy was reversed. I finally entered USIA as a member of the class of May 1983.
One Among Equals
Think back now to Avraham Rabby, who was rejected five times between 1980 and 1990. Although I managed to get in the door before he did, there was no grand welcome to greet me when I showed up for training. I was one among equals, which was the way it should be and was what I expected. I didn't look for any special treatment, and I wouldn't have known what to ask for in any case. The policy of providing special accommodations and training hadn't really developed yet in USIA—or, if it had, I didn't know how to get it.
In addition to the physical therapy that was part of my recovery, I took advantage of that period to resume work on my Ph.D. dissertation and to sharpen other skills that would prove useful in my Foreign Service career. One of the most useful things I did was take lessons in keyboard skills. A revolution in office management was taking place during those years, and the change had a major impact on the functions expected of all office workers.
My first assignments in Washington and overseas were in office environments where secretaries and receptionists were prominent elements of the workforce. One example of advanced office technology was the IBM Selectric typewriter, which enabled a typist to correct a mistake by using a backstroke to erase the typo so he (or more often she at that time) could type in the correct letter or letters. Word processors were not yet in widespread use. New office technology swept over our embassies in waves early in my career. It was not just the IBM Selectric that disappeared, but the secretary who operated it.
These changes had a major impact on the work of diplomats, who regularly received training in managing the new technology. I have a very strong impression that officers with visual disabilities were affected more by these changes than their sighted colleagues. That differential impact is counterintuitive. Technological advances generally bring with them opportunities to reduce the problems faced by persons with physical disabilities. My experience, on the contrary, was that it became part of my job to discover technological innovations that would make me more effective in the workplace. I suspect that this has not changed, though I would welcome being proved wrong on this point.
The lesson, whether I am right or not, is that employees are best served if they bring their knowledge about special skills and equipment with them when they enter the federal workforce. These concerns, however, are not the ones that stand out prominently as obstacles to a successful career in the Foreign Service. I want to focus on one incident in my career that raises warning flags for employees, particularly those with physical disabilities.
Disability Resources at State
BY HEATHER PISHKO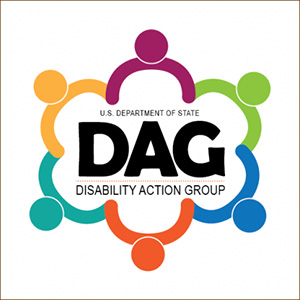 The Disability Action Group is a Department of State employee organization that strives to promote full and equal participation of people with disabilities departmentwide, offer a forum for information exchange and advocate for the rights of people with disabilities.
DAG hosts two or three Coffee Chats every other month. These informal conversations about disability offer the opportunity to share whatever is on your mind with the DAG Council. We also host events with State Department leaders, including Secretary of State Antony Blinken, CDIO Ambassador Gina Abercrombie-Winstanley and Deputy Secretary for Management and Resources Brian McKeon.
We bring issues such as hoteling (a method of office management) in domestic offices to the Office of Accessibility and Accommodation to remind bureaus to include accommodations in these new arrangements, and we work with the Office of Buildings Overseas to create the Accessible-Adaptable Housing Acquisition Program and increase housing options overseas.
We encourage you to join DAG by visiting our SharePoint site and submitting your name. The group is open to everyone. Your membership costs nothing and requires no action, but ensures you get messages about disability-focused topics. You may also join the DAG Microsoft Teams channel by entering code 0p7xfcw at the bottom of your Teams list.
Requesting reasonable accommodations. Please use the online GTM Next Employee Portal to request a reasonable accommodation from the Disability and Reasonable Accommodations Division. Click on "Service Catalog" at the top left, then click "Accessibility & Accommodations" on the left, and choose an accommodation. Employees unable to access the GTM Next Employee Portal should contact GTM/OAA at OAA@state.gov.
A Bolt of Lightning
I experienced frustrations more than 10 years into my career. Because promotion from FS-3 to FS-2 was slow in coming, I turned to the officer who had been my supervising public affairs officer (PAO) during my USIA Junior Officer Trainee assignment. I asked him whether he could pinpoint anything in my performance that would help me understand why I hadn't been promoted. Was there something I should know about my "corridor reputation"? I had a good relationship with him and knew I could trust him.
His quiet response was like a bolt of lightning. When he was in Washington preparing to come to post, he told me, the area director had called him aside and told him very clearly that there was no place in the Foreign Service for a blind officer. High on his list of priorities, she told him, was to drum me out of the Foreign Service! I will never forget that. And I will never forget what he told me next.
Remember, he was describing what had happened before he knew me, at a time when he was simply my future boss and reviewing officer. He said he had listened to his "orders" and decided he would wait until he observed me on the job. Based on that experience, he would decide whether he would do what his superior had told him to do. He followed through on that. And when he wrote my employee evaluation report, he recommended me for promotion! In other words, he put his career on the line to go on the record in support of my competence. I call that integrity.
That experience gained my supervisor my utmost respect. It also haunted me for the remainder of my career. What if something like that had happened on my other overseas assignment? What other hidden traps might be waiting for me, or for any officer in a similar situation?
A Sense of Accomplishment
I never did have full confidence in the evaluation and promotion process. While I was on a domestic assignment in Washington, one of my colleagues suggested a trusted strategy for increasing the chances of a promotion. I bid on an assignment to the PAO position in Kabul in response to the call for a major increase in our presence in Afghanistan after 9/11. I was an FS-2 by that time and was well qualified for the position. I got it.
The experience in Kabul was unlike any other assignment in my career. It was in many ways primarily an administrative challenge. When I arrived, I was the only American officer in the public affairs section. In the course of my one-year assignment, a new ambassador arrived with a new Afghanistan Reconstruction Group made up of noncareer officers, including a three-member public affairs team with no diplomatic experience. The embassy team grew so rapidly that a new housing complex was added across the street from the main embassy compound.
My performance in Kabul did not lead to a promotion, but it did set me up for my final assignment as public affairs officer in our embassy in Wellington, New Zealand. I can't imagine any change as dramatic as the one from the shipping container I lived in as PAO Kabul to my very comfortable PAO residence in suburban Wellington. The promotion I sought didn't happen, but I felt a real sense of accomplishment and fulfillment at the end of my 25-year career.
Read More…