4 Ways to Leverage Technology to Boost Your Customer Service
Read Time:
6 Minute, 8 Second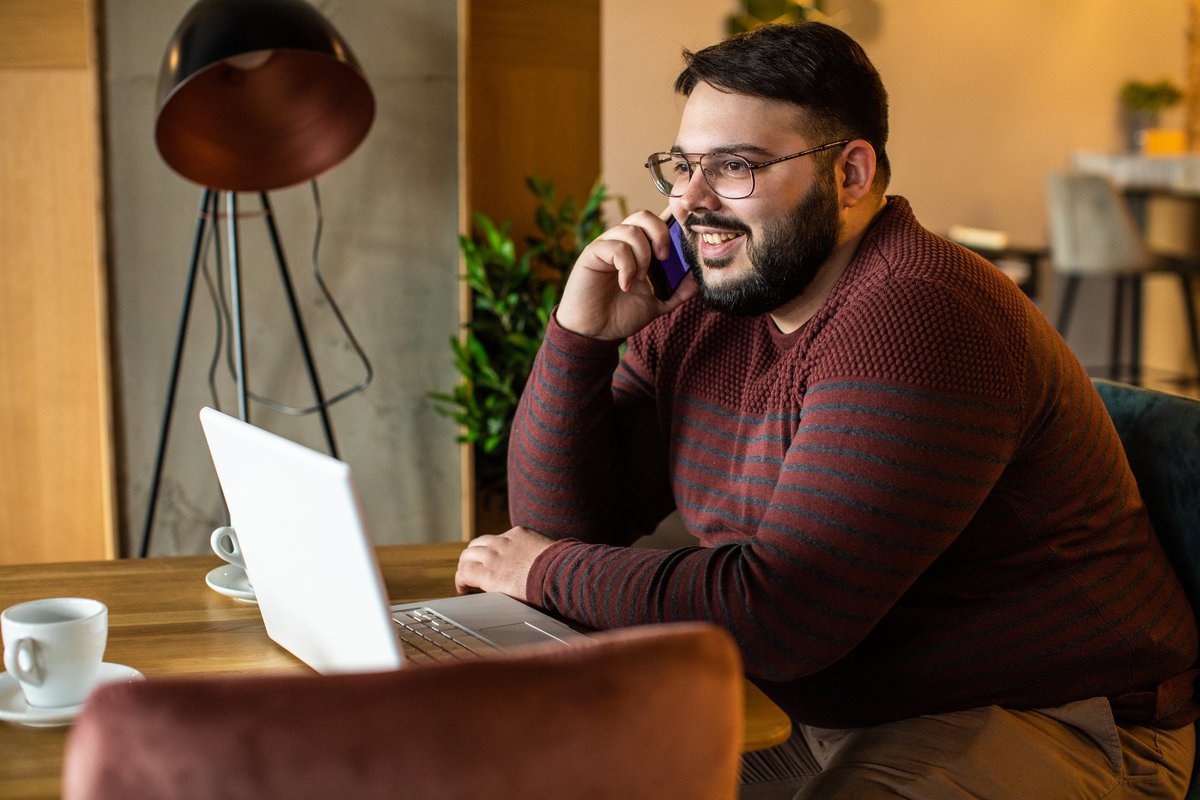 Applying technology to your customer service delivery can boost customer satisfaction. Here are four ways technology can improve your customer service.
Customer service has a far-reaching impact. Not only is it an avenue for businesses to address their customers' concerns, but it's a potent sales-generating method, as well.
Which is why you need to leverage high-quality customer service technology. It can help you improve your customer service, acquire new customers, and nurture customer relationships, among other things. Essentially, it's easier to execute your customer support campaigns with the help of customer service technologies.
In this guide, we'll cover the ins and outs of customer service technology and how it can impact your business.
Overview: What is customer service technology?
Customer service technology is software that helps your team gather, organize, respond to, and report on support requests to deliver excellent customer care.
It allows your team to efficiently manage your customer communication channels, such as chat, self-service, messaging, and email. You can also integrate these with your external communication tools, including group chat systems and social media.
If you want to improve your workflow efficiencies and simplify providing solutions to customer inquiries, use reliable customer service software.
The 4 different types of customer service technology
These technologies are used by established companies to implement effective customer service.
1. Help desk and shared inbox software
A help desk system that integrates into your shared inbox makes it easier for your customer service team to track and handle customer concerns. It streamlines team collaboration and workflows, ultimately helping you to deliver excellent customer service.
This system helps your team automate handling and replying to customer queries and concerns, lets you delegate and manage tasks in real time, allows a shared view of the tasks, and gives easy access to key consumer information.
2. Chat and messaging systems
Live chat and messaging apps create a conversational/personal atmosphere in your customer communication. They allow your team to engage your customers better and to build customer trust through the person-to-person experience it produces.
Compared to directing your customers to a frequently asked questions (FAQ) page where they are left to find the answers to inquiries themselves, live chat is a huge support upgrade.
3. Customer relationship management (CRM) software
CRM software is vital to the customer service industry because it lets you build and use a database for customer information and interaction.
Using a CRM tool helps you send automated emails, resolve customer issues and complaints efficiently, personalize customer interactions, and generate actionable reports. These and other functions improve the level of support you provide to your customers.
4. Knowledge base software
Knowledge base software lets you capture, write, and publish information about your products and services through a customer portal. This provides a self-service option for your customers to find solutions to common queries on their own.
A knowledge base can lower your customer service email and phone call volumes, improve your customer service team's efficiency, and reduce staff labor costs.
The 4 ways technology will influence the future of customer service
Below are four emerging customer service trends resulting from customer care technology.
1. Real-time messaging will become a customer service necessity
Data shows 77% of customers aren't willing to buy from a website that doesn't offer real-time chat support. This means more and more people prefer quick responses and real-time solutions to their problems.
Use LiveChat software to provide exceptional live chat support. It has automation features, and it lets you build customizable chat widgets to install on your website. It also has reporting and analytics features to track and measure your progress.
Your customer service reps can save responses to common questions and reuse them quickly by typing a hashtag and keyword, then clicking the appropriate response.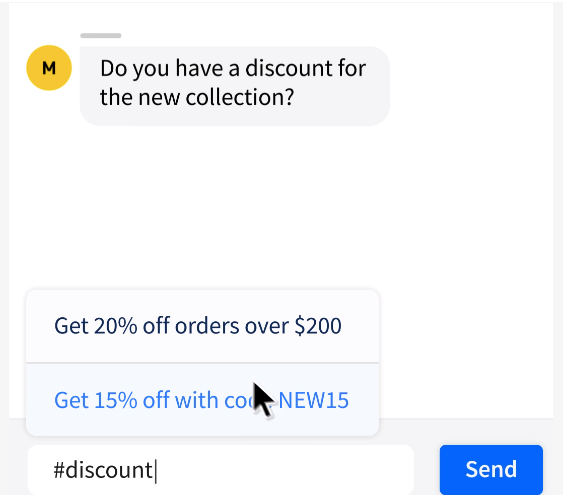 Have a look at some important features of the software:
Adds tags to customer messages to give them context and help agents keep track of each conversation
Filters past dialogues by phrase or agent name
Offers predefined instant replies users can click for quicker problem resolution
2. Higher demand for face-to-face video communication
While email, live chat, and phone calls will remain essential tools for customer service, video is slowly gaining traction as a preferred technology for receiving customer care.
From voicemails to phone calls, video helps you engage and interact with your customers better because your staff can convey empathy through facial expressions and offer a more personal touch to the customer experience. This can improve your customer service delivery, translating to increased customer satisfaction.
3. Increased preference for omnichannel customer service
The need for omnichannel customer support continues to grow because people interact with businesses through multiple digital mediums, such as websites, reviews sites, social media, etc.
With omnichannel customer service technologies, you can sync customer communication across channels. This provides a more cohesive interaction between your customers and your customer support staff.
To expand your customer support technology stack, use a one-stop-shop customer service platform, such as Help Scout. This platform provides a help desk interface with a shared inbox you can use as a central place for addressing customer queries.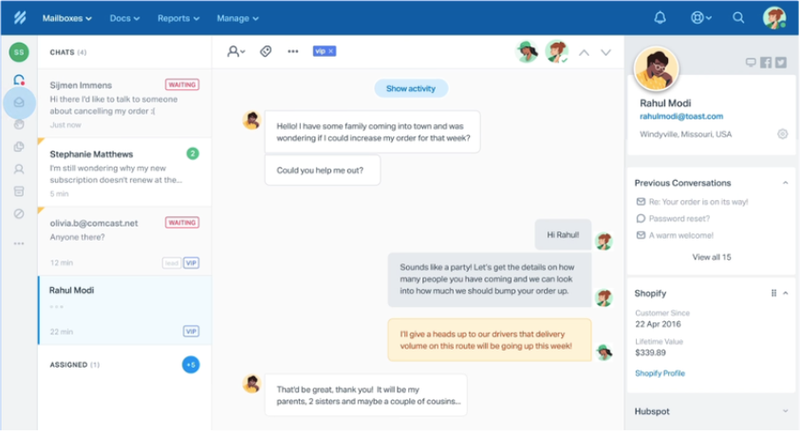 With a single click, Help Scout lets you switch from inbox to one-on-one customer chat. It even shows you in real time who else is replying to a message to ensure your customer support team won't overlap with each other when helping customers. Help Scout creates a unified experience for both your team and your customers.
The cohesive encounter you create for your customers is among the many help desk best practices that will improve your customer service. It simplifies, modernizes, and smoothens customers' experiences with your brand.
4. Self-service options will continue to grow
Not all customer service queries and issues require human interaction. As information about products and services becomes more accessible, the demand for self-service options continues to grow.
Data shows that over 60% of U.S. consumers prefer automated self-service options, such as through a mobile app or a website to resolve basic customer service tasks.
Give your customers the option to find the answers they need themselves by providing a detailed FAQ section and extensive knowledge base on your website. For more complex questions and issues, use video tutorials or automated responses to guide your customers to a solution to their problem.
A comprehensive, self-service option rids your customers of having to wait to get through to your reps or getting an email response two hours later. This vastly improves their experience with your brand. The self-service option lets your customers address their issues on their own time.
Leverage technology to boost your customer service quality
Customer service technology can equip your customer service reps with the tools they need to deliver excellent customer care, improve customer satisfaction, and, ultimately, boost your sales.
Leverage customer service technology to prepare your business for the future and optimize your business processes. With the right technology stack, you can take your customer support to the next level.